Will Ferrell to play for A's -- and nine other teams -- today
Comedy actor to appear in five games for charity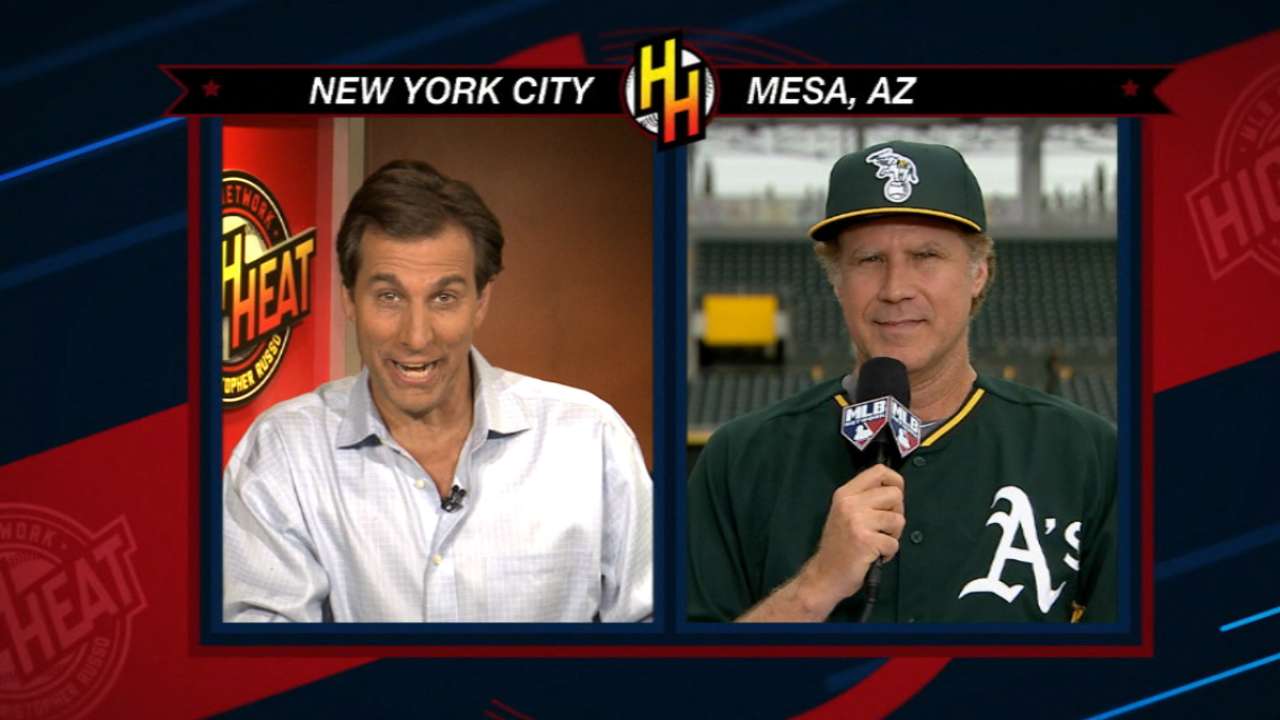 MESA, Ariz. -- Comedy actor Will Ferrell will play 10 positions for 10 teams, including the A's, in five different Cactus League games today.
Ferrell, a lifelong baseball fan, is dedicating the HBO project to the fight against cancer, while also honoring Bert Campaneris' historic feat of playing every position on the field for the Kansas City A's in a game against the Angels 50 years ago. Campaneris will be by Ferrell's side for the start of a jam-packed day.
Ferrell's morning will begin at Hohokam Stadium, where he will go through a typical first day in camp for any player, starting with a physical. He's also slated to take part in morning workouts with the A's -- even yoga -- and step into the cage for batting practice.
"I think everyone's going to be up for it," said Scott Kazmir, who is starting today's game against the Mariners. "I probably speak for everyone in here saying he's probably one of our favorite actors. To have him here is going to be awesome."
Ferrell will also play for the Cubs, Angels, Reds, D-backs, Giants, White Sox, Dodgers and Padres.
"In celebrating the 50-year anniversary of Campy Campaneris' unique feat, we are thrilled to recognize one of our great icons and our rich history with one of today's biggest celebrities," A's president Michael Crowley said in a release. "This fun event will be another great example of how baseball makes connections across generations."
"I think he's great," said shortstop Marcus Semien. "Every movie he makes, I try to check it out, and usually it's pretty funny.
"He's going to get a taste of what we do on a day-today basis here."
Ferrell's project will raise funds for groups involved in the fight against cancer, including Cancer for College and Stand Up To Cancer. His game-used equipment will be auctioned to help each cause.
Jane Lee is a reporter for MLB.com. This story was not subject to the approval of Major League Baseball or its clubs.