Moustakas attacking shift, working on hitting to all fields
Third baseman also improving bunting skills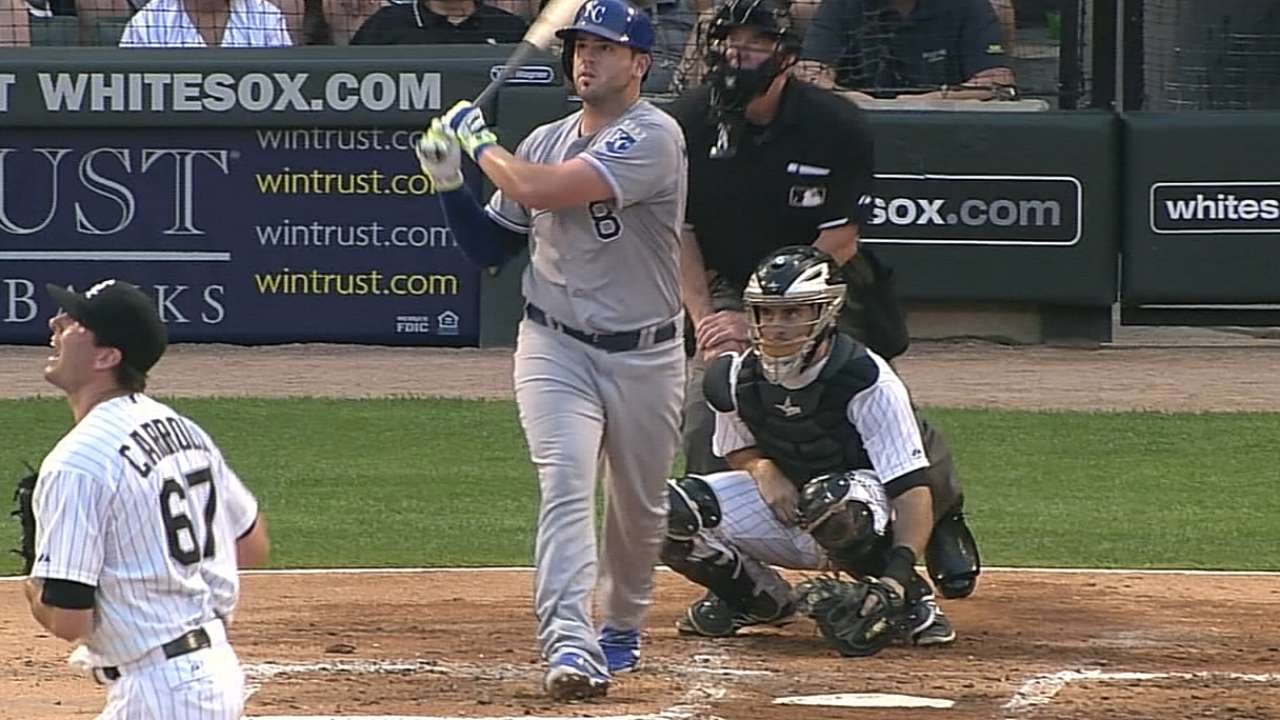 SURPRISE, Ariz. -- The last thing the Royals expected here in Spring Training was for opponents to employ the shift that paralyzed third baseman Mike Moustakas most of last season.
After all, employing the shift now would seem to give the left-handed-hitting Moustakas plenty of practice in ways to attack it.
But sure enough, several teams already have put the shift on during Moustakas' at-bats.
"I'm happy they are," manager Ned Yost said.
Added Moustakas, "I pretty much expected it. I mean, a little part of me thought they might not do it. But it's nice to get game conditions like this.
"Even if they weren't doing it, I'd still drop some bunts down and go the other way."
Moustakas is devoting this spring to changing his offensive philosophy. A dead-pull hitter, Moustakas is trying to use all fields. He's also working hard on pushing bunts down the third-base line in order to attack the shift.
Moustakas did lay down a bunt Tuesday in his first at-bat, though he was thrown out.
"It's the only one I've gotten down so far," he said. "The third baseman wasn't all the way back, but I still bunted because I need to work on it.
"Really, I'm trying not to change too much. I'm not really trying to go the other way. If I do that, I usually lose my barrel [through the zone]. But if I just go the other way when the pitch is out there, that's different. That's what I want to do more of.
"It's just see the ball and hit if where it's pitched. Don't force stuff."
Moustakas also displayed that approach Tuesday, taking a pitch on the outside corner and rifling it to left field for a hit.
"I get in trouble when I try to pull everything," Moustakas said. "I'm very capable of taking that pitch down and away and pulling it into the corner. But it's better to just wait a little and go with that pitch.
"If it's in, I'm going to turn on it."
So far, so good, in terms of his new approach.
"It feels great," he said. "It's just Spring Training and it's early, but I feel comfortable."
Jeffrey Flanagan is a reporter for MLB.com. Follow him on Twitter at @jflanagankc. This story was not subject to the approval of Major League Baseball or its clubs.