MLB.com Columnist
Lyle Spencer
Trumbo brings the thunder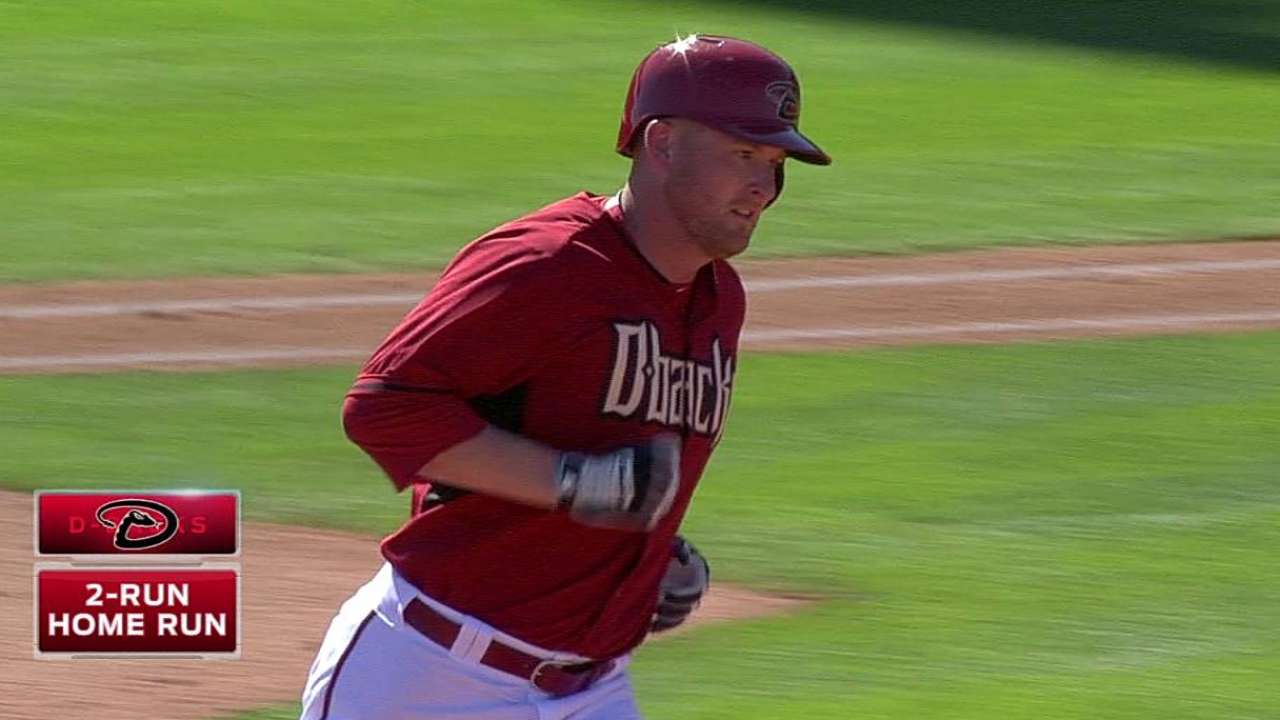 SCOTTSDALE -- Torii Hunter's influence is so profound that teammates recall his advice and counsel long after they have parted company. Hunter has taken his leadership to the Twins after two seasons with the Tigers, but D-backs right fielder Mark Trumbo still carries his words of wisdom with him from their time together with the Angels.
"You can't be in denial of what you are -- that's one of the great lessons Torii gave," said Trumbo, who lived in Torii's world for his first two Major League seasons. "You are who you are. Your numbers, Torii always said, are going to be there at the end of the year -- and it's important to put other intangibles together.
"I feel like I'm a guy who can improve in a lot of areas. I don't want to be regarded as just a power hitter; my goal is to be a good hitter and all-around player."
Trumbo often is framed by what he doesn't do, not what he does. He strikes out frequently. He doesn't hit for a high average or get on base often enough to satisfy the analytics crowd. He is a work in progress in the move from first base, where he had become a plus defender, to the outfield.
While that is all true, he also is a rare weapon in a game starving for offense. Per 162 games, Trumbo has averaged 32 home runs and 102 RBIs across four Major League seasons. This puts him in the high-end neighborhood of the Marlins' Giancarlo Stanton, who averages 39 homers and 102 RBIs.
Chip Hale, the D-backs' energetic first-year manager, is aware of Trumbo's history and has no intention of stripping his power to try to transform him into something he's not.
"You have to be careful with that," Hale said, acknowledging that upgrades in average and OBP should be reasonable goals. "I saw first-hand what he can do when he was with the Angels, those [29, 32 and 34] home run seasons. He's a difference-maker. We never want to do that with a player, take away his strength."
In need of arms, the Angels dealt Trumbo, coming off a 34-homer, 100-RBI season in 2013, to acquire lefties Tyler Skaggs and Hector Santiago in a three-way deal involving the White Sox. The D-backs parted with Skaggs and Adam Eaton to acquire a loud bat to support the great Paul Goldschmidt.
Plantar fasciitis in his left foot surfaced in Spring Training, derailing Trumbo's debut season in Arizona. He played 22 games before shutting it down from April 22 through July 10. It wasn't until mid-September that he showed Arizona fans what he can do, producing six homers and 21 RBIs in the final 14 games of the season.
His 14 homers and 61 RBIs in 88 games were in line with his career numbers.
Meeting at the close of the season with new general manager Dave Stewart, Trumbo, 29, expressed a preference for right field over left. He's in right this spring.
"I do feel more comfortable in right than left," Trumbo said. "But I try to make myself available to play any position with an open mind."
In right, he can make better use of a strong right arm that unleashed fastballs in the upper 90s on the mound at Villa Park High School, a 10-minute drive from Angel Stadium.
The arrival of Cuban strongman Yasmany Tomas gives the D-backs a potentially lethal middle of the order. A.J. Pollock should be an elite leadoff man, and Aaron Hill looks capable of regaining his prime form. Pollock, Chris Owings and Ender Inciarte can get around the bases.
"I like the dynamics we have," Trumbo said. "It's a nice combination of power and speed. The guys at the top are good at what they do, and our middle of the order should come together and be productive, with health and normal performance."
Trumbo has deep admiration of Goldschmidt, whose 2014 season ended on Aug. 1 when he broke his left hand on a pitch by the Pirates' Ernesto Frieri. The National League home run and RBI king in 2013, finishing second to Andrew McCutchen in the Most Valuable Player Award voting, Goldy can be as formidable as any hitter in the game.
"I love his approach to hitting and the game in general," Trumbo said. "Great guy, great teammate, great player."
Rotation spots are up for grabs, but the main focus this spring has been on Tomas, the $68 million Cuban import learning how to play third base.
"He's an explosive athlete," Trumbo said. "He's good on his feet, and he's got a lot of confidence. He's driving the ball, adjusting to third. His attitude has been everything you can hope for."
The D-backs are a mystery team in the stacked NL West. Only this is certain: Goldschmidt and Trumbo, if they stay on the field, will satisfy fans who dig the long ball.
Lyle Spencer is a reporter for MLB.com. This story was not subject to the approval of Major League Baseball or its clubs.