MLB.com Columnist
Anthony Castrovince
Must-see Harvey can place Mets in postseason conversation
Righty may hit bumps, but is still one of most compelling pitchers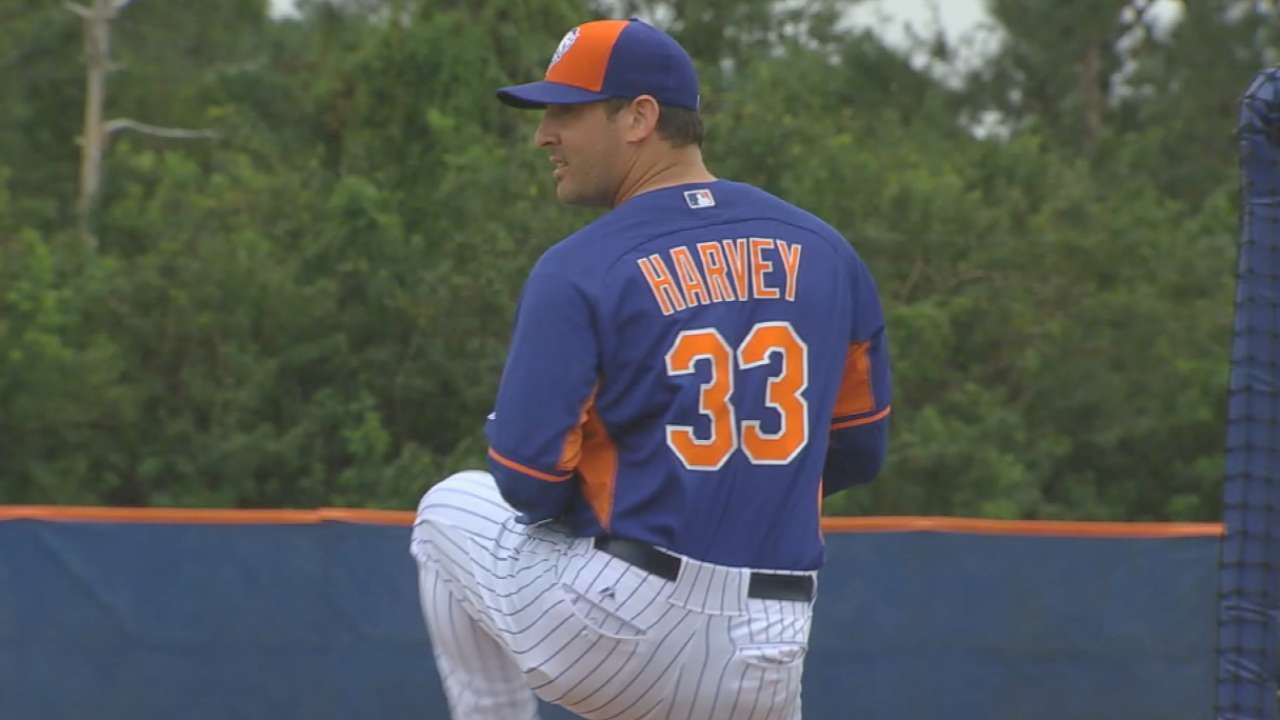 Any player who compels you to drop everything -- work, lunch, the baby (not literally) -- to tune into Gameday Audio (shameless plug) and listen to him hone his craft in a Spring Training game in the far-off planet of Jupiter, Fla., is a special player, indeed.
So it is with Matt Harvey.
We know this is a team sport, and yet certain players inform or even infect our feelings about those teams in profound ways.
As the Rangers wind toward the inevitable conclusion that is Tommy John surgery for Yu Darvish, you feel a collective kick to the gut of the Texas faithful, who already endured so much in '14. Harvey's return from the same surgery, meanwhile, has the complete opposite effect of making you feel a little frisky about these 2015 New York Mets, even if the rational part of your baseball brain knows full well about some of the question marks elsewhere on the roster and about the very pressing possibility that Harvey's impact and/or innings will be limited in said return.
Wednesday was a Harvey Day, and those are not days to be rational. Those are days to be a fan of the kid with the power arsenal and compelling composure.
But unlike his first Grapefruit League outing, when he made the Tigers look silly for two perfect innings and threw all his pitches for strikes, Harvey had his hiccups against the Marlins.
He went 2 2/3 innings and got knocked around a bit for two runs on six hits with a walk and two strikeouts. Giancarlo Stanton (another one of those guys who compels you to drop everything and watch or listen) smoked a double off him that required just one hop to reach the left-field wall.
And so rationality returned about as quickly as it had vanished. We'll repeat the process again in five days.
But just as the Tigers outing should not have inspired wild World Series dreams, the Marlins outing ought not promote pessimism. Harvey might not win a National League Cy Young in 2015, but he should be quite good, and maybe these Mets will follow suit.
The truth about Harvey is that he's recovering from a procedure that isn't seamless. About eighty percent of those who have Tommy John make it back to the bigs, and the prevailing wisdom is that there's a feeling-out process for all of them in that first year.
Wednesday was a feeling-out kind of day.
"The idea of surgery is out of my mind," Harvey told reporters. "For me, it's getting guys out and working on pitches to get ready for the season."
Harvey again touched the high-90s on the radar gun, sitting more in the mid-90s range. As will be the case all year, he had to tread that fine line between over- or under-exerting one's self at the expense of mechanical correctness. Harvey told reporters he felt "a little sluggish" in this start, but that he was pleased with the work he put in with all his pitches. The importance is the stuff itself, and here, Harvey is considered to be in a strong spot.
"I don't think he's lost anything," Marlins outfielder Christian Yelich said.
It's not at all outlandish to suggest Harvey can make this club a contender. The Mets joined the Nationals as the only two NL East clubs with positive run differentials last year. This, despite a career-worst year for David Wright, less-than-expected impact out of offseason acquisition Curtis Granderson, Travis d'Arnaud not exactly becoming the star bat his Double-A and Triple-A numbers would lead you to believe he can be, and Ruben Tejada logging the vast majority of innings at shortstop.
Now, the Mets still have questions about what their prime lineup pieces (a group that now includes a soon-to-be-36-year-old Michael Cuddyer) will contribute, and who knows if they even have a shortstop? I feel compelled to note, however, that FanGraphs' ZiPS projections think Wilmer Flores will be more valuable than nine other MLB shortstops in '15, including Derek Jeter replacement Didi Gregorius. I'll also note that the Troy Tulowitzki talk was never anything resembling realistic.
The question the Mets prompt is whether a middling offensive team with a strong rotation and deep bullpen can at least attain Wild Card status in this crazy, parity-soaked sport?
Ask the 2014 Kansas City Royals that question.
Among pitchers with at least 200 innings from 2012-13, Harvey ranked second in ERA (trailing only Clayton Kershaw) and first in FIP. If he's even 80 percent as effective in 2015, Harvey likely adds a few extra wins to the Mets' bottom line, and they're going to play 37 games against the rebuilding Phillies and Braves. So while I, for one, won't be picking them to outlast the Nats in the East, I wouldn't dare rule them out of the Wild Card conversation.
Harvey. Jacob deGrom. Zack Wheeler. Jon Niese and Dillon Gee. Some young, skinny kid named Bartolo Colon. There's no room here (yet) for Noah Syndergaard or Steven Matz.
Which means the Mets have too much pitching.
Which means they have just enough.
Having Harvey at the forefront makes you dream a little bigger about these Mets, though Wednesday was a reminder that the recovery from Tommy John has its ups and downs, its "sluggish" hurdles. It will be fascinating to watch Harvey navigate that terrain while trying to pitch this club into contention.
Not every Harvey Day will be electrifying, as Wednesday proved. But they'll all be worth watching.
Anthony Castrovince is a reporter for MLB.com. Read his columns and follow him on Twitter at @Castrovince. This story was not subject to the approval of Major League Baseball or its clubs.