Will Ferrell to play for Dodgers in 10-position, five-team event
Actor displaying his baseball skills for HBO charity special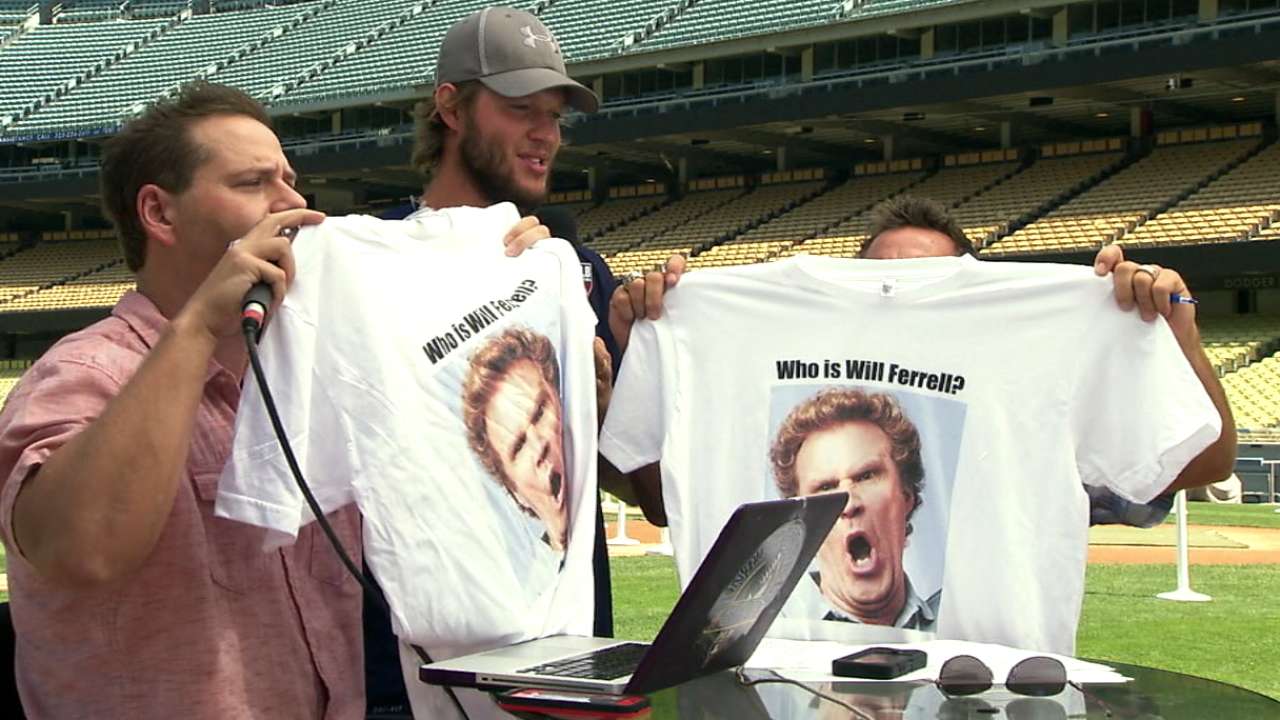 MESA, Ariz. -- Entertainer Will Ferrell will play one inning with the Dodgers in tonight's game against the Padres, as production begins on an HBO special from Funny Or Die, in partnership with Major League Baseball.
Dedicating the special to the fight against cancer, Ferrell is also honoring the historic feat of Bert Campaneris five decades ago by playing every position on the field, and maybe some off the field, for 10 different teams in the same day.
In addition to playing for both clubs in the Dodgers-Padres game in Peoria, Ferrell will play both sides in the following games: Mariners-A's, Cubs-Angels, Reds-D-backs and Giants-White Sox.
Ferrell's historic day, which will be covered on social media using #FerrellTakesTheField, will be chronicled in the exclusive HBO special, which will air later this year and also feature MLB players, managers, coaches, executives and fans.
"We hope to always be in the Will Ferrell business," says Michael Lombardo, president, HBO Programming. "This latest collaboration is one of those things only Will could pull off. I can't wait to see him take the field."
Baseball Commissioner Rob Manfred said: "Spring Training affords an appropriate setting where our game can serve as the backdrop for an event that will benefit organizations that fight cancer. Will is a big fan of our game, and many of us in baseball -- among our clubs, players and our millions of fans -- are big fans of his. Major League Baseball is happy to take part in what will surely be a fun and memorable day for a great cause."
Ferrell's goal is to honor Campaneris while also helping organizations dedicated to fighting cancer, including Cancer for College. Formed in 1993, Cancer for College is a charity that helps individuals adversely affected by cancer to realize their dream of a college education.
On Sept. 8, 1965, Bert "Campy" Campaneris, in only his second Major League season, went 0-for-3 playing all nine positions for the Kansas City Athletics in a game against the California Angels. Campaneris is expected to be there with Ferrell as he begins his journey today.
An important part of the fundraising efforts will be game-used memorabilia from Ferrell's journey across the five ballparks, to be auctioned at MLB.com with proceeds being donated to Cancer for College, as well as Stand Up To Cancer, a groundbreaking initiative created to accelerate innovative cancer research. MLB is the founding donor to Stand Up To Cancer.
"The Dodgers are excited to join MLB in this creative project that involves one of the Dodgers most beloved fans, Will Ferrell," said Dodger executive vice president and CMO Lon Rosen. "We look forward to welcoming Will to Dodger Spring Training and, most importantly, helping him support Cancer for College and Stand Up to Cancer."
The special is executive produced by Will Ferrell in association with Gary Sanchez Productions, Funny Or Die's Mike Farah and Joe Farrell, and Stuart Miller, and directed by Brian McGinn.
The Dodgers agreed to move the start time for Thurday's game against the San Diego Padres to 6:15 p.m. from the original 1:05 p.m. to shoot the project.
The Dodgers-Padres game will be shown live on MLB.TV at 6 p.m. PT.
Ken Gurnickis a reporter for MLB.com. This story was not subject to the approval of Major League Baseball or its clubs.