Weaver focused on tightening up mechanics
Right-hander not concerned by early dip in velocity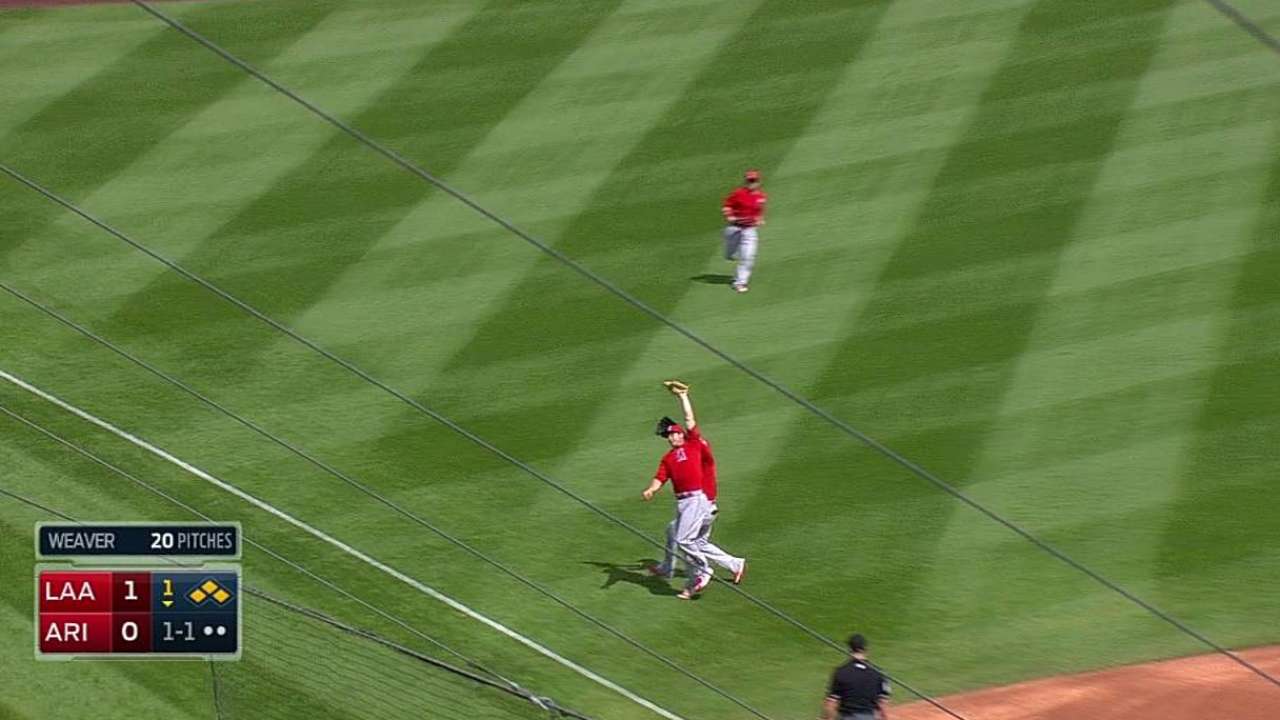 SCOTTSDALE, Ariz. -- Jered Weaver has often said, and subsequently proven, that his success doesn't hinge on velocity. But his fastball has been slow in the early part of Spring Training, even by his standards. He sat mostly at 83-84 mph in a three-plus-inning start against the D-backs Wednesday, hitting 85 once according to the PITCHf/x system installed at Salt River Fields.
That's three to four ticks slower than Weaver's average fastball velocity last year, but the Angels' ace said he typically doesn't go full intensity until his last couple of Cactus League starts.
"Now," Weaver said, "I'm just trying to tighten things up mechanically. And this was a good step in the right direction."
Weaver gave up two runs on five hits and two walks in his second Cactus League start, striking out three and exiting after giving up a solo homer to Brandon Drury to start the fourth.
Before coming out for the fourth, though, the 32-year-old right-hander noticed his throwing motion was "getting a little too long," which was messing with the timing of his delivery. So he shortened up and felt the difference in his warm-up pitches.
"That last inning felt really good," Weaver said, despite the home run. "We'll try to work from there."
Weaver will have four more Cactus League starts before he's slated (unofficially) to take the ball in Seattle for Opening Day on April 6. While winning an American League-leading 18 games, posting a 3.59 ERA and compiling 213 1/3 innings in 2014, Weaver had the fourth-slowest fastball velocity among non-knuckleball-throwing starters at 86.8 mph.
Weaver doesn't need much more than that to be effective, and Angels manager Mike Scioscia is confident he'll be fine by the end of Spring Training.
"We know Weave," Scioscia said. "He's going to be there."
"I don't really pay attention to the velocity stuff; it's getting location down and being able to get on pitches when you need to," Weaver said. "Keep everything simple, but there's going to be times when you want to get on certain pitches in certain counts. That's the toughest thing about release points, when you're trying to put a little extra behind it and having that happy medium of not trying to do too much."
Alden Gonzalez is a reporter for MLB.com. Read his blog, Gonzo and "The Show", and follow him on Twitter @Alden_Gonzalez. This story was not subject to the approval of Major League Baseball or its clubs.