MLB.com Columnist
Richard Justice
No one has more fun than Ferrell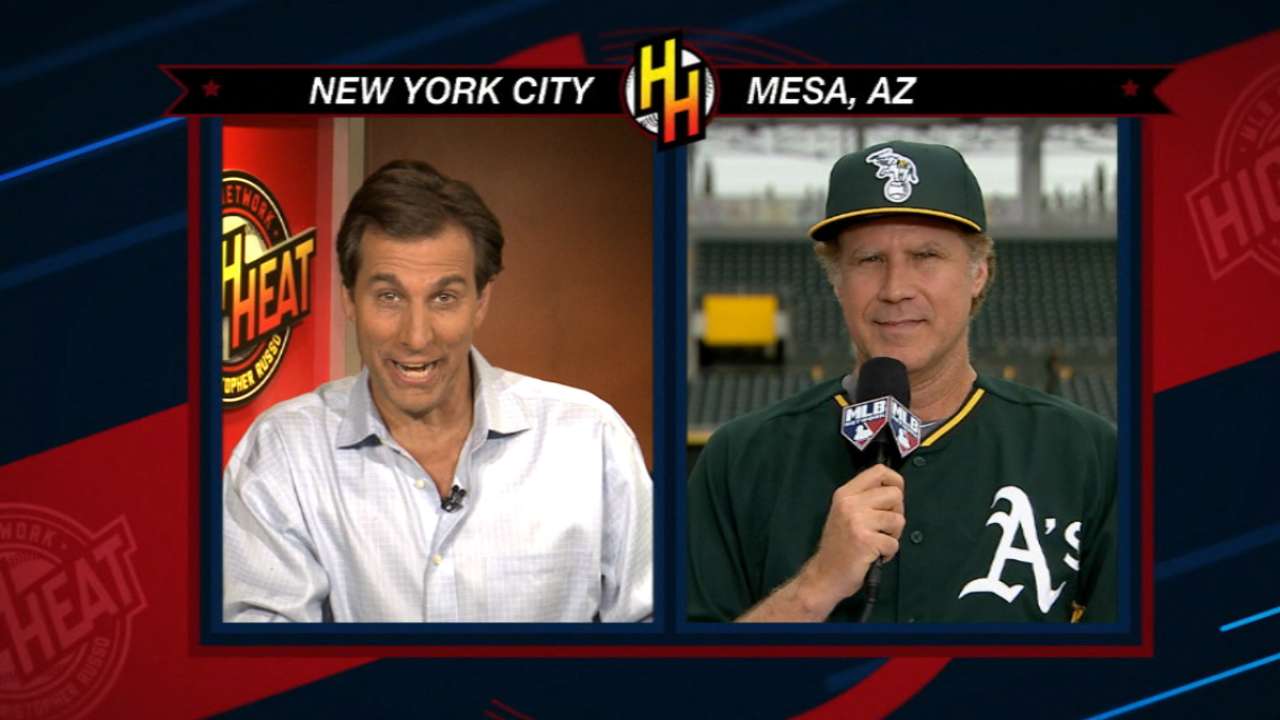 PHOENIX -- This is a great day for Major League Baseball, a proud day. Years from now, every player and every manager involved can look back and feel good about doing their part to make the world a better place. That's one of many reasons this is such a cool deal.
Along the way, we're doing plenty of the things we always do at baseball games. We're watching some and laughing some. We're standing and cheer, and when it's all said and done, we're going to take some memories with us. Will Ferrell's genius will see to that.
Maybe you've heard the basics. Ferrell is channeling his inner Bert Campaneris today by playing every position. Better yet, he's playing for 10 teams in five different games.
He's shuttling from game to game, slipping into new uniforms, playing a different position for each club. He has a partner in HBO, which is going to turn the whole thing into a network special later this year.
Got that?
Here's the really cool part of the event, the part that makes it worthwhile. THIS is the part that's going to make everyone involved feel good that they broke up their normal spring routine for a few hours.
Ferrell is doing it as a fundraiser for Cancer for College, a charity that raises scholarship money for sick kids. Since its inception, Cancer for College has raised almost $2 million and sent almost 1,000 cancer survivors to college.
Ferrell's involvement was born out of his friendship with a man named Craig Pollard while both were at USC. Pollard, a two-time cancer survivor, has fought a hellish fight against the disease.
Because he's a survivor and because he's successful in running his own golf accessories business, Pollard decided that his life had a larger message for others. Actually, Pollard made a deal with God one night in a hospital bed. If God would give him a few more years, Pollard would do his part to make the world a better place. Out of his search for a mission, Cancer for College was born.
As Cancer for College has grown, so has Ferrell's fame in the world, and as a result his ability to contribute on a variety of levels. There are events all over the country, and Ferrell lends his support in all sorts of ways.
Now this. Ferrell has long been a baseball fan, and in this, the 50th anniversary of Campaneris playing every position in a Major League game, he came up with the idea of doing the same himself in a Spring Training game. In MLB, he found a willing partner.
Ferrell is taking the baseball part of the project seriously, having trained for weeks to become comfortable on a diamond. And today, he's catching some and playing some shortstop and even stepping into the batter's box.
If you ever wondered what Ferrell would look like in an A's uniform or a White Sox uniform or a Dodgers uniform, this is your chance. If you've been wanting to see one genius (say, Bruce Bochy or Joe Maddon) interact with another (Ferrell), this is your chance.
So sit back, take a deep breath and enjoy the show. Know, too, that there's something more going on here. Baseball takes its position as a social institution seriously.
Ferrell takes his position seriously as well. His brilliance has been in transforming himself into Alex Trebek or Ron Burgundy or any of dozens of others. But he, too, believes influence and power is something that can be wielded for good.
People watch. People pay attention. And by the end of the day -- and certainly by the time the HBO special airs -- a lot of people will know about Cancer for College. Strip everything else away, and that's what this day is about. Play ball.
Richard Justice is a columnist for MLB.com. Read his blog, Justice4U. This story was not subject to the approval of Major League Baseball or its clubs.