Hutchison hoping to join Blue Jays' 200-inning club
Right-hander continues mastery of Orioles with four shutout innings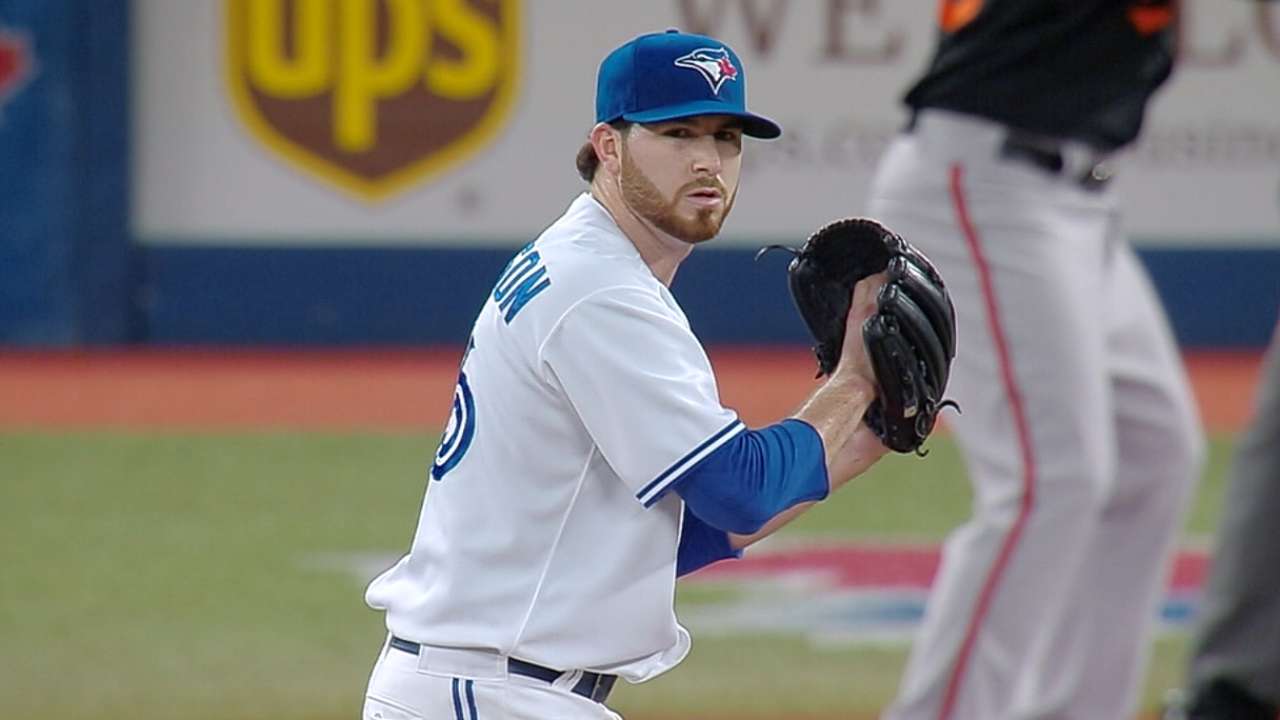 SARASOTA, Fla. -- It would be hard to blame the Orioles if they preferred to avoid Drew Hutchison in any of their 18 scheduled matchups with the Blue Jays this year.
Hutchison, who pitched brilliantly against the O's throughout the 2014 season, remained true to form at Sarasota's Ed Smith Stadium on Wednesday, holding Baltimore's likely Opening Day lineup scoreless on two hits in four impressive innings of work.
"Minus the first hitter [a four-pitch walk to Alejandro De Aza], I thought I was good," said Hutchison of his 39-pitch outing (22 strikes, 17 balls). "I was able to get a good rhythm had a good sinker today. I was focusing on that, and I was able to get some ground balls."
Two in particular, off the bats of J.J. Hardy and De Aza, resulted double plays.
"Good slider for the first one [to Hardy] and the one to De Aza I threw a good sinker," he said.
Hutchison's performance comes on the heels of an impressive outing against the Orioles last Friday in Dunedin, when the 6-foot-3 right-hander threw two hitless innings in a 5-4 Blue Jays victory.
Hutchison was dazzling in six starts against Baltimore last year, posting a 3-1 record and 2.54 ERA with 44 strikeouts and seven walks in 39 innings of work, while holding Orioles hitters to a .188 batting average.
"That's last year," said Hutchison. "It's just Spring Training now, we're in March, so I'm just going out there trying to execute pitches, and that's really it."
Mark Buehrle, Major League Baseball's reigning durability king with 14 consecutive 200-inning seasons under his belt, recently observed that he and R.A. Dickey (215 2/3 in 2014) hope to have some additional arms this year in the Blue Jays' 200-inning club. And throwing 184 2/3 innings in 2014 placed Hutchison on the brink of membership.
"Obviously, that's the goal, to get there," said Hutchison of the 200-inning plateau. "I defninitely feel that I have the ability, so I'd be a little disappointed if I didn't get there.
"If you go out there and go deep into games every time you get the ball, it will take care of itself."
Hutchison's performance couldn't have come at a better time, with the Blue Jays still smarting from Marcus Stroman's season-ending knee injury on Tuesday.
"Obviously, that was tough, but today is today and we have to move forward," said Hutchison. "We still plan on having a good season. There's just an open spot and somebody's going to have to step up and fill it. It's just something we have to do."
Michael Kolligian is a contributor to MLB.com. This story was not subject to the approval of Major League Baseball or its clubs.