MLB.com Columnist
Marty Noble
Assigning the 13 letters of Yankee Stadium
In honor of Jackson's auction, a look at what sticks out from 1976-2008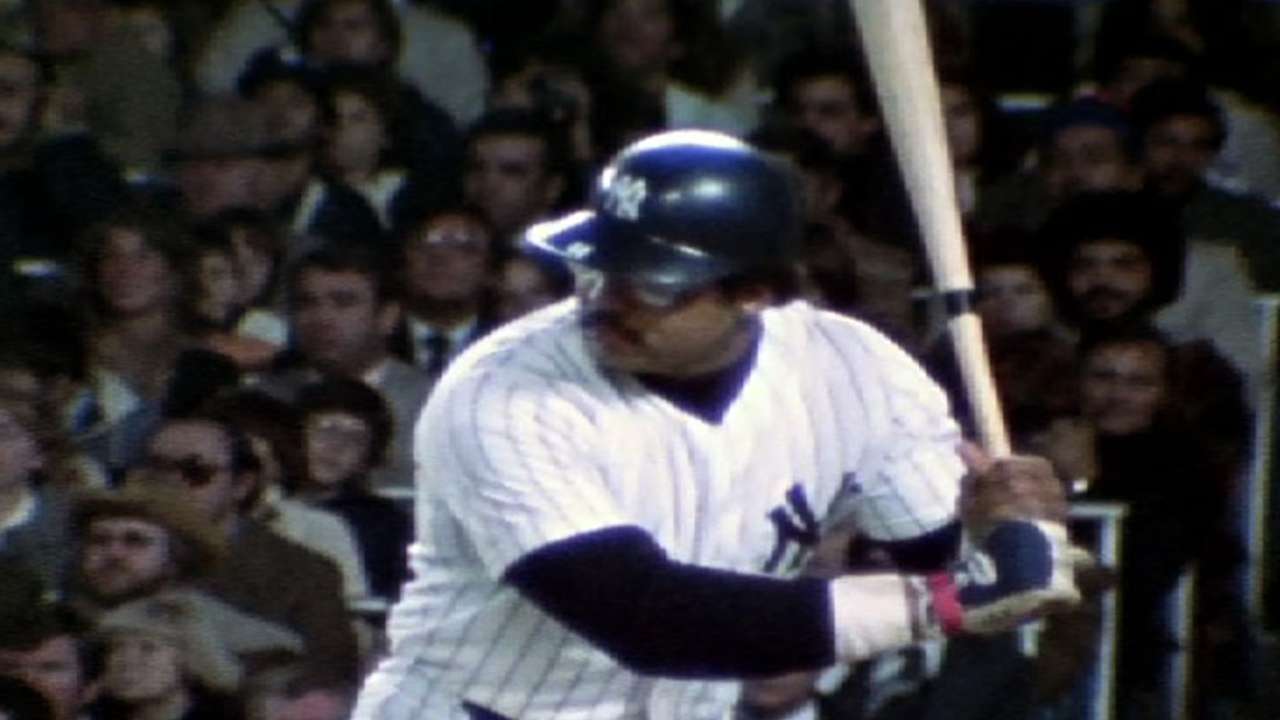 So now, we have a different identification for Reggie Jackson at our disposal. We can put aside Mr. October, and refer to him as a man of letters; his being Y-A-N-K-E-E and S-T-A-D-I-U-M. The guy who stirred the drink is trying to stir up some business. He purchased the 13, 10-foot tall, blue block letters from atop the Yankee Stadium that stood from 1976 until the team moved across the street to the regal and current stadium that carries the same identity.
Jackson intends to auction off the 13 individual letters on April 1, a date also known for foolish endeavors. Bidders beware. The Y and the S might be a cool combination to own, though where to display them could create a problem. But what could be done with a large blue E or two? In case you're interested and have more disposable income than most of us, you may benefit from the following, a description of each letter at it applies to the Yankees of 1976 through 2008. Restrictions exist in this exercise. Only the folks and/or events of that period are involved here. So the D in stadium does not stand for Joe DiMaggio any more than the M stands for Mickey Mantle or the S stands for George Steinbrenner.
Y -- Yogi. He never played in the refurbished Stadium, but Yogi Berra coached and managed there and wouldn't set foot in the place after Steinbrenner dismissed him 16 games into the 1985 season. When he finally did return -- after Steinbrenner had apologized for breaking his vow to allow Berra to manage the entire season -- his presence coincided with David Wells' perfect game, May 17, 1998.
A -- Ashford. Poor, poor Tucker Ashford. It was during Spring Training 1982 that he was banished by Steinbrenner for having committed two errors at third base in one game. "We've seen enough of Tucker Ashford," Steinbrenner said during another of his routine rooftop rants at Fort Lauderdale Stadium. In keeping with that decree, Ashford never again played in a Yankees uniform -- not in Fort Lauderdale, Fla., or the Bronx. But he clearly had been afforded a chance. He appeared in three big league games the previous October, one as a pinch-runner, two -- for a total of three errorless innings -- as a second baseman. They had seen enough, but not very much.
N -- Nelson. When Spring Training 1981 began, the Mets had lost at least 90 games in four straight seasons as the Yankees were winning two World Series and three pennants. No matter -- even in March, Steinbrenner was seemingly concerned that the Mets might encroach on his territory, the back pages of the New York's tabloid newspapers. So when Mets rookie pitcher Tim Leary became the talk of Florida in Spring Training, Steinbrenner felt compelled to compete. He trumpeted Gene Nelson, a 20-year-old right-handed pitcher with no experience above Class A, to challenge Leary. Nelson started seven games for the Yankees from May 4 to June 9 and returned for a September cameo. He was gone by Opening Day '82.
K -- Who else but Ron Guidry? In his 14th start in his Cy Young Award season of 1978, Guidry struck out 18 Angels to establish a club record that still stands. But Yankees fans left it to their Mets counterparts to invent the K Corner six years later.
E -- Eastwick. There were instances when Steinbrenner signed free agents to prevent them from signing with another American League East team. (See Davey Collins, 1982). And Steinbrenner sometimes signed a free agent only because he could. So it was in the fall of 1977, less than three weeks after the impulsive owner had added Goose Gossage to a bullpen that already included 1977 American League Cy Young Award winner Sparky Lyle, Steinbrenner signed the former Reds closer Rawly Eastwick, too. And oh, how the Yankees needed him. Having averaged 64 appearances per year for three years, Eastwick pitched twice in April, three times in May and three more times in the first two weeks of June before the Yankees traded him to the Phillies.
E -- For error; specifically, E-5. The New York Post used "E-5" as the lead headline on its back page one, referring to a costly error made by third baseman Graig Nettles and enraging some Yankees players. Nettles, nicknamed "Puff," at one time had "Puff E-5" on his license plate.
S -- For Bob Sheppard, the voice of that Yankee Stadium. Second choice: Sierra. After leaving the Yankees as a free agent following the 2005 season, Ruben Sierra complained about the organization's motivation: "All they care about over there is winning."
T -- Tartabull. The Mets had signed Bobby Bonillla after the 1991 season. So the Yankees had to respond. They signed Danny Tartabull (see N for Nelson above).
A -- A-Rod. Enough said.
D -- Dirt, Dick Tidrow's nickname. A wonderful nickname is it.
I -- Irabu. A not-wonderful moniker, Fat Toad, was stuck on the overweight pitcher Hideki Irabu by Steinbrenner.
U -- For umpire. Recently retired Tim McClelland was the home-plate umpire who ruled in the Pine Tar Game in 1983, disallowing a home run by George Brett. McClelland's decision prompted Brett's unforgettable tirade. Its subsequent overturn by league president Lee MacPhail prompted weeks of haggling -- some in court -- by Steinbrenner and made the Pine Tar Story the wackiest in that Stadium. Or any other. Second choice: The umpires who had dirt kicked on them by Billy Martin.
M -- It could stand for Don Mattingly, Thurman Munson or Mariano Rivera. Or for Rudy May, who started the first game in the refurbished stadium. Or for Martin, who was resurrected there after he had lost his job in 1978. Or Mr. October, whose '77 World Series hat trick prompted a shower of candy bars sixth months later.
But no. Reggie purchased the letters, and now he's auctioning them off. The M stand goes for one of his impactful phrases -- "The Magnitude of Me."
Marty Noble is a columnist for MLB.com. This story was not subject to the approval of Major League Baseball or its clubs.