Cash: Kiermaier will only play center field for Rays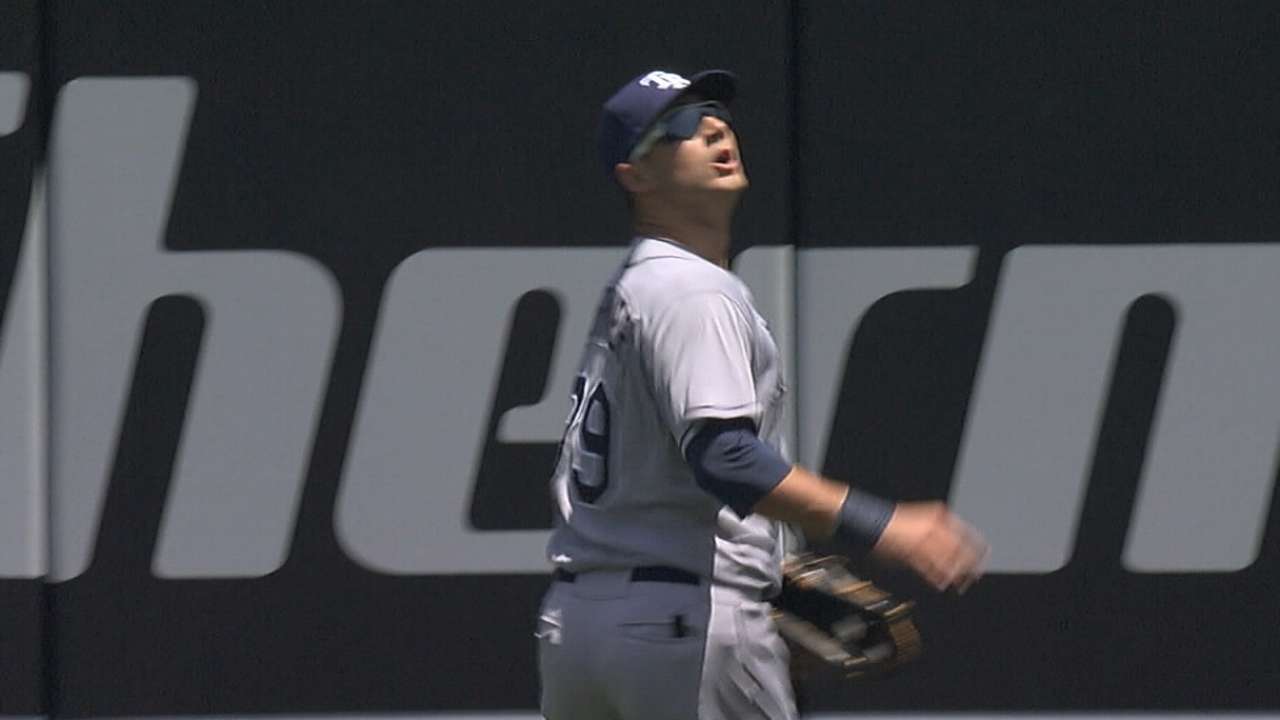 FORT MYERS, Fla. -- Kevin Kiermaier will be used in center field only this season.
That's what Rays manager Kevin Cash had to say while talking to reporters in the visiting clubhouse at Hammond Stadium on Wednesday morning.
"He'll play all center field," Cash said.
When asked for an explanation, Cash referenced Desmond Jennings' rookie season when he played only left field.
"We just feel the way Desmond had the experience in left when he first came up," Cash said. "And you kind of look at it, they had that combination a couple of years ago with B.J. [Upton] and [Carl] Crawford.
"That was a pretty good tandem in the outfield. There's probably some pretty good comparisons. I don't know if they're fair. But that would be quite the outfield to have covering a lot of ground out there."
Subsequently, Jennings became the team's center fielder.
While Kiermaier will play only center field, Cash did not say he would play every day, allowing that Jennings will be the team's left fielder when Kiermaier is in center field, but Jennings will be the center fielder on nights when Kiermaier is not in the lineup.
"I'm very excited about that," Kiermaier said about the opportunity to focus on center field. "That's kind of what I've played my whole life when I was in the outfield. I played right field my first year of pro ball and I felt good out there. But after the last couple of years, I've been center field, and that's where I feel like I can help the team out best."
No doubt Kiermaier will be in center against right-handed pitching, which would leave Cash to figure out what to do in right on those nights, in addition to the nights when a left-hander is on the mound. Also in the outfield picture are Steven Souza Jr., who will likely start in right, and Brandon Guyer, who hits right-handed and David DeJesus, who hits left-handed.
Kiermaier started in center for the Rays on Wednesday against the Twins and hit in the leadoff spot. Cash sounded like the leadoff spot will not be a place for Kiermaier, at least this season.
"Obviously he's fast," Cash said. "He brings a lot. But I don't think in the leadoff role. ... He probably could develop into that and be a force. But I think right now we have some other guys we want to get into that spot. Not to say that he wouldn't [hit leadoff] on given days. But right now I don't think the plan is to pencil him into that leadoff spot."
Bill Chastain is the Rays beat reporter for MLB.com. He has been covering the club since 2004.
This story was not subject to the approval of Major League Baseball or its clubs.