Results not great, but 'sluggish' Harvey impresses
Mets ace lacks adrenaline from perfect debut, yet still hits 98 mph, shows old form according to Fish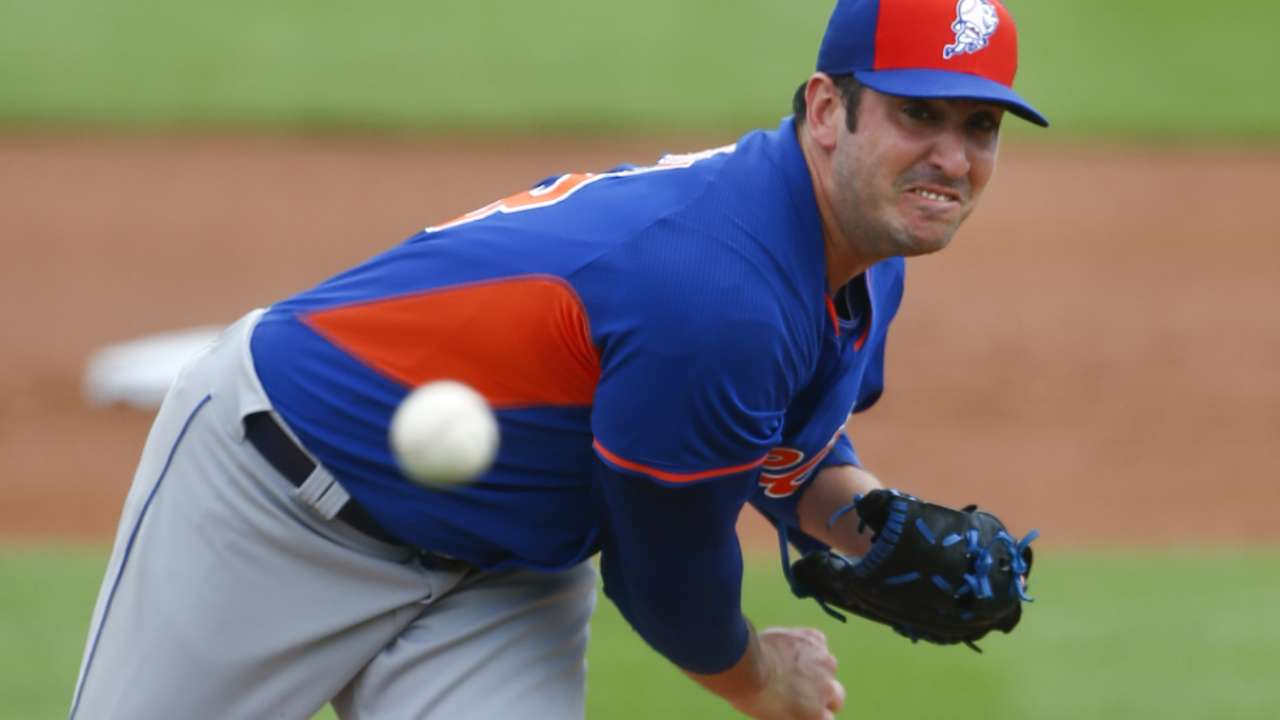 JUPITER, Fla. -- From his vantage point, Christian Yelich could clearly see the zip on Matt Harvey's fastball, the break on his curve, the depth to his changeup. Sure, Yelich said, Harvey gave up two runs and six hits in his second start back from Tommy John surgery, needing 49 pitches to compete 2 2/3 innings. But the Marlins outfielder saw something beyond those numbers.
"I don't think he's lost anything," said Yelich, who first faced Harvey as a rookie in 2013. "Just like I remembered."
For Harvey, the results were the only unfamiliar elements. Five days after electrifying a sold-out crowd at Port St. Lucie, Fla., with two perfect innings and 99-mph pizzazz, Harvey fell back to earth at Roger Dean Stadium. It was his second game action since undergoing Tommy John surgery in October 2013, though Harvey cautioned not to read too much into it. The adrenaline from that first outing was largely absent in this one. And Harvey spent most of the day tinkering with his changeup and working on throwing inside, rather than running through his usual pitch sequences.
"For me, it was just a little fatigue, a little tiredness," Harvey said. "I think with being a little tired, a little sluggish, that altered my mechanics a little bit. But other than that, everything felt great."
It was a sluggish day in general at Roger Dean, with heavy humidity blanketing the area and a scoreboard radar gun that scouts estimated was several ticks shy of accurate. One scout in attendance recorded Harvey's fastball as high as 98 mph, with most of them clocking in from 94-96. That is not much different than what Harvey did five days earlier in Port St. Lucie.
The damage against him also could have been worse, considering the first four Marlins to face him in the second inning reached base, with Ichiro Suzuki's single plating the first run and Jarrod Saltalamacchia's walk loading the bases with no outs. But Harvey induced a double play on a soft liner to third base -- catching Saltalamacchia running on contact -- then struck out Reid Brignac to escape the jam.
An inning later, Giancarlo Stanton hit a one-hop double off the left-field wall, plating Yelich. Harvey recovered to strike out Michael Morse, and his day ended there at 49 pitches. The righty will next pitch Monday against the Red Sox in Fort Myers, Fla.
"This is the second outing of spring," Warthen said. "I thought the adrenaline probably took him up a little bit higher last time. It's not out of the ordinary that the second one is just a little bit more sluggish than the other."
Added Morse: "The ball was jumping out of his hand pretty good. He was hitting his spots. And I feel like my second at-bat, he really bore down and threw some great pitches and got out of the inning. But that's Matt Harvey. He's good. All in all, I'm pretty sure we can say he's healthy."
Anthony DiComo is a reporter for MLB.com. Follow him on Twitter @AnthonyDicomo. This story was not subject to the approval of Major League Baseball or its clubs.