Ausmus hints at potential wrinkle in bullpen plan
Tigers manager mulling idea of going with three left-handers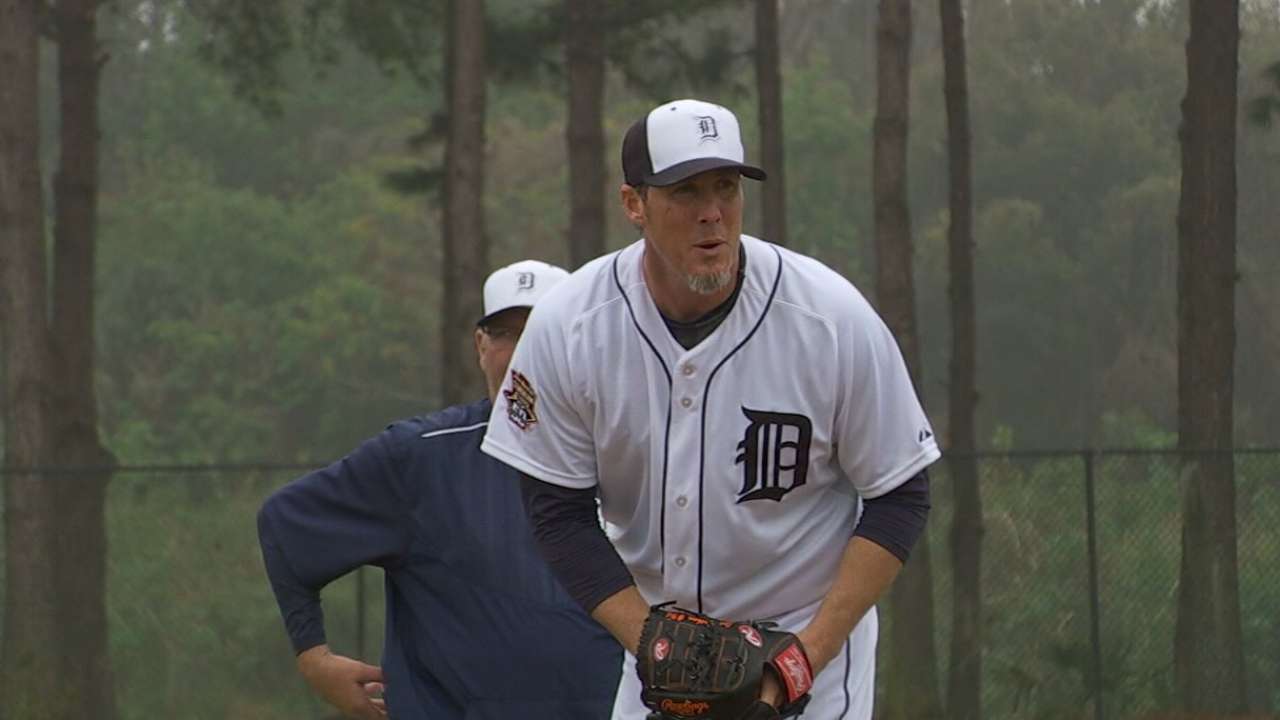 VIERA, Fla. -- Not so fast on that largely set Tigers bullpen, apparently.
At some point Wednesday afternoon, as Kyle Ryan was providing the Tigers one of their few pitching bright spots in a 9-2 loss to the Nationals, manager Brad Ausmus and pitching coach Jeff Jones raised an idea.
"Jonesy and I, during the game while [Ryan] was pitching, were talking about the idea of maybe having three left-handed pitchers as being a possibility," Ausmus said. "So yeah, we like what we've seen from him, and he's pitched well."
Ryan's performance gives him four scoreless innings on two hits this spring, with two walks and a strikeout. During a spring in which the Tigers' bullpen has had a rough afternoon or two, Ryan's relative consistency is starting to stand out.
Three of Detroit's seven pitchers posted a scoreless inning on Wednesday. Two of them were lefties in Ryan and Tom Gorzelanny. In the case of Gorzelanny, his spot in the bullpen is already pretty well secure, having signed a guaranteed one-year contract.
Add in Joe Nathan, Joakim Soria, Al Alburquerque, Joba Chamberlain and Bruce Rondon -- if Rondon is healthy -- and six of the seven bullpen spots are claimed, which makes the three-lefty idea a curious one.
"Yeah, I'm already counting those guys as kind of in," Ausmus said.
So why is the three-lefty idea being discussed?
"It does give us a little more length in the bullpen, because Ryan can go multiple innings and Gorzelanny can go multiple innings," Ausmus said. "Blaine Hardy could go multiple innings. Ian Krol to me is more of a four-out guy, but he probably could go two. And if it was a righty, he'd probably be more of a one-inning guy if you look at the righties who are kind of in play for a bullpen spot. So it lengthens your bullpen a little bit."
The reliever potentially in play could be Rondon, probably for health reasons. His return Thursday gives him as long as 3 1/2 weeks to prepare himself before camp breaks.
"Theoretically, it's enough time if everything goes well," Ausmus said. "We just have to wait and see."
It also assumes no setbacks. And after the setbacks Ausmus saw players endure last season, it's hard to blame him for preparing himself for that possibility this year.
Beyond that, there's the abundance of caution Ausmus seems willing to exercise with a young reliever capable of shutting down a big-time hitter in a big situation. Detroit hasn't had that the last two postseasons. The club's bullpen struggles in both years reflects a desperate need for that type of reliever.
"I mean, the same thing we've said about [Miguel Cabrera and Victor Martinez] applies to Rondon," Ausmus said. "The important thing isn't having them ready for Opening Day. The important thing is having them for the bulk of the season, or as much of the season as you possibly can."
Jason Beck is a reporter for MLB.com. Read Beck's Blog and follow him on Twitter @beckjason. This story was not subject to the approval of Major League Baseball or its clubs.