Scherzer can relate to big season ahead for Price
Right-hander's advice in contract year is to remain focused on winning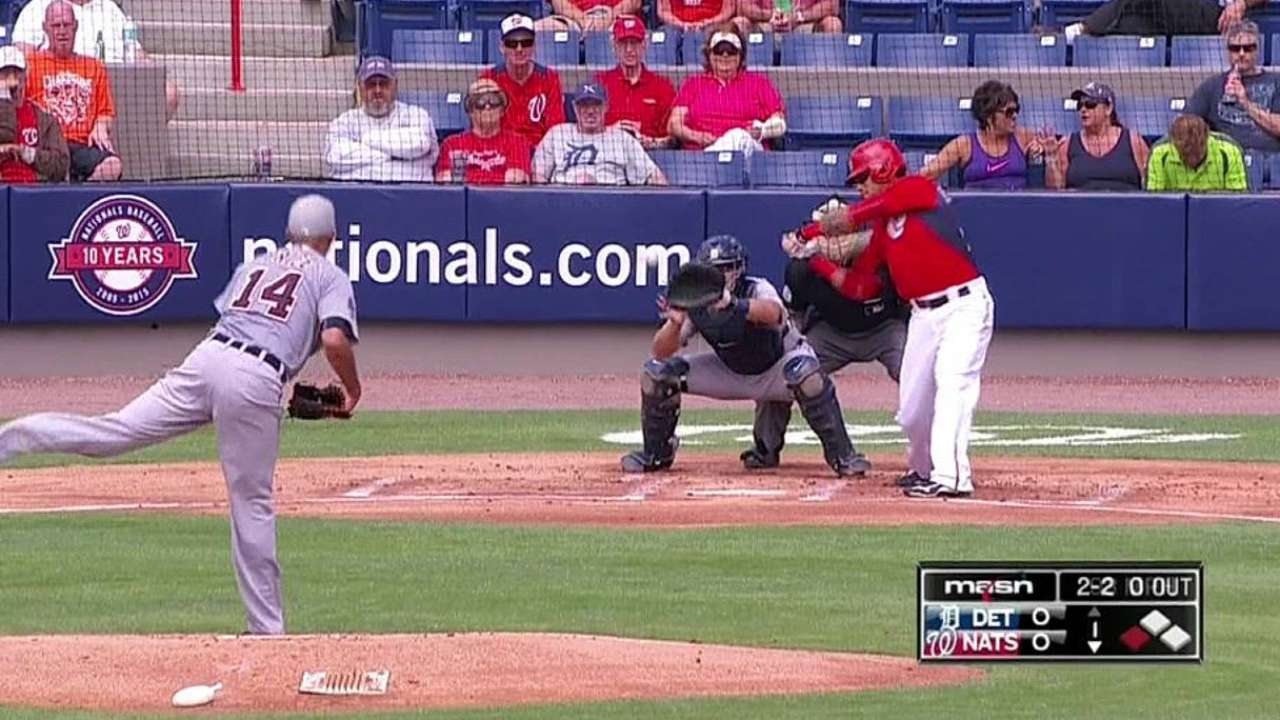 VIERA, Fla. -- Max Scherzer has been where David Price is now -- and not just physically -- with the Tigers.
While Price took the mound at Space Coast Stadium in the Detroit road gray for the second start of his contract season, Scherzer watched from the home side. But he knows what it's like in Price's shoes. In many ways, Price is now going through what Scherzer went through a year ago, a year away from free agency with speculation swarming about contract talks.
Scherzer handled the distraction of a declined contract offer that went public, tuned out the noise and churned out a second consecutive All-Star season in 2014, putting himself in position as the top free agent on the market. He can't make the decision for Price, and he isn't going to say whether free agency is the way to go. Whatever the decision, however, the one piece of advice Scherzer will give can be summed up in one word: Focus.
"Obviously, it's something you have to address," Scherzer said. "You only get one shot at this, to sign a big deal, and he's going to be in a position to be able to do it -- whether he does it now or in the offseason. That's his choice, but you have to do it right, and it's something you have to be comfortable with.
"The biggest advice I can give is that when you come to the park, it has to always be about winning. There's no room for anything else, any other motivation. The motivation is to try to go out and win every single time. That really worked for me."
So far, Price has been able to do that. He has been open about his contract status, and he said Wednesday that no contract talks have begun, just as he has said five days ago and when camp began. Whether on the mound or in the clubhouse, however, Price has turned his attention to his game.
"I saw him getting his work in every day. That's what it's about," Price said of Scherzer. "It's the same game I fell in love with when I was a little kid, so I don't want things to change. I want to focus on the present and be the best teammate I can be from Day 1 through Day 4 and then go out there and give us a chance to win on that fifth day. And that's what I'm focused on."
Price did not win Wednesday so much as he got his work in. A pair of doubles just inside third base hurt his cause in a two-run opening inning, and a two-out rally doomed him in the second, fueled by a Wilmer Difo triple that Anthony Gose nearly caught on a sprint deep into the gap in left-center field.
Price had his moments, including a 94-mph fastball he blew past Bryce Harper on a 3-1 count before walking him in the opening inning.
"My cutter was OK," Price said. "My changeup was down for the most part. My curveball, I didn't have a great feel for that. Fastball was up in the zone a little bit, but I made some good pitches with that as well. Just part of the process."
Jason Beck is a reporter for MLB.com. Read Beck's Blog and follow him on Twitter @beckjason. This story was not subject to the approval of Major League Baseball or its clubs.