Darvish expected to undergo Tommy John surgery
Second doctor also recommends elbow procedure for Rangers right-hander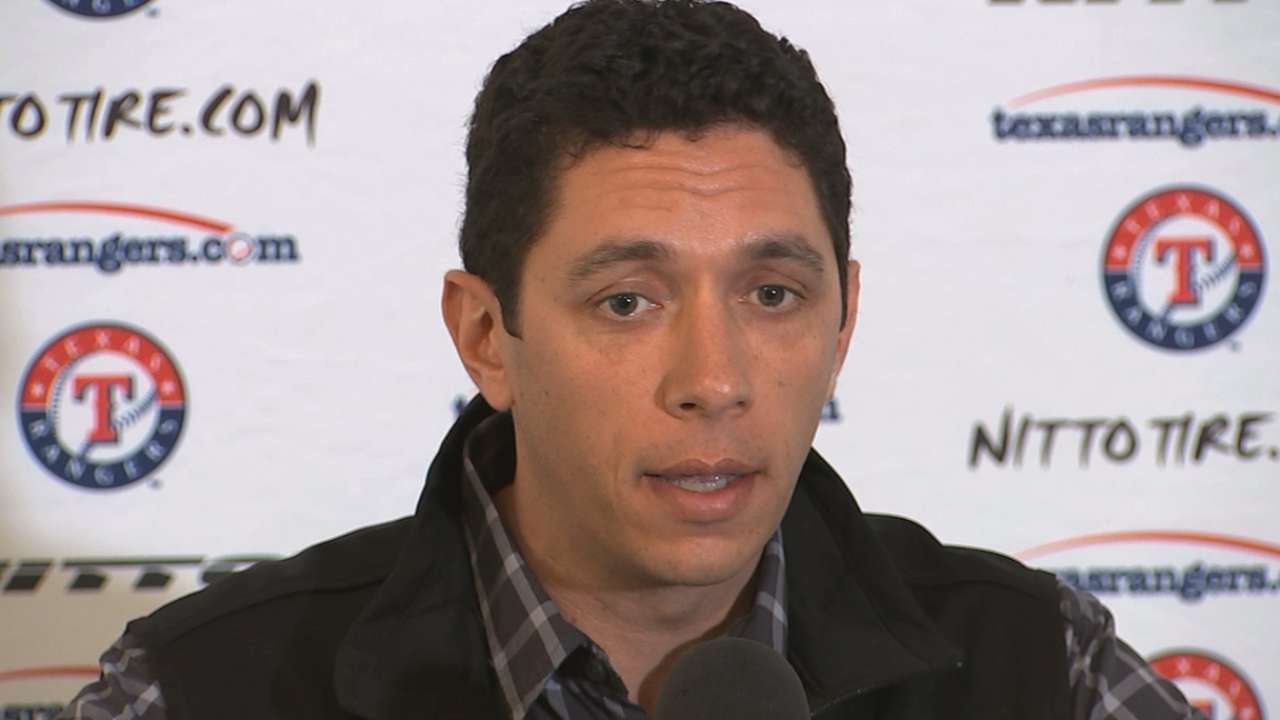 SURPRISE, Ariz. -- Yu Darvish has a partial tear of the ulnar collateral ligament in his right elbow, and although the Rangers have yet to make a final decision, all signs are pointing toward Tommy John surgery.
"Things are likely headed down the path to surgery," general manager Jon Daniels said Wednesday. "There are no real surprises, no real change there, but the final decision has not been made. I would expect a final decision by the end of the week and then a timeline for surgery, if in fact that's the final call, early next week."
Darvish missed the final month and a half of the 2014 season with elbow inflammation and left his first Spring Training outing last week after just one inning.
Team orthopedist Keith Meister originally evaluated Darvish, and then the 28-year-old right-hander flew to New York, where he met with Dr. David Altcheck, the Mets' medical director, for a second opinion.
"Where it's cut-and-dry, if the ligament is totally severed, that's kind of the easy one," Daniels said. "When you've got a damaged ligament, that's where you lean on the experts, and we've spoken to several, two of the best in the world. I feel very confident in their recommendations."
The doctors came to the same conclusion and recommended surgery, but the Rangers plan to send Darvish's MRI to Dr. James Andrews for a third opinion. However, Daniels isn't expecting anything to change when Andrews looks over the MRI.
"I think it's more of, 'Why not?'" Daniels said when asked why the team is getting a third opinion. "It's a big decision for [Darvish] and the organization. Nothing's lost; we're talking about three of the best surgeons [and] doctors in the world."
The Rangers signed Darvish to a six-year, $56 million deal prior to the 2012 season. The three-time All Star is 39-25 with a 3.27 ERA in his three seasons with Texas.
"Given the circumstances, I think he's in very good spirits, very clear-headed," Daniels said. "Assuming no new information comes along, which at this point I don't expect, we'll go ahead and do the surgery and get the rehab underway."
William Boor is a reporter for MLB.com. Follow him on Twitter at @wboor. This story was not subject to the approval of Major League Baseball or its clubs.