Gonzales dominates Braves with 4 shutout innings
Lefty strikes out three, while Molina, Adams each collect an RBI
LAKE BUENA VISTA, Fla. -- Marco Gonzales improved his bid to earn a spot on St. Louis' pitching staff, and Yadier Molina helped the Cardinals produce a pair of big innings during a 6-2 win over the Braves at Champion Stadium on Wednesday afternoon.
Though Gonzales might end up in a relief role when the regular season begins, he maintained his status as a rotation candidate by surrendering just one hit over four scoreless innings while striking out three. Freddie Freeman's first-inning double and Eric Young Jr.'s two-out walk in the third accounted for the only baserunners the Braves produced against the Cardinals southpaw.
"I'm just trying to prove myself as a pitcher and as an athlete," Gonzales said. "I'm trying to prove what I can do on the mound and hopefully land a spot on the roster. That's my goal -- and to just help the team win. I'm not looking at it as any role right now. I'm just trying to prove myself and what I can do."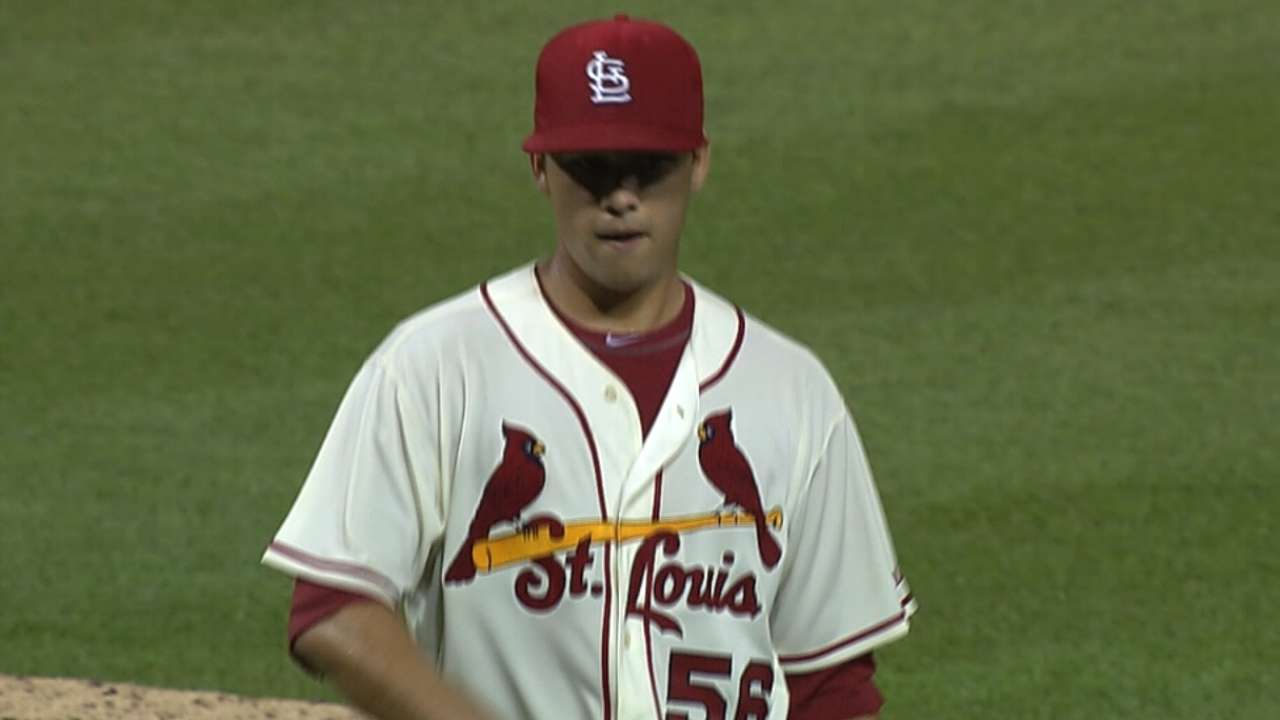 The Cardinals used a pair of walks and the first of third baseman Chris Johnson's two errors to construct a two-run third inning against Braves starter Alex Wood. After Jhonny Peralta drew a walk to load the bases, Molina followed a Matt Adams sacrifice fly with an RBI single that ended Wood's 2 2/3-inning stint. The lefty allowed two unearned runs and three hits while walking two and striking out one.
Molina walked with one out in the sixth, and Stephen Piscotty's second single of the day drove in the only earned run Braves reliever Jim Johnson allowed during the three-run frame. Chris Johnson, who had been sidelined for the previous four days with a sore left wrist, followed with his second error, which allowed the Cardinals to tally two more unearned runs against Jim Johnson in the inning.
The Braves got on the board on Joey Terdoslavich's RBI single in the eighth inning and added a run on Young's RBI double in the ninth.
Up next: St. Louis will return to Roger Dean Stadium on Thursday for a 12:05 p.m. CT game against the Orioles on MLB.TV. It will be the first of two Grapefruit League games between the clubs, as well as the first Cardinals spring game to be televised on Fox Sports Midwest. Left-hander Jaime Garcia, trying to push his way back onto the Major League roster, will be making his second spring start. He allowed three hits and allowed one run and one walk in 1 1/3 innings against Washington his first time out.
Mark Bowman is a reporter for MLB.com. This story was not subject to the approval of Major League Baseball or its clubs.