Taillon ready for next step on long road back
Returning from Tommy John surgery, Bucs No. 2 prospect throws on side, looks forward to BP
CLEARWATER, Fla. -- It's been almost a year since Pirates pitching prospect Jameson Taillon last stared down the mound and threw to a hitter. It was a long year of recovery and rehabilitation from Tommy John surgery on his right elbow, but he's nearing a major milestone and another new challenge.
Taillon threw a 34-pitch side session Tuesday, working in his fastball, curveball and changeup, and he woke up Wednesday morning feeling good. The next step, assuming Taillon is cleared by coaches and trainers, will be live batting practice on Friday, when the Pirates' No. 2 prospect will face hitters again.
"I'm going to try to downplay it in my head, at least. It's just a live BP," Taillon said. "But I know when I get out there I'll have some extra adrenaline, so I'm trying to relax about it and treat it for what it is, just another step.
"But the competitive juices and everything, I'm extremely excited to get that feeling back."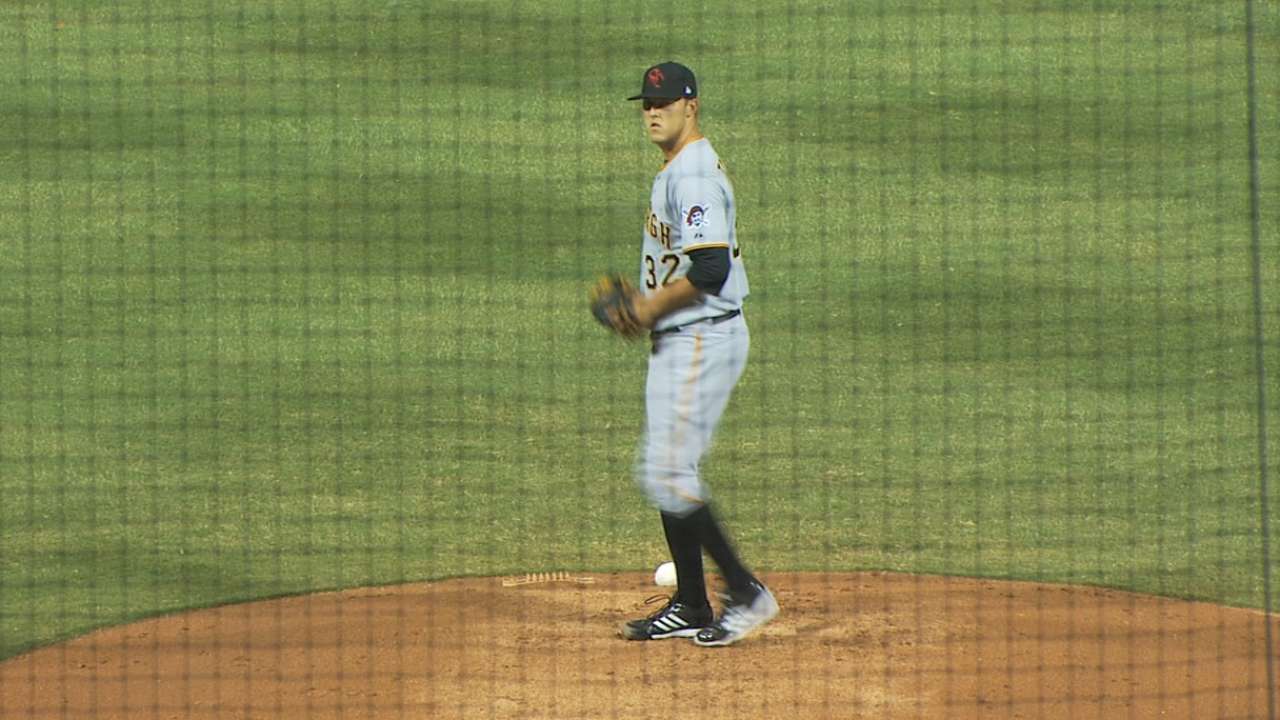 The last time he faced a hitter, he said, was March 17, in Minor League camp. Tuesday marks the one-year anniversary of his injury, and he's not yet a year removed from undergoing reconstructive surgery on his throwing elbow. The operation was performed April 9.
Taillon has a calendar with the rest of his rehab schedule laid out. He's able to discuss what's next without looking too far ahead. He expects to throw three or four live batting-practice sessions before advancing to simulated games. He hopes to pitch in a competitive game situation in April.
Actually, he has a more specific date in mind.
"My one-year mark's April 9, so that was the goal I was shooting for," said Taillon, the No. 31 prospect in baseball according to MLBPipeline.com. "That can switch based on your five-day schedule. Maybe they push you back or speed you up a bit. Sometime in April, I'd like to get in extended and start building my innings up."
Taillon probably would have made his big league debut last year if not for the injury during Spring Training. The Pirates aren't about to rush him back to action, considering Taillon's long-term future throughout the process.
In the short term, meanwhile, Taillon is ready for the next step.
"It feels really good. My delivery's in a good place. Feeling strong. Feels healthy," he said. "Mentally, I feel really good. I feel like I don't have a block in my head or anything. I'm not really thinking about it, so that's a positive."
Adam Berry is a reporter for MLB.com. Follow him on Twitter at @adamdberry. This story was not subject to the approval of Major League Baseball or its clubs.