Bucs feel for Cumpton, but confident in depth
Hurdle says pitching staff is 'set up' after loss of righty, singles out Sadler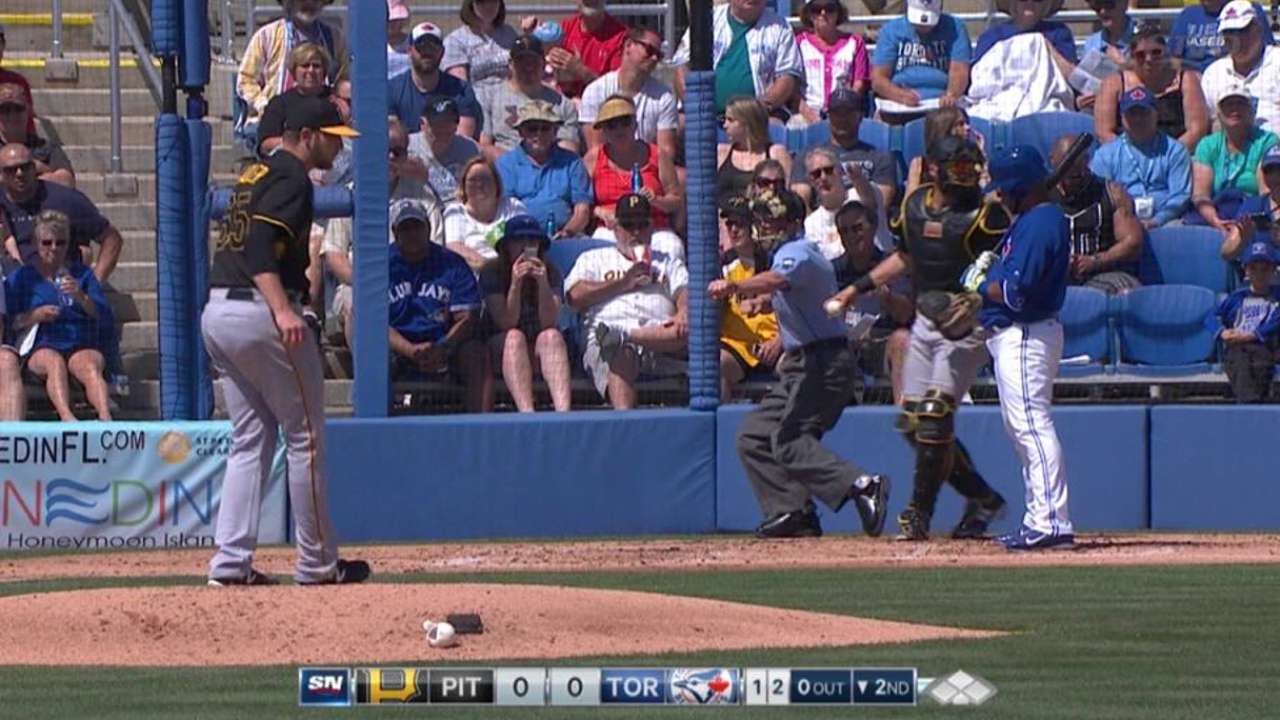 CLEARWATER, Fla. -- The Pirates lost a big part of their starting pitching depth Tuesday, when right-hander Brandon Cumpton underwent Tommy John surgery, but they are confident they have enough pieces in place to handle Cumpton's absence.
Asked on Wednesday if the Pirates will change any of their plans during Spring Training to account for Cumpton's injury and 12-to-18 month recovery, manager Clint Hurdle spoke highly of the rest of his pitching staff. He specifically singled out right-hander Casey Sadler, who made his big league debut last season.
"No, we like the depth that we have," Hurdle said. "We feel bad for Brandon, first and foremost. We feel bad for Brandon. He pours everything into every workout, every bullpen, every mound appearance.
"But we were set up. Sadler's another depth guy. He'll stay. We'll just go status quo."
Hurdle wasn't alone in wishing the best for Cumpton.
"I feel bad for him. He's a good friend of mine," said Bucs No. 2 prospect Jameson Taillon, nearly a year removed from Tommy John surgery himself. "Hopefully I can help him out a little bit through it."
The Pirates still have several options to consider. It's likely that either Vance Worley or Jeff Locke will be left without a spot in the rotation; assuming one of them finds a spot in the bullpen to start the year, he could slot into the rotation if a need arises.
Sadler would seem to top the list of likely Triple-A options should someone in the rotation be forced to spend time on the disabled list. He's thrown five hitless innings this spring. Lefty Clayton Richard seems like another intriguing possibility. The Pirates' No. 5 prospect, Nick Kingham, will work his way into the conversation at some point this season. Other potential options include Radhames Liz and Stolmy Pimentel.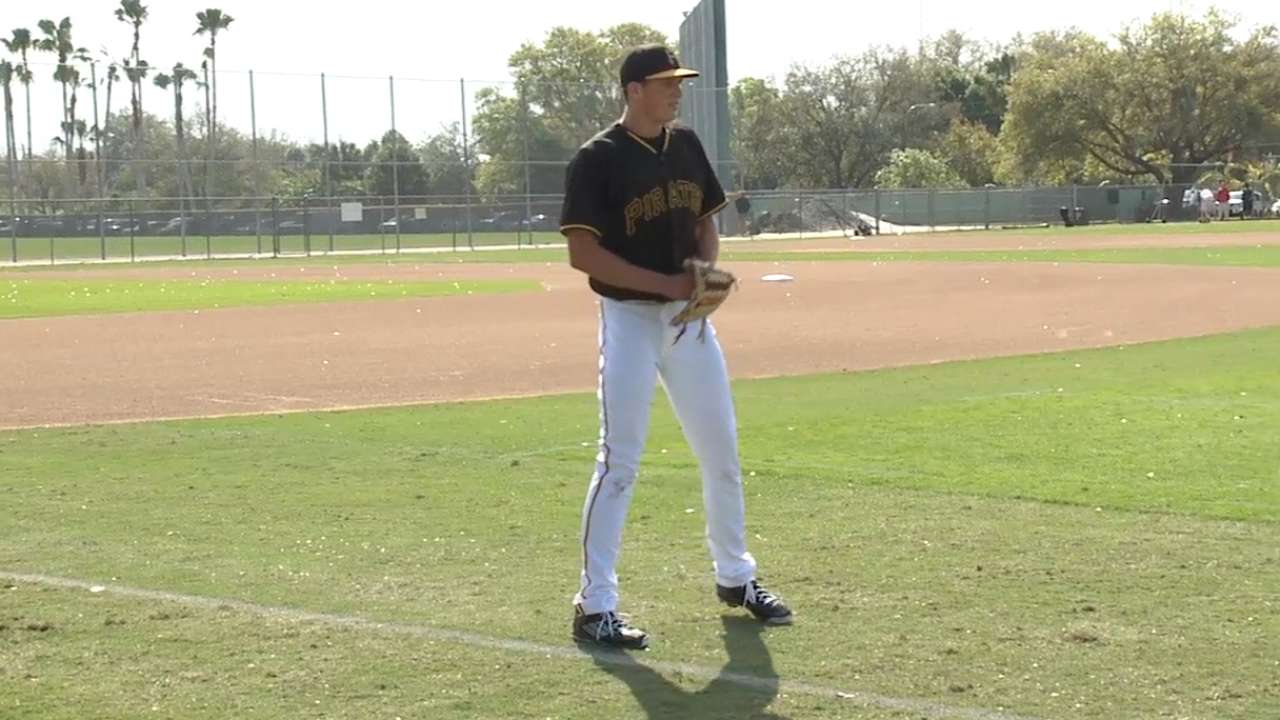 Ideally, of course, the Pirates won't have to worry about their depth beyond the five members of their Opening Day rotation.
Around the horn
• Locke pitched three relief innings in Wednesday's 3-2 loss to the Phillies at Bright House Field. He gave up two runs on three hits while striking out two, but that's not entirely representative of his outing. Locke's first two innings were perfect, thrown without a ball leaving the infield, before he allowed three hits in his final inning.
"He got a couple balls in areas that he didn't want to. They were able to do the things they wanted," Hurdle said. "The double by [Cesar] Hernandez, from my vantage point, kind of set the inning up. He battles. He made his pitches. He was so efficient for the first two. We'll just keep pushing him out there and stretching him out."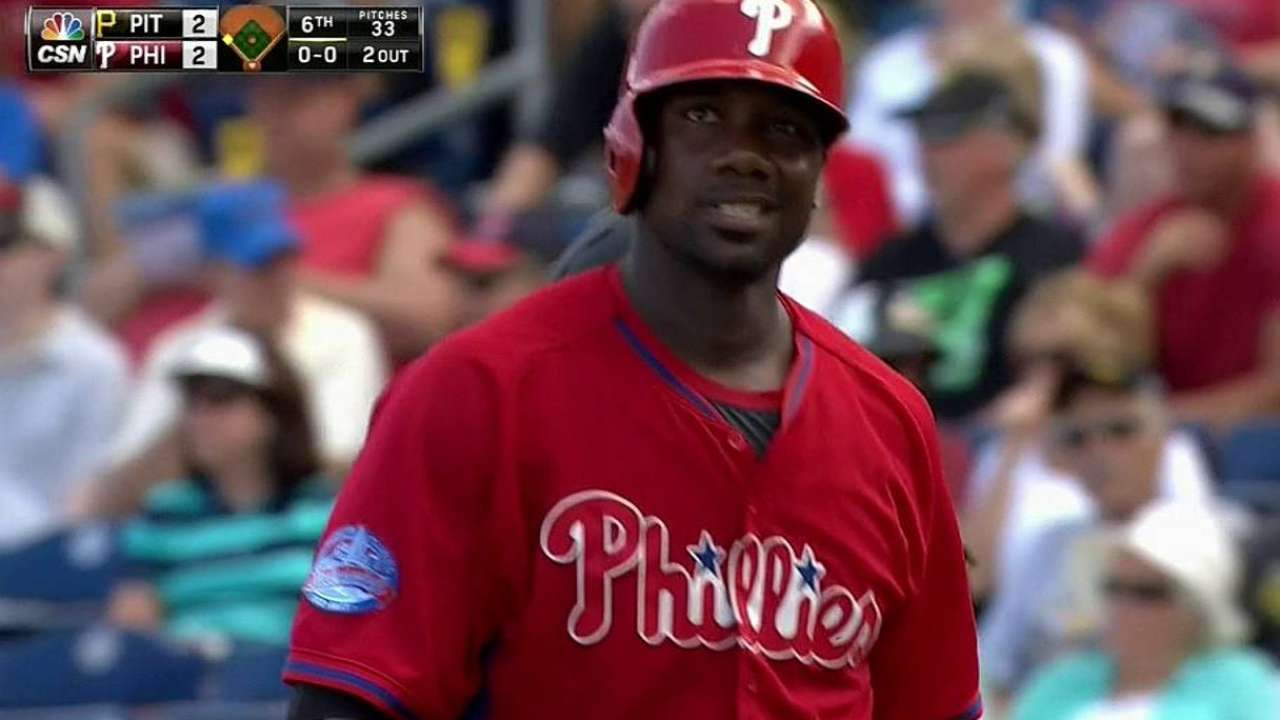 • First baseman Pedro Alvarez has been sitting out since Friday due to a mild hyperextension in his right elbow, but he should be back on the field Thursday, according to Hurdle. The Bucs manager said Alvarez went through a "very aggressive workout" at McKechnie Field on Wednesday and reported back ready to play.
• Deibinson Romero was charged with the Pirates' first error of the spring Wednesday after misplaying Charlie Morton's pickoff throw to first base in the first inning. Pittsburgh had played eight errorless games before Wednesday.
Adam Berry is a reporter for MLB.com. Follow him on Twitter at @adamdberry. This story was not subject to the approval of Major League Baseball or its clubs.