Mookie looks ready to take over leadoff spot
Likely to be center fielder on Opening Day as Castillo deals with injury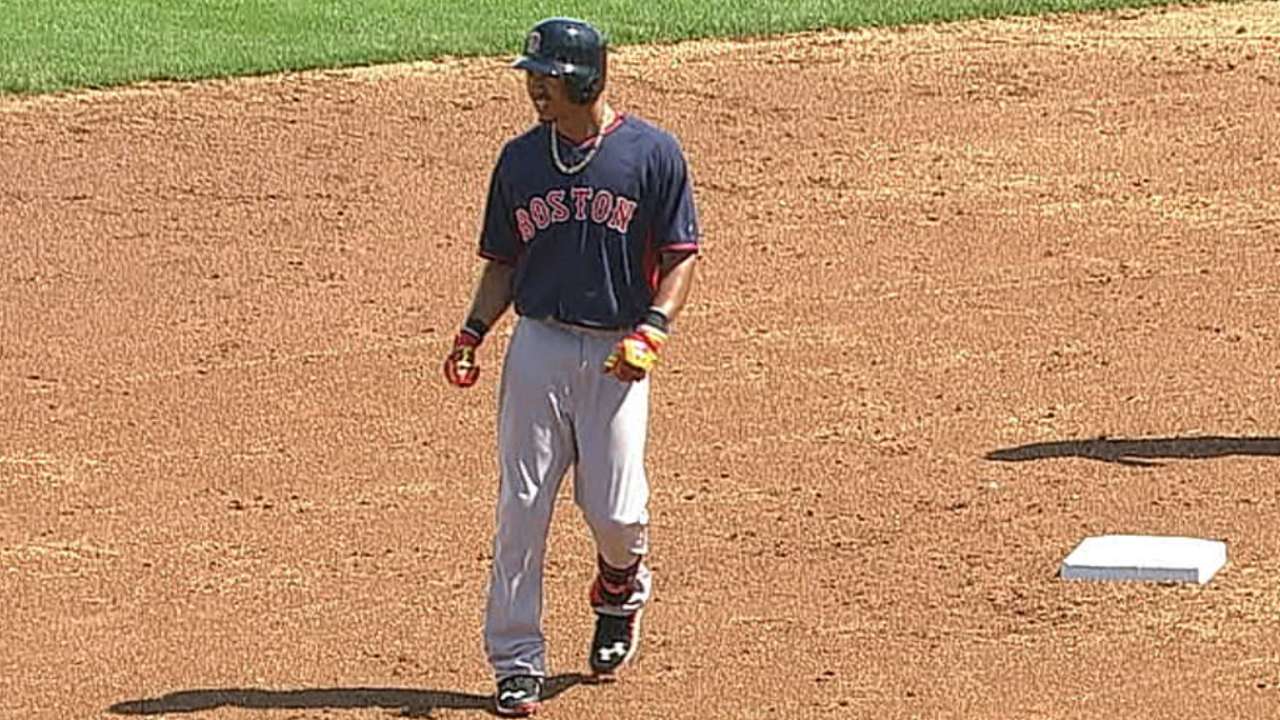 TAMPA, Fla. -- Last year at this time, the Red Sox wondered who would replace Jacoby Ellsbury, both in the leadoff spot and in center field. But as they played against Ellsbury and the Yankees on Wednesday at George M. Steinbrenner Field, there was no longer any such wonderment.
Mookie Betts is all of 22 years old and has just 189 at-bats in the Majors, yet he looks ready to patrol the areas for Boston (in the lineup and in the field) that Ellsbury did for so many years.
Betts was a steady force at the top of the order against the Yankees, going 3-for-4 with a double in Boston' 10-6 win.
There is a competition in center field with Rusney Castillo, but Betts seems to have the inside track. Castillo hasn't played in a Grapefruit League game yet as he battles back from a left oblique injury.
Meanwhile, Betts continues to look comfortable in his surroundings.
"He's good. He's really good," said right-hander Joe Kelly. "He seems to put the bat on the ball and he doesn't really miss too many pitches. If I was pitching against him, he'd be one of those guys where, even though he's batting leadoff, he's kind of like an Ellsbury. You almost got to pitch him like a 3-hitter. He's not looking to walk.
"Most of the time he's going to make contact. It's going to be hard to strike Mookie out. His hand-eye coordination is just that good. He's pretty good at everything else, too. Watching him day in, day out against all different types of pitchers, starters, relievers, it's pretty impressive."
The Red Sox spent months last season trying to find a leadoff man. In Betts, they could have that from the get-go in 2015.
"I've been hitting there since I was 5," said Betts. "I'm kind of used to it. I don't feel any added pressure at all."
The natural approach Betts has is exactly what the Red Sox look for from their leadoff man.
"He works deep counts, he gets on base, the bat speed is there," said manager John Farrell. "He's obviously got the ability to drive the baseball. He's an exciting player and seemingly has picked up where he left off last year."
Last year was just the initiation portion for Betts, and he handled it well, hitting .291 with a .368 on-base percentage and .444 slugging percentage.
There are still questions for Betts to answer, none bigger than how he will handle pitchers trying to expose his weaknesses.
"And there were a couple of cutters the other day that gave him a little bit of a challenge against St. Louis," Farrell said.
But Betts exudes the quiet confidence of someone who will adapt on the fly.
"Just trying to keep my approach consistent," said Betts. "I think I'm starting to see it a little bit and getting back to what I was doing last year. I know some things will probably change as the season goes, and I'll start getting pitched differently. I'm glad just that I can see myself kind of adjusting with them as well."
Ian Browne is a reporter for MLB.com. Read his blog, Brownie Points, and follow him on Twitter @IanMBrowne. This story was not subject to the approval of Major League Baseball or its clubs.