Miller contemplated return to Boston in offseason
Left-hander on other side of rivalry after inking four-year, $36 million deal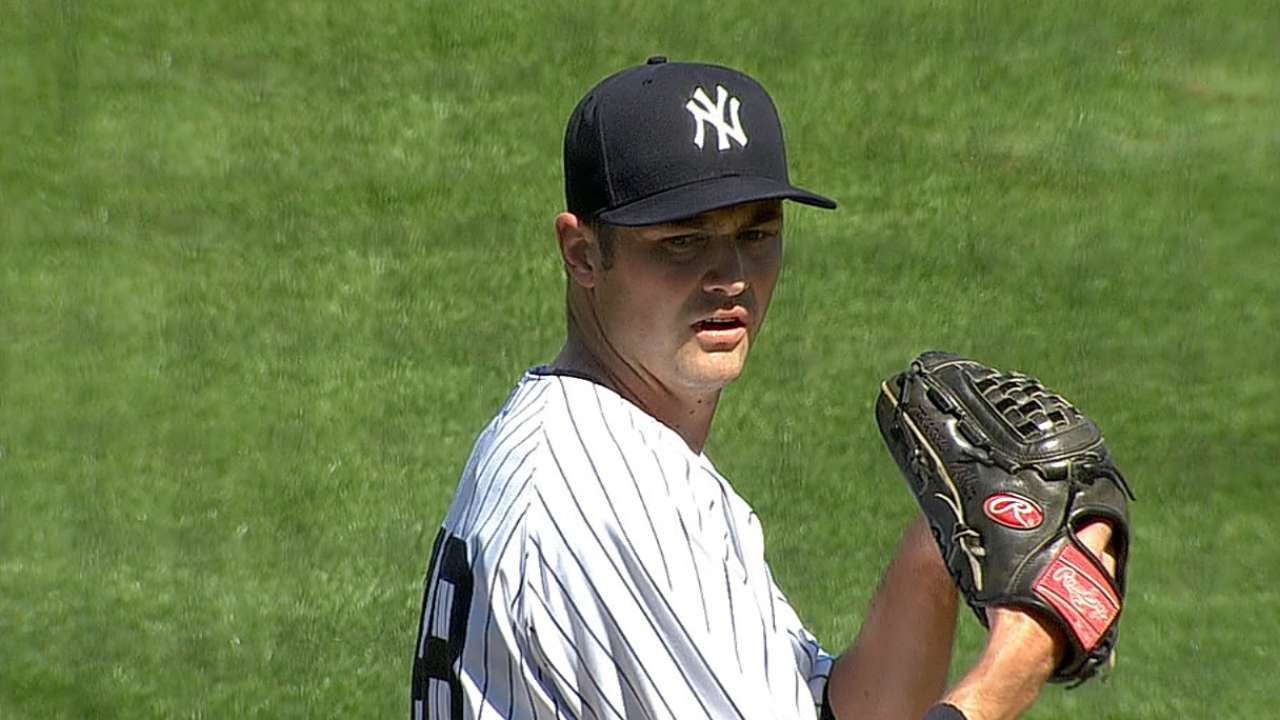 TAMPA, Fla. -- Andrew Miller thought about coming back to the Red Sox during the offseason, just months after being traded to the Orioles for prospect Eduardo Rodriguez. In the end, as a free agent, Miller made a decision that will have him lurking against his old team for 19 rivalry matchups per year.
The Red Sox got their first look at Miller in pinstripes on Wednesday, in the first Grapefruit League matchup between the teams in Spring Training.
How much did Miller contemplate a return engagement to Boston?
"A lot. I knew them better than anybody," said Miller. "They were in it. I know it's hard for everybody to keep straight what it was, but they made a heck of a run at it. It just so happened that I had a better offer here and it's something that fit me better I thought.
"Hindsight is always 20-20, so you can talk about it later, but it wasn't for lack of effort or them making a bad offer. They certainly made an impressive offer. If I had taken it, it certainly wouldn't have looked bad for me. This seemed like a better fit, with the total package."
Boston manager John Farrell was asked how unattractive it is to see Miller in a Yankees uniform.
"When he comes on the mound, that's when he gets really unattractive," said Farrell. "You know what? We had a really good pitcher. And for obvious reasons, we got a really good pitcher in return. But the way he's come along as maybe one of the best left-handed relievers in the game, man, he adapted to the role, his resiliency from a physical standpoint is there. He's a great teammate. We just hope those things show up when we're not in town."
How much did the Red Sox talk about trying to retain Miller?
"There was a lot of talk," said Farrell. "But as the No. 1 left-hander on the market, he was going to have a number of options, which was the case."
The Yankees signed Miller to a four-year, $36 million deal.
The offseason was a perfect storm for Miller. Not only was he the best lefty reliever on the market, but he was coming off a breakout season, one in which he was able to showcase his skills for the Orioles during the American League Championship Series.
"I think I kept pitching better and better, and last year was the best I had pitched," said Miller. "I had a full season. I had that fluke injury the year before and stuff. I think timing definitely worked in my favor. I think honestly the best thing that happened was getting traded to Baltimore.
"In Boston, the way the hierarchy was set, [Junichi Tazawa] threw the eighth a lot and I would get in there sometimes, this and that. I think going to Baltimore and being paired up with Darren [O'Day], we had the eighth inning, whichever made more sense. I think getting to pitch in a playoff situation and kind of having the spotlight on you, all that kind of stuff really played in my favor."
Ian Browne is a reporter for MLB.com. Read his blog, Brownie Points, and follow him on Twitter @IanMBrowne. This story was not subject to the approval of Major League Baseball or its clubs.