Sarah's Take: Challenges stacking up against Giants
Pence's injury the latest obstacle for reigning World Series champions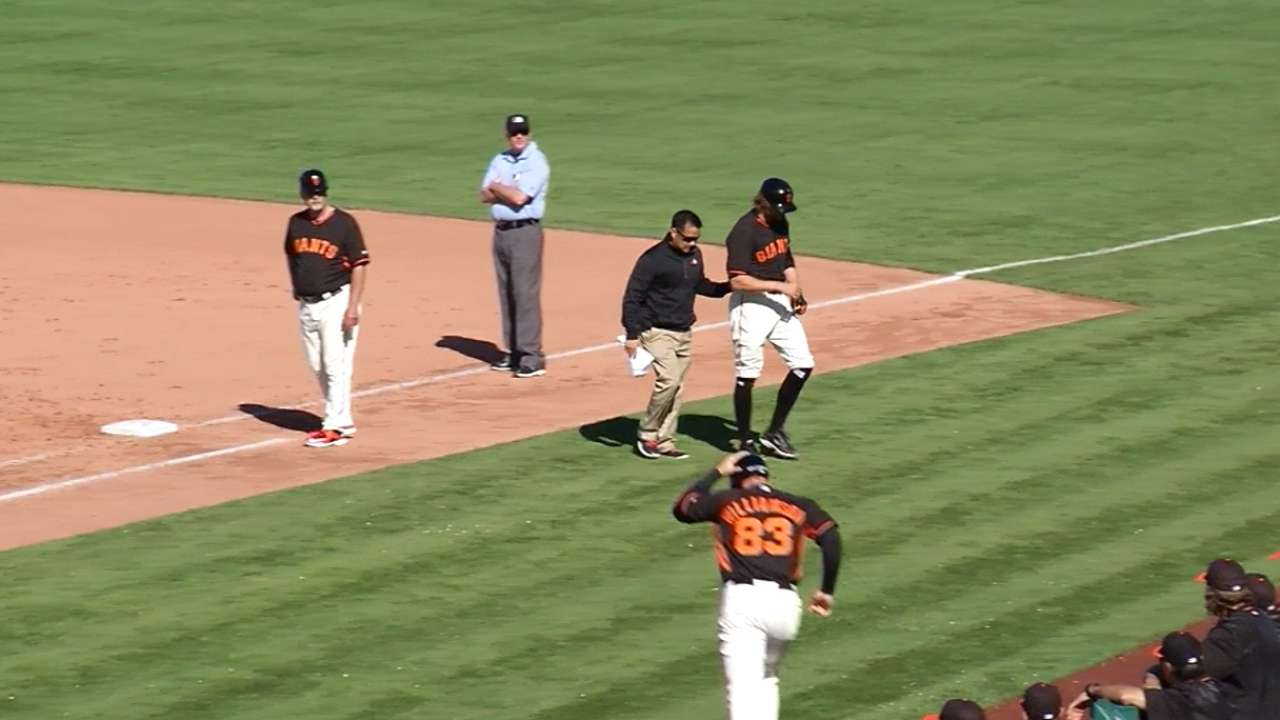 Spring Training games began March 4, and already the San Francisco Giants' Hunter Pence has suffered a broken forearm after being struck by a pitch. This injury can keep Pence out for as long as three months and derail the possibility of the Giants earning the right of going to another World Series.
At least on paper, the Giants don't look as strong as they did last year. Right after the Giants defeated the Kansas City Royals for their third World Series championship in five seasons, the media started talking about their dynasty.
I don't know whether the Giants have a dynasty or not. However, what they have done since 2009 is remarkable and a tribute to their consistency in management. Manager Bruce Bochy has been in San Francisco since 2007. General manager Brian Sabean has held the same job since 1997.
Both Bochy and Sabean have experienced disappointments while with the Giants' organization, but the ownership had enough faith in their collective ability to run a baseball team and knowledge of the sport to exhibit patience with them, even when the Giants did not perform up to expectations. Now they know which players are in the organization that can help the Major League team this year and in the future.
The Giants have the sixth-highest payroll in the Major Leagues in 2015, but Sabean's background as a scout enables him to evaluate talent and figure out if a certain player will help the organization. Of course, sometimes he makes mistakes -- as he did last year, when he signed Dan Uggla to play second base. When Uggla proved that he couldn't either field the position or make consistent contact, the Giants released him. The emergence of Joe Panik to play second base made the Uggla signing irrelevant.
During the offseason, Bochy lost his longtime third-base coach Tim Flannery, who, after 33 years in baseball, wanted to spend more time with his family. Flannery came from San Diego with Bochy in 2007, and he has been regarded as one of the best third-base coaches of all time.
One of the strengths of the Giants has been their ability to retain their coaching staff. Now Bochy must develop a working communication with a new third-base coach.
This past offseason, Sabean tried to improve the team, but everything he tried to do backfired. Losing Pablo Sandoval to free agency was quite a blow, although it was hardly unexpected. During his career, Sandoval has demonstrated a tendency to put on weight during the offseason, and this caused concern for the Giants, even though the extra weight never interfered with his performance. Now Sandoval is with Boston; he again reported to Spring Training overweight.
Sabean traded for Casey McGehee from the Miami Marlins to play third base. He doesn't have the same power as Sandoval. McGehee is not a switch-hitter. He is a mediocre fielder and much older than Sandoval. Hopefully, the Giants have a young third baseman in their farm system to take over after this season.
During this successful period, the Giants have had a great starting rotation. However, this season, it appears to be in trouble. Madison Bumgarner, coming off arguably the best postseason performance by a pitcher in history, may be San Francisco's only reliable starter. Tim Hudson had ankle surgery this January. No one knows if he will be ready for Opening Day, and at age 40, if he will be effective. Tim Lincecum was removed from the starting rotation last August. Will he rejoin the starting rotation with success? Matt Cain is trying to come back from major elbow surgery.
Pence isn't the most talented outfielder in the game, but not many Major Leaguers play with more heart. His spirit propelled the Giants to two World Series championships. Although they can find another outfielder, they will have difficulty finding another emotional leader.
Sarah D. Morris can be reached at sarahmorris27@gmail.com. This story was not subject to the approval of Major League Baseball or its clubs.