MLB.com Columnist
Jonathan Mayo
Breaking down the Brewers' 2015 Top 30 Prospects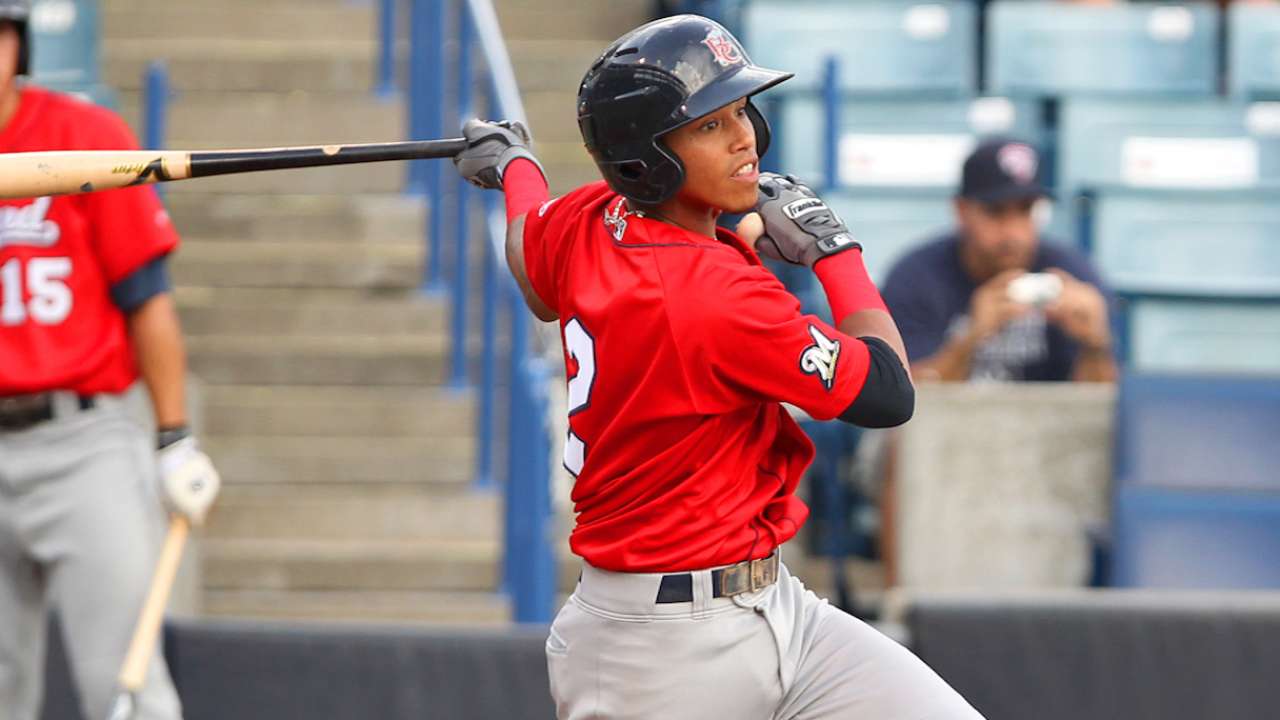 Over the past several years, the Brewers have been knocked for having a less than stellar farm system. But has it been a fair criticism?
While it's true that impact players have been few and far between, it is worth noting there has been a good amount of homegrown talent that, perhaps unheralded as prospects, has contributed at the big league level. Jonathan Lucroy, Scooter Gennett and Khris Davis were never Top 100 overall prospects, but Lucroy's an All-Star and the other two were regulars in 2014. Three-fifths of the 2014 rotation at the end of the year was developed within as well.
And if you're looking for high-risk, high-reward players, the types of lottery tickets the Brewers hadn't purchased in the past, the 2014 Draft took care of you. Scouting director Bruce Seid, in what proved to be his final Draft as he tragically passed away last September, had one of the most daring first nights of the Draft in recent memory. High schoolers Monte Harrison, Jake Gatewood and Kodi Medeiros are all in the Top 10, and they bring some added excitement about what they can become in the future. Add in international signee Gilbert Lara and Milwaukee has four teenagers in the Top 10 now.
At the top of the list are two longer-standing Brewers prospects, both with considerable upside themselves. Shortstop Orlando Arcia is the lone representative in the Top 100, but it wouldn't surprise many to see outfielder Tyrone Taylor join him at some point in the future.
Brewers' 2015 Top 30 Prospects list
Biggest jump: Tyler Wagner, RHP (2014: Unranked | 2015: 11)
Biggest fall: Hunter Morris, 1B (2014: 10 | 2015: Unranked)
Best tools
Players are graded on a 20-80 scouting scale for future tools -- 20-30 is well below average, 40 is below average, 50 is average, 60 is above average and 70-80 is well above average.
Hit: Tyrone Taylor (55)
Power: Jake Gatewood (60)
Run: Omar Garcia (80)
Arm: Monte Harrison (70)
Defense: Orlando Arcia (60)
Fastball: Corey Knebel (70)
Curveball: Knebel (65)
Slider: Kodi Medeiros (60)
Changeup: Hobbs Johnson (55)
Control: Taylor Williams (55)
How they were built
Draft: 22
International: 3
Trade: 5
Breakdown by ETA
2015: 8
2016: 9
2017: 6
2018: 5
2019: 2
Breakdown by position
1B: 1
3B: 2
SS: 3
OF: 7
RHP: 14
LHP: 3
Jonathan Mayo is a reporter for MLBPipeline.com and writes a blog, B3. Follow @JonathanMayoB3 on Twitter. This story was not subject to the approval of Major League Baseball or its clubs.