MLB.com Columnist
Jonathan Mayo
Breaking down the Reds' 2015 Top 30 Prospects
Righty Stephenson tops list again, followed by outfielder Winker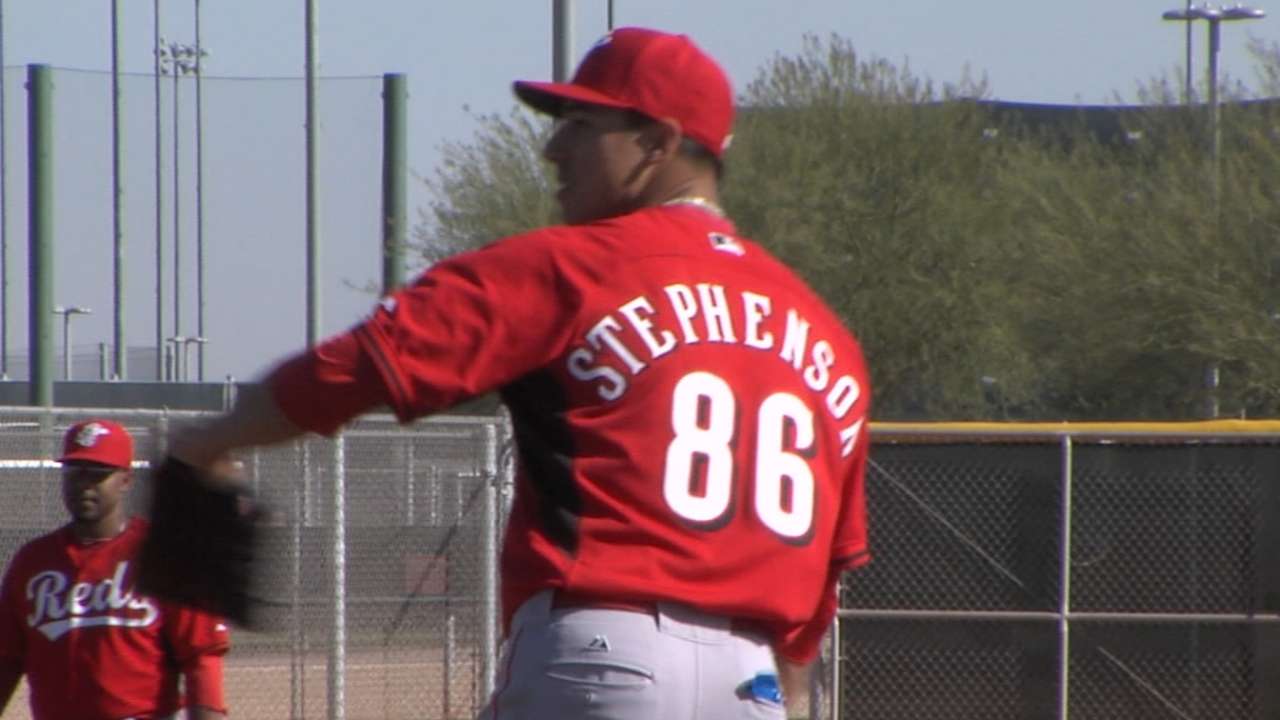 A year ago, Robert Stephenson stood atop the Reds' top prospects list, followed by a talented young outfielder.
It's the same deal in 2015, with the talented right-hander at No. 1 and an outfielder following close behind. It's a different outfielder this time, however, with Billy Hamilton, last year's No. 2, running his way to a second-place finish in the 2014 National League Rookie of the Year voting. He's been replaced by the sweet-swinging Jesse Winker, who moves up from No. 4 a year ago.
Several players have made nice jumps forward to climb toward Stephenson, who joins Winker as the only Reds on the Top 100 Prospects list. Lefty Amir Garrett, finally putting his college basketball days behind him, went from No. 20 to No. 6 on this year's preseason list. Outfielder Kyle Waldrop, who has sometimes played in Winker's shadow, wasn't on the Top 20 a year ago. A breakout season catapulted him to No. 14.
The Reds deepened the farm system with some offseason trades as well. Anthony DeSclafani and Chad Wallach both hit the list courtesy of the Mat Latos trade, and Jonathon Crawford comes aboard from the Tigers in return for Alfredo Simon.
Reds' 2015 Top 30 Prospects list
Biggest jump: Aristides Aquino, OF (2014: Unranked | 2015: 12)
Biggest fall: David Holmberg, LHP (2014: 7 | 2015: 23)
Best tools
Players are graded on a 20-80 scouting scale for future tools -- 20-30 is well below average, 40 is below average, 50 is average, 60 is above average and 70-80 is well above average.
Hit: Winker (65)
Power: Winker (55)
Run: Junior Arias (60)
Arm: Yorman Rodriguez (65)
Defense: Tucker Barnhart (60)
Fastball: Stephenson (70)
Curveball: Stephenson (70)
Slider: Nick Howard (55)
Changeup: Ismael Guillon (60)
Control: Holmberg (50)
How they were built
Draft: 19
International: 7
Trade: 4
Breakdown by ETA
2015: 6
2016: 8
2017: 13
2018: 3
Breakdown by position
C: 2
3B: 3
SS: 2
OF: 7
RHP: 13
LHP: 3
Jonathan Mayo is a reporter for MLBPipeline.com and writes a blog, B3. Follow @JonathanMayoB3 on Twitter. This story was not subject to the approval of Major League Baseball or its clubs.