Giants' chemistry boosted by embracing rookies
Veterans make point to welcome new players to clubhouse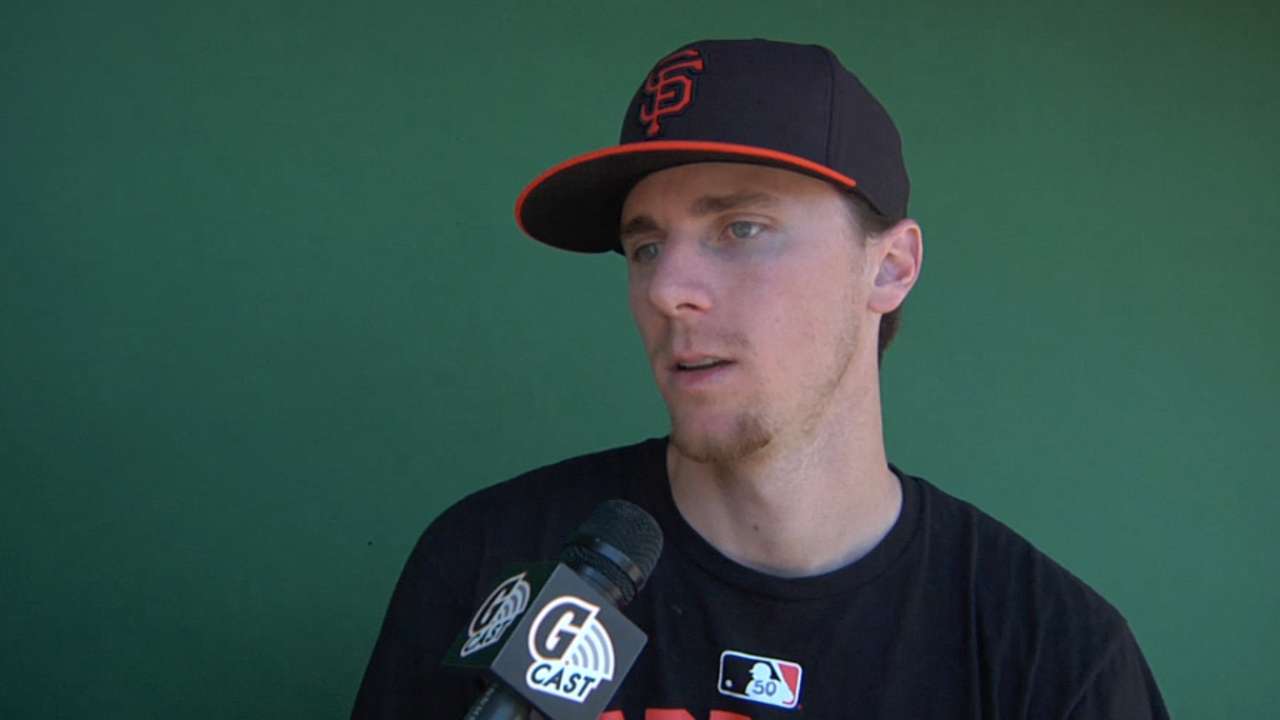 SCOTTSDALE, Ariz. -- The Giants forged their recent trio of World Series championships through determination, athleticism and perseverance. Brotherhood, camaraderie and simple human decency influenced the team's success, too.
Rookies such as second baseman Joe Panik, catcher Andrew Susac, infielder Matt Duffy and right-hander Hunter Strickland contributed significantly to the Giants' latest title. They felt relaxed and assured on the field because their older teammates kept them that way off it.
The Giants understand that welcoming their rookies is the right thing to do. Moreover, it provides a shortcut to winning. Shortstop Brandon Crawford, who has grown from rookie to veteran in a few short years, appreciates the outlook from both sides.
"I would think that if you feel more comfortable in the clubhouse, you're going to feel more comfortable on the field," Crawford said Tuesday before the Giants' 10-5 Cactus League loss to the San Diego Padres at Peoria.
This kind of bonding can be accomplished through a generous gesture or an ordinary chat. Regardless of the method, it isn't forced.
"A lot of the camaraderie that we have starts when you get here," said right-hander George Kontos, a rookie on the Series-winning 2012 club who was acquired from the Yankees in April. For instance, Kontos recalled that during his first weekend with the Giants after being recalled from Triple-A, he was invited to dinner in Seattle with a group that included Buster Posey and Madison Bumgarner.
Duffy, who made the prodigious leap from Double-A to the Majors when the Giants summoned him last Aug. 1, felt the warmth immediately upon joining the club at New York's Citi Field. Shortly after Duffy found his dressing stall, the affable Tim Lincecum engaged him in conversation. The next day, Lincecum not only resumed the dialogue, but also followed up on subjects that he and Duffy discussed during the previous afternoon.
Duffy appreciated that a four-time All-Star who had won two National League Cy Young Awards treated him like an equal.
"It seemed like he actually cared about how I was doing," Duffy said. "I'm not saying anybody has the right to act like they're better than anybody. But if anybody thought they had that right, it would be a guy with his type of credentials."
Occasionally, rookies are brought into the Giants family in more tangible ways. Susac said his monthly clubhouse dues twice were picked up last year by since-departed third baseman Pablo Sandoval -- a thoughtful economic assist. Susac said he and Panik also benefited from the largesse of right fielder Hunter Pence, who bought them each a pair of boots.
Hazing rookies has become almost nonexistent, though many clubs, including the Giants, force first-year players to don ridiculous costumes for a late-season team flight. During the season, they'll frequently be asked to bring bottled water for teammates on bus rides or fetch coffee for an idle veteran.
"Harmless stuff," Susac said.
Last year's stretch drive could have caused the younger Giants to be overlooked amid the pressure. Instead, they were made aware they were part of the struggle.
"[When] guys respect you who have been around the game a long time, and they basically let you know that we're going to need you to play a big part in this run, it's a good feeling," Susac said. "It's one less thing to worry about."
Chris Haft is a reporter for MLB.com. Read his blog, Haft-Baked Ideas, and follow him on Twitter at @sfgiantsbeat. This story was not subject to the approval of Major League Baseball or its clubs.