Homers give glimpse of Padres' new 'danger factor'
Acquisitions Kemp, Upton, Middlebrooks all go yard vs. Giants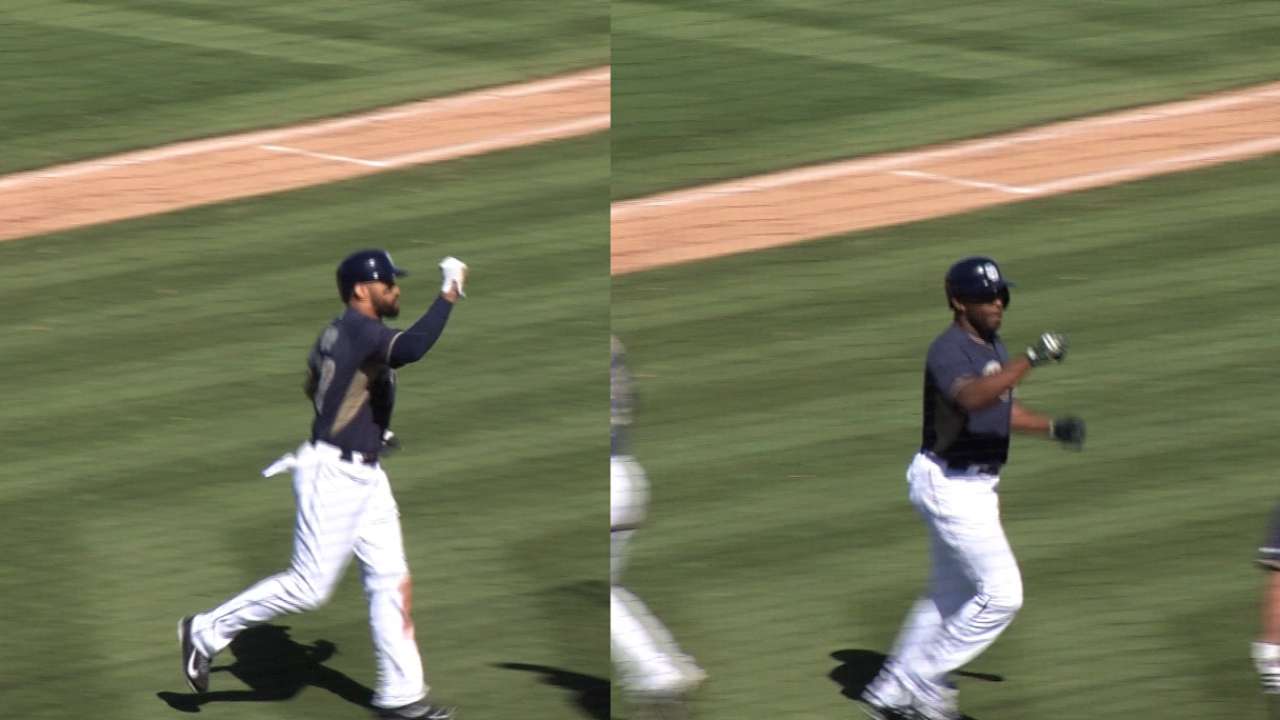 PEORIA, Ariz. -- In their seventh game of this long spring, several of general manager A.J. Preller's newest acquisitions made their mark on the Padres' lineup.
Three long marks, in fact.
Matt Kemp, Justin Upton and Will Middlebrooks, acquired to bolster baseball's worst offense from 2014, each hit home runs as the Padres defeated the Giants, 10-5, on Tuesday at the Peoria Sports Complex.
"We've talked about the danger when those guys step in the batter's box, there's a danger factor. That's nice," said Padres manager Bud Black.
Right-handed power, causing damage in the middle of the order, just the way Preller intended it to be when he traded for Kemp (Dodgers), Upton (Braves) and Middlebrooks (Red Sox) among several other notable changes to the roster this winter.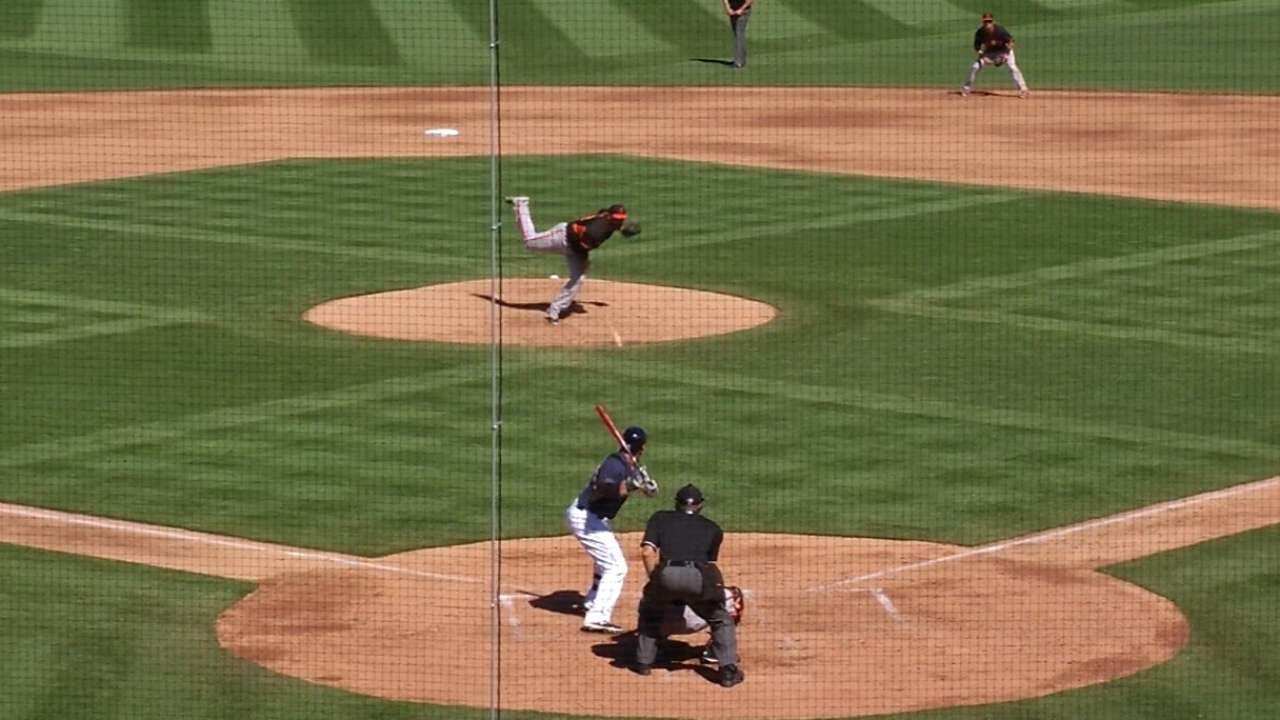 Middlebrooks, who had three hits, including his second home run in as many days, was asked afterward to ponder what kind of production this revamped lineup could potentially have in the regular season.
Another newcomer, Wil Myers, hit his first home run of spring Saturday against these same Giants.
"I think when we're all on, it's a scary lineup," Middlebrooks said. "Even if a couple of guys are on, it's a scary lineup. It's fun to play with those guys to see what they can do."
Upton had two hits, including his second home run of the spring, with Kemp entering the game looking for his first long ball. He didn't wait long, clubbing a three-run, line-drive home run in the third inning.
Kemp was the last of the three to hit a home run.
"I saw Wil hit another one today, so I had to try to put some good wood on something," Kemp said. "I was mostly just trying to hit the ball hard and see where it goes. There are a lot of guys who put some good wood on it today."
All tolled, the Padres hit four home runs, including a two-run shot by Carlos Quentin in the sixth inning. In seven Cactus League games, the team has 11 home runs.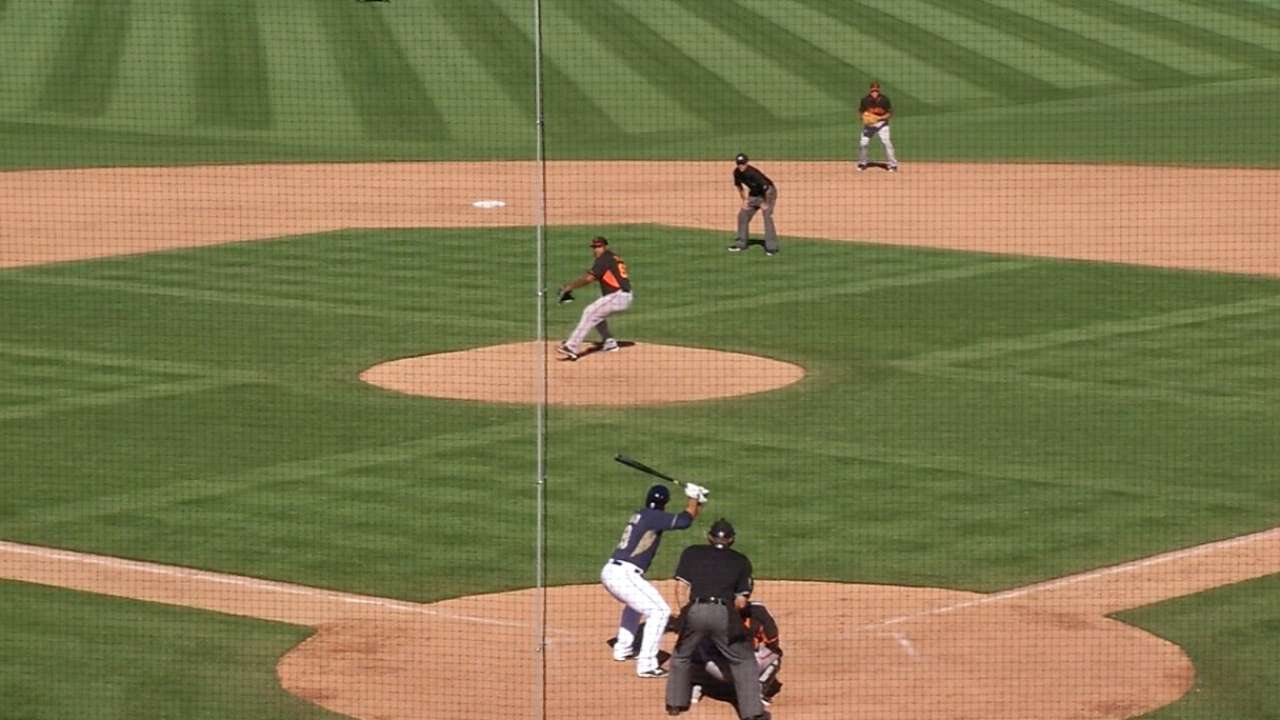 "One through nine we're pretty solid and some of the pitchers can hit pretty well. I think this year we'll be able to produce some runs and get some things going for these arms we have," Kemp said.
"Hopefully we can hit a lot of home runs, drive in a lot of runs and have a lot of fun."
Of course, this is Spring Training and the ball does carry well in the light, breezy Arizona afternoon. But in terms of a starting point, the start of games has offered what Upton, Kemp and Middlebrooks hope is a sign of things to come.
"It will be fun to be a part of," Upton said. "We've just got to put it in motion. We're getting comfortable with each other. We've got a lot of work to do. But we're going in that direction."
Corey Brock is a reporter for MLB.com. Keep track of @FollowThePadres on Twitter. This story was not subject to the approval of Major League Baseball or its clubs.