Hamilton's injury rehab going well
Dipoto says outfielder has already taken a round of BP as he recovers from surgery on right AC joint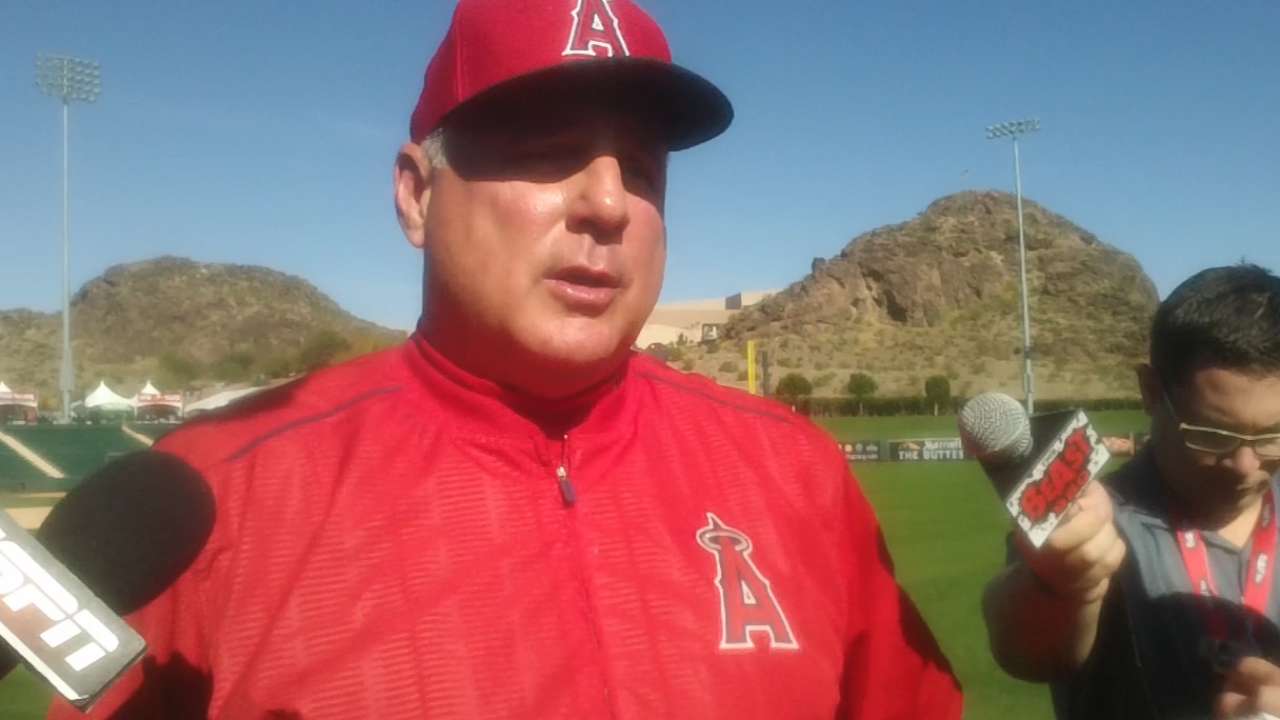 TEMPE, Ariz. - The Angels are still awaiting word from Major League Baseball on a potential suspension for Josh Hamilton, who sources said had a drug-related relapse late in the offseason. There's no sense for when a decision could come down, and general manager Jerry Dipoto still can't comment on it.
For what it's worth, though, Hamilton continues to rehab from surgery.
"What I understand from the [physical therapy] end of things is that he's in there, he's getting after it, he's recovering very well," Dipoto said. "I believe he's taken a round of batting practice already. I don't know if that's ahead of schedule or on schedule, but he's gone out and tried it. From what I understand, he's recovering well and that part of the exercises is a net positive so far."
The injury rehab, from surgery to his right AC joint in early February, could be futile depending on how long MLB decides to suspend Hamilton. The Angels may eventually have to go find a bat and will have the money to do so, but Dipoto feels comfortable with the group he has and said he hasn't really checked in on anybody.
Asked if he believes bats will be readily available in-season, Dipoto said, "It's too early to tell. It's really early. Even in the spring it's really early. But there's always guys available. It's just a matter of what you have to give and what you're willing to give. Right now we have a very flexible roster; we like our team. We're not worried about the way the offense lines up."
Some additional notes from Tuesday …
• Angels closer Huston Street was slated to pitch on Tuesday, but was feeling under the weather and decided to take the day off.
• Matt Joyce returned to the lineup after missing the last two games with soreness in his right side, going 1-for-2 with a walk.
• David Freese started Tuesday's game at designated hitter because the Angels are still searching for a backup third baseman. Taylor Featherston started at third on Tuesday, but none of the candidates for the starting second-base or utility-infield job have much experience at the hot corner. Josh Rutledge, Johnny Giavotella and Grant Green are the others.
Alden Gonzalez is a reporter for MLB.com. Read his blog, Gonzo and "The Show", and follow him on Twitter @Alden_Gonzalez. This story was not subject to the approval of Major League Baseball or its clubs.