Three consecutive homers not nearly enough for Cubs
Soler, Baez and Bryant go deep in fourth, but club's pitching allows 16 hits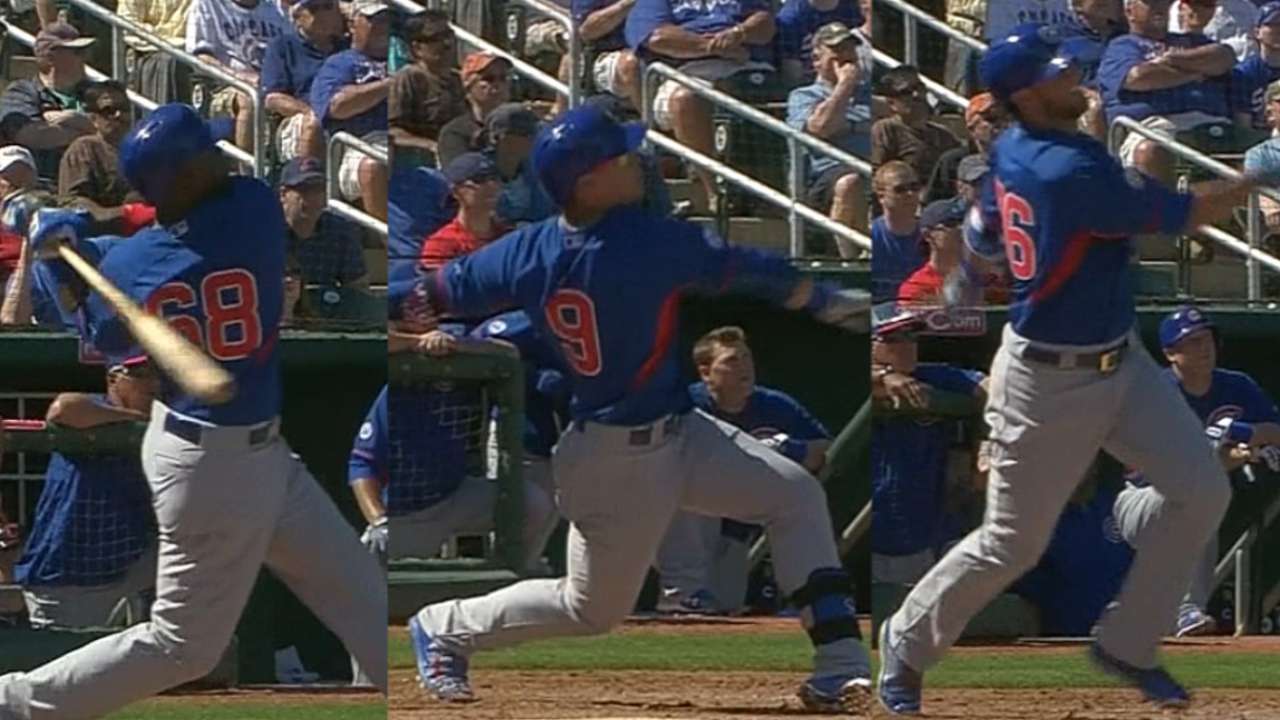 GOODYEAR, Ariz. -- The Cubs crushed three consecutive home runs in the fourth inning Tuesday, but the Indians were able to manufacture more than enough runs to post a 10-6 victory in Cactus League play at Goodyear Ballpark.
Jorge Soler, Javier Baez and Kris Bryant went deep off Indians starter Trevor Bauer, who wound up allowing those three runs on seven hits while striking out three in four innings. Cubs starter Travis Wood also allowed seven hits, with the Indians turning them into four runs and an early lead.
Michael Bourn went 3-for-3 with an RBI, Mike Aviles went 2-for-2 with a sacrifice fly and Tyler Holt went 3-for-3 with a double, triple and two RBIs to lead the Cleveland offense.
Bauer, the 24-year-old righty entering his second full season in the Majors, was pleased with his outing despite the three homers.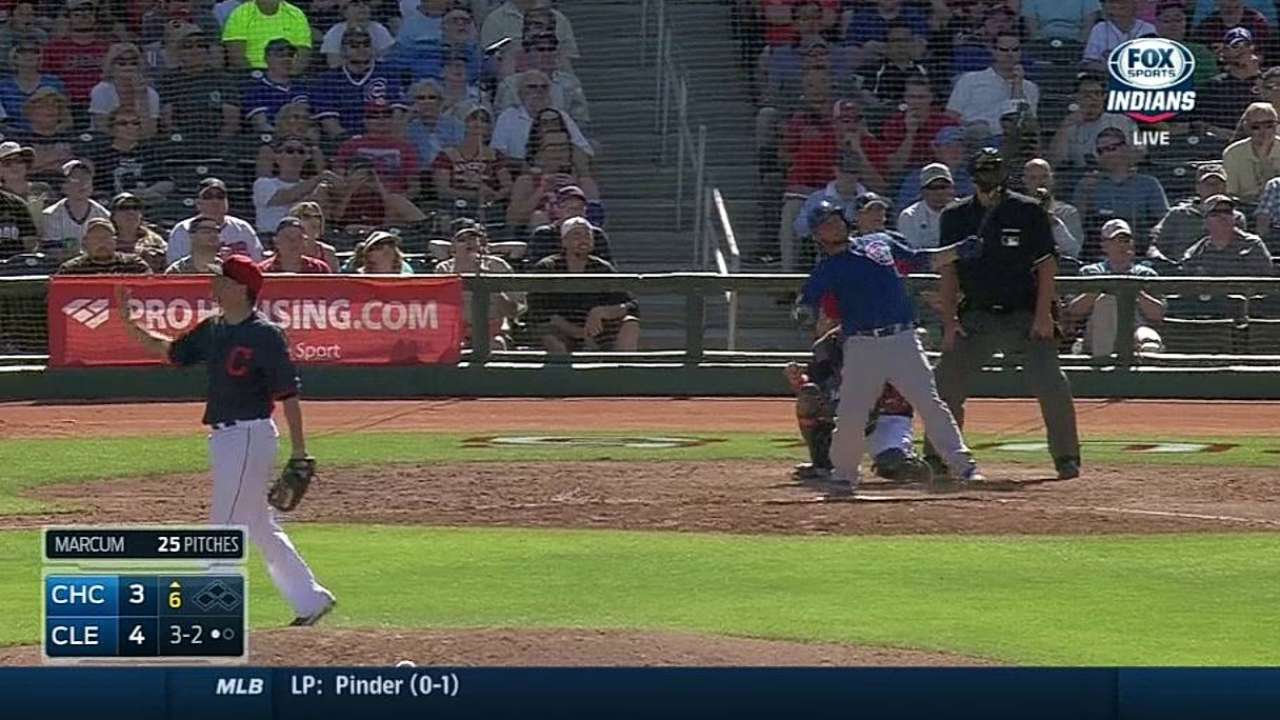 "I actually thought the fourth inning was probably my best inning as far as what I'm working on," Bauer said. "I started to zero in on the strike zone and got ahead of a lot of guys, so it was good."
The loss to the Indians (3-4-1) dropped the Cubs to 0-6-1. Cubs manager Joe Maddon is not concerned with the record but still would like to get on the board sooner rather than later.
"I'd like to see a win for the sake of the guys to get it rolling," Maddon said. "If you're winning games, you have more chances to try different things and we haven't had a chance to try anything."
The Indians opened the scoring after Aviles led off the second with a single to center, taking second when center fielder Arismendy Alcantara bobbled the ball. He scored on a RBI triple by Holt, who scored two batters later on a bloop single to left-center by Brett Hayes.
Cleveland added a pair of runs in the third with Aviles driving in the first one on a sacrifice fly to right and Holt again contributing, this time with an RBI single, giving the Tribe a four-run lead.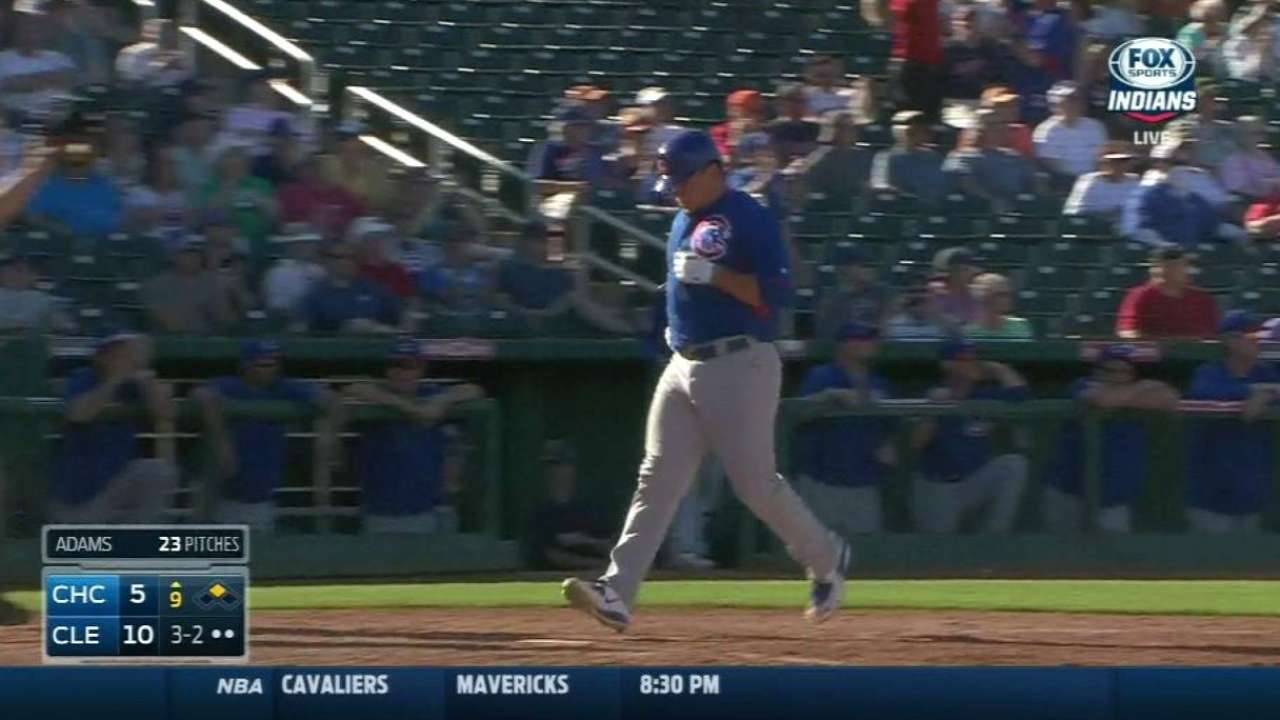 The Cubs struck back with their trifecta of long balls, and Welington Castillo tied it in the sixth with a solo shot of his own. But the tie was short-lived, as Bourn drove home Holt, who had doubled to leave him a homer shy of the cycle.
The Tribe scored four unearned runs in the seventh to pull away, with Francisco Lindor, Destin Hood and Roberto Perez each contributing a double.
Up next: Jon Lester will make his second spring start Wednesday, taking the mound against the Dodgers and Zack Greinke at Sloan Park in Mesa, Ariz. In his first Cactus League start, Lester struck out three of the first four batters he faced, then served up a broken-bat single before getting the next batter to ground into an inning ending double play. The game will be broadcast on MLB.TV and on a free exclusive webcast on cubs.com, with first pitch scheduled for 3:05 p.m. CT.
John Schlegel is a national reporter for MLB.com. You can follow him on Twitter @JohnSchlegelMLB. This story was not subject to the approval of Major League Baseball or its clubs.