Carroll eyes future in broadcasting
White Sox pitcher wants to remain active in game, social media interaction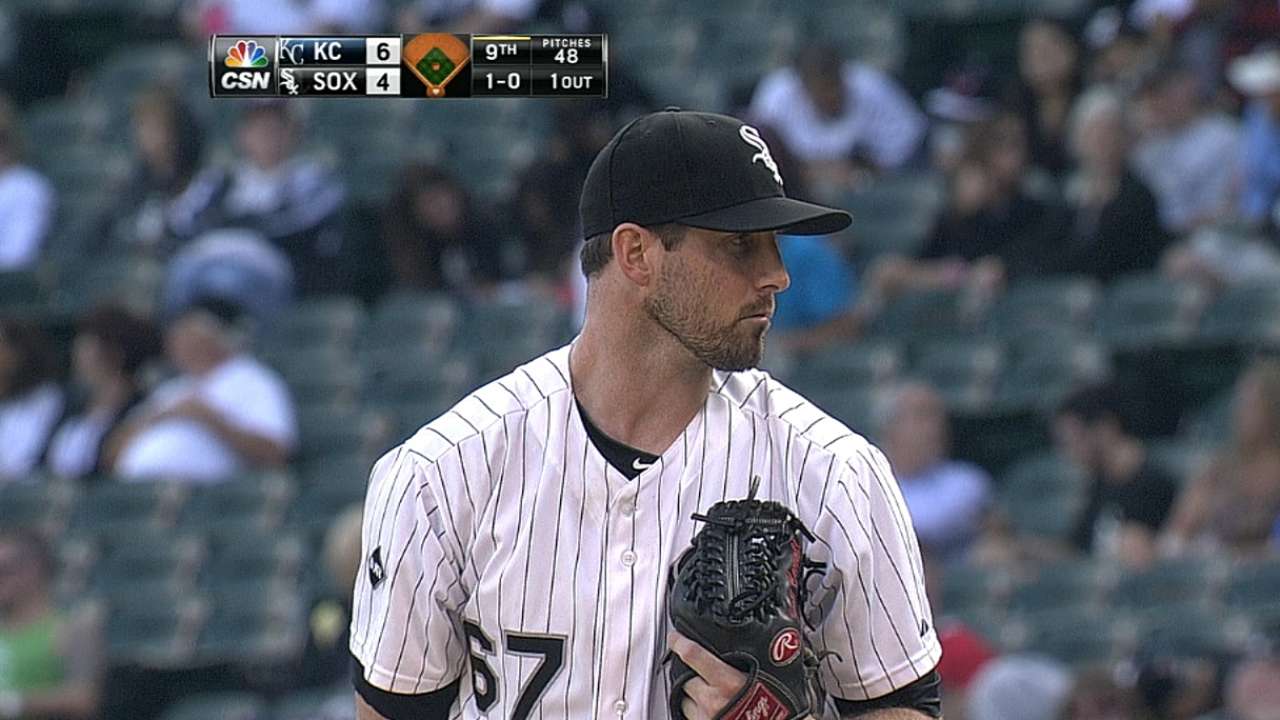 SURPRISE, Ariz. -- With two evenings' worth of tweets during the 2014 World Series between the Royals and Giants, Scott Carroll joined the world of sports analysis.
Part of Carroll's desire to live tweet those first two games stems from the Kansas City native's lifelong support of the Royals. The 30-year-old right-hander, who pitched 2 2/3 scoreless innings and fanned three for the White Sox in a 6-2 victory on Tuesday, also is considering life after the diamond.
"Definitely sports broadcasting and being involved in the game of baseball is something I want to do," Carroll said. "I had fun with it. Fans enjoyed it. I tried to give fans perspective from a pitcher of what they would think and not necessarily know just by watching the game and what they saw."
You, me, us. We're witnessing greatness folks. Bumgarner.

- Scott Carroll (@Scotty_Carroll) October 27, 2014
Carroll was one of the remarkable White Sox stories coming from the 2014 campaign. He had spent parts of eight seasons in the Minors, logging 639 2/3 innings, before making his Major League debut on April 27 at home against the Rays. He allowed just one earned run over 7 1/3 innings, picking up the victory as the oldest White Sox player to make his first big league appearance since Tadahito Iguchi on Opening Day 2005.
Although he was taken off the 40-man in the offseason, Carroll liked what the White Sox did in terms of moves for improvement and was encouraged enough by a conversation with general manager Rick Hahn that he returned as a non-roster invite. Carroll now has a chance to break camp with the team with an injured Chris Sale potentially not available for Opening Day.
Shields with an 0-2 change up there. Pence is such a good hitter. Pitch wasn't bad.

- Scott Carroll (@Scotty_Carroll) October 27, 2014
So baseball remains Carroll's focus for the foreseeable future. But his Twitter analysis shows there could be a broadcasting position on the horizon. He reinforced the basic knowledge concerning Madison Bumgarner's greatness, but also delved deeper into matchups between Kelvin Herrera and Hunter Pence and Herrera and Pablo Sandoval as examples. The 140-character commentary became truly interactive with his more than 10,000 followers.
One question had to be asked of Carroll, the baseball man/Twitter analyst, and Carroll, the Royals fan. Would he have sent Alex Gordon home with two outs in the ninth inning and the Royals down one run in Game 7? Carroll laughed as he came up with a unique reply.
"While I was watching it live, I thought, 'If they send him home, he'll be gunned down by five feet,'" Carroll said. "But in that situation, it would have been the coolest ending in World Series history. Wouldn't it have been? A guy is either safe to go to extra innings or thrown out at home plate for the last out."
Scott Merkin is a reporter for MLB.com. Read his blog, Merk's Works, and follow him on Twitter @scottmerkin. This story was not subject to the approval of Major League Baseball or its clubs.