Brewers prospect Williams draws Kimbrel comparisons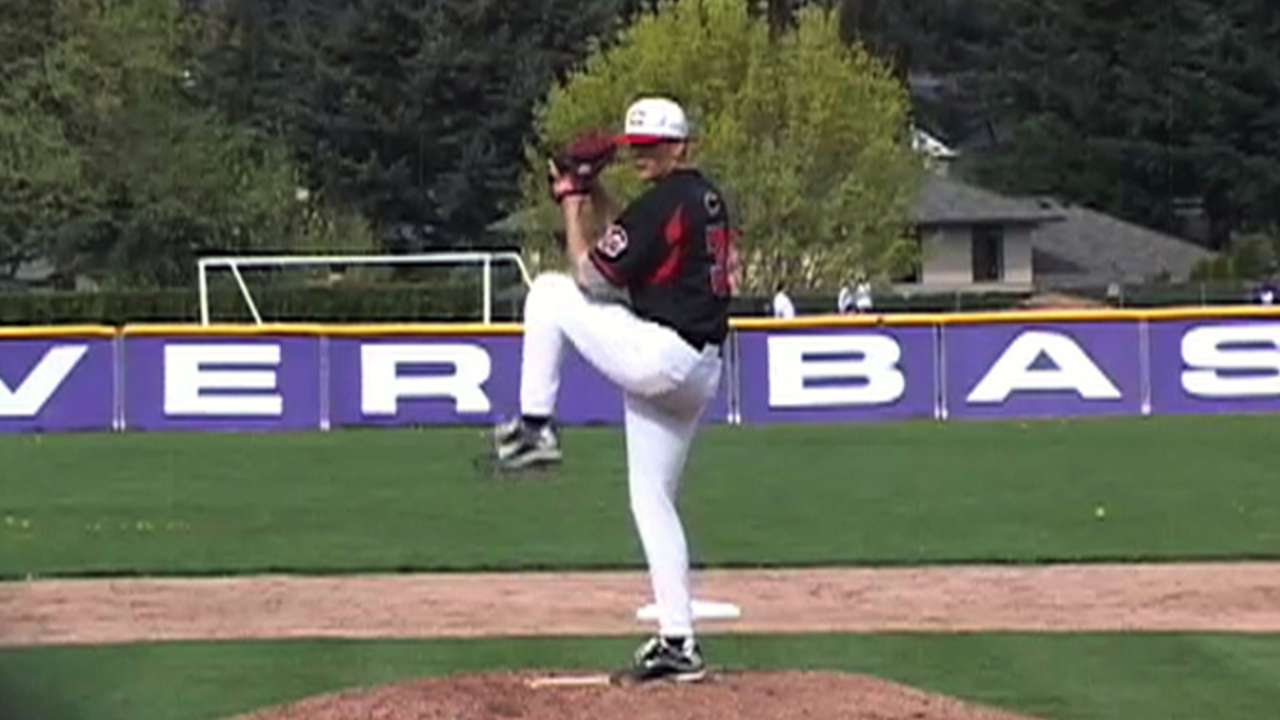 PHOENIX -- The official record of Brewers pitching prospect Taylor Williams' first big league camp goes like this: Two-thirds of an inning pitched, three hits, four runs, two walks, one wild pitch, then back to the Minor Leagues on Tuesday as part of the Brewers' first spring cuts.
One former Brewers pitcher who knows Williams as well as anybody believes the 23-year-old will be back.
"I think they've got a gem," said Mike Birkbeck, the former big leaguer who was Williams' pitching coach at Kent State University. "Let me put it to you this way: He's the nicest kid in the world for 21 hours a day, but for those three hours on the mound, he is a competitor.
"You can sense it when a guy has big league stuff. Taylor has that kind of stuff."
Birkbeck, like Williams, was a fourth-round Draft pick of the Brewers, the coach in 1983 and the student in 2013. Birkbeck made it to the Majors in 1986 and pitched parts of six seasons, four with Milwaukee. Williams, who split last season between the Brewers' two Class A clubs, got his first taste over the past three weeks and is hoping to follow in his mentor's footsteps.
That one rough outing aside, Williams -- ranked the No. 15 prospect in the Brewers' system by MLB.com -- made a positive first impression.
"The first live pitching I faced was Williams, the young kid," said Brewers center fielder Carlos Gomez. "Unbelievable, that kid. He's got the best stuff I've seen all spring. Throwing 96 [mph]. Sliders. I see [Craig Kimbrel] in him."
Kimbrel is the Atlanta Braves' All-Star closer.
It was a common comp for Williams in camp.
"That guy, it was as impressive a live batting practice as I've ever seen," said Ryan Braun. "Pure-stuff-wise, as good a fastball as I have ever seen in live BP. Explosive. It reminded me of Craig Kimbrel's fastball."
That fastball is headed across the parking lot at Maryvale Baseball Park to the club's Minor League complex, where Williams will begin to stretch out as a starting pitcher, probably bound for a prospect-rich rotation at Double-A Biloxi.
Williams will begin the season about 10 pounds lighter than last year, when he continued to evolve as a pitcher. That evolution, Williams said, began with Birkbeck at Kent State.
"He's been my biggest mentor since I played there," Williams said. "We text all the time, I call him every month or two. It's pretty cool, especially because he was a Brewer.
"He said, 'You're good enough. You have nothing to go into camp being scared about.'"
Also returned to Minor League camp Tuesday were pitchers Brooks Hall and Hobbs Johnson, and catcher Cameron Garfield. Right-hander Johnny Hellweg was optioned to Triple-A Nashville to continue his comeback from Tommy John surgery, and left-hander Wei-Chung Wang was optioned to Class A Advanced Brevard County.
"It was a big learning experience," Williams said. "The biggest thing was seeing what it takes being around this environment. It's eye-opening a little bit. You step into the locker room and see guys like Ryan Braun and Carlos Gomez and Matt Garza and Kyle Lohse, and you're not necessarily star-struck, but those are guys you watch on TV a lot."
Adam McCalvy is a reporter for MLB.com. Read his blog, Brew Beat, and follow him on Twitter at @AdamMcCalvy. This story was not subject to the approval of Major League Baseball or its clubs.