MLB.com Columnist
Phil Rogers
Even without Stroman, Blue Jays still have arms to compete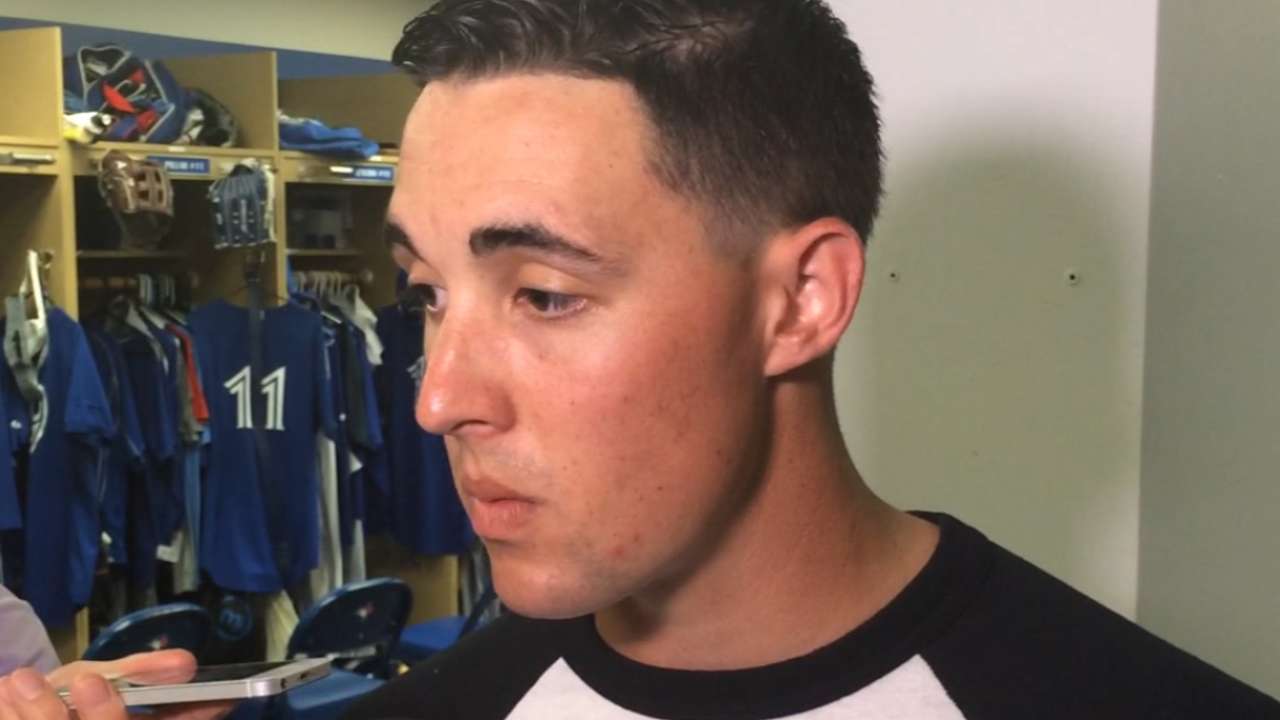 DUNEDIN, Fla. -- Out of nowhere.
That's where the latest blow to the Blue Jays came from.
On a back field before Toronto played the Twins on a warm, sunny Tuesday afternoon, Marcus Stroman was going through one of the most routine of the tried-and-true Spring Training procedures, pitchers' fielding practice - otherwise known as the dreaded PFP for its tedious nature, not the risk of injury - and his left knee gave out on him.
A short time later, the diagnosis was in -- a torn anterior cruciate ligament, with a recovery time that wipes out the season for the Jays' 23-year-old ace, who had been a human Red Bull for a team built around baseball's most enviable collection of power hitters. So now it's up to general manager Alex Anthopoulos and a handful of key pitchers to replace Stroman's projected excellence.
As you might have heard, now that the Pirates and Royals have gone to the postseason in back-to-back seasons, no team has been on the October sidelines longer than the Blue Jays, which is why their 2015 season looms as one of the most compelling in the Major Leagues.
Anthopoulos is driven to end the 21-year streak that has followed the consecutive winning World Series in 1992 and '93. That's why he added Josh Donaldson and Russell Martin to a lineup that outscored everyone in the AL East, including the 96-win Orioles, last season. The issue for Toronto was that it was ninth in the AL in run-prevention, allowing 93 more runs than Baltimore.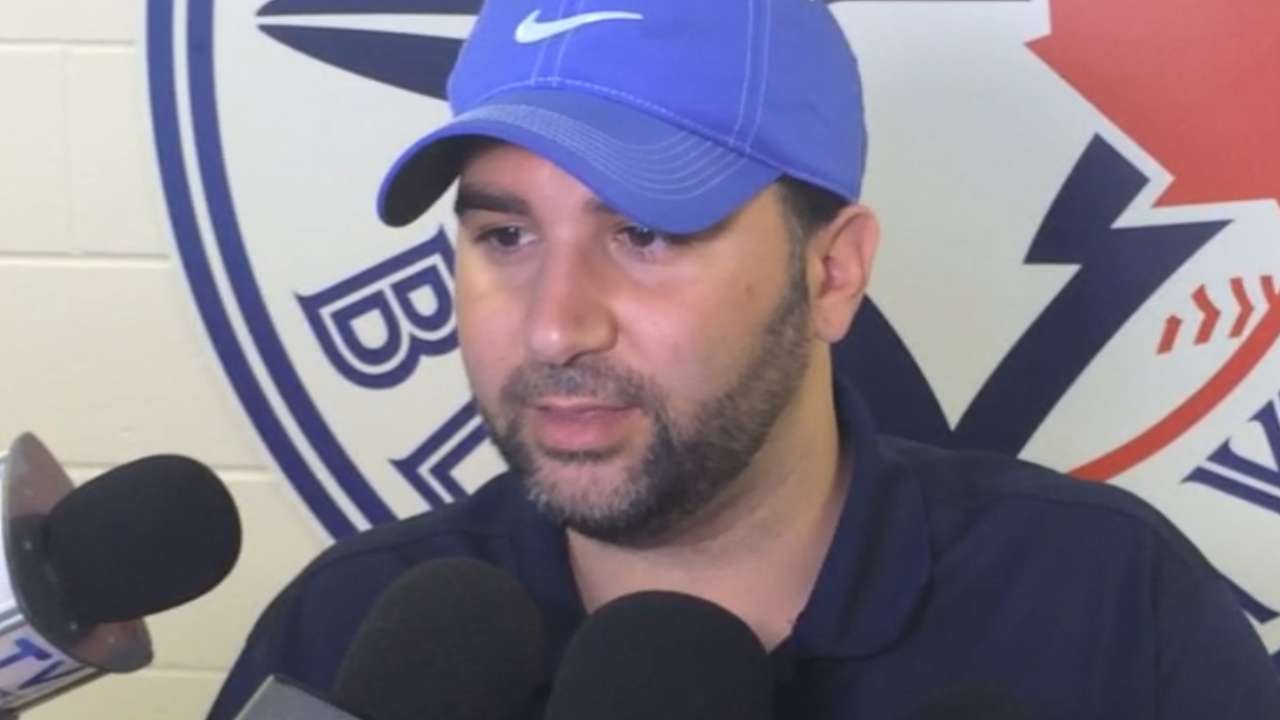 Because Anthopoulos is so confident in his collection of young arms, he made no major outside pitching additions. He did import Martin, who did a great job getting Pittsburgh's staff over the hump the last two years. He's a major upgrade who will indirectly save runs.
But to win a title in a division that seems balanced behind the front-running Orioles, the Blue Jays need to do a couple of things for sure, and maybe a third.
First, they can't feel sorry for themselves about losing Stroman -- although fans are certainly entitled to feel snake-bit, as it would have been an absolute gas to see the electrifying Dukie take it to hitters 15-18 times this season at Rogers Centre -- and then they have to get results from the very capable starters they have. The maybe is that Anthopoulos should at least strongly consider finding money to sign free-agent closer Rafael Soriano.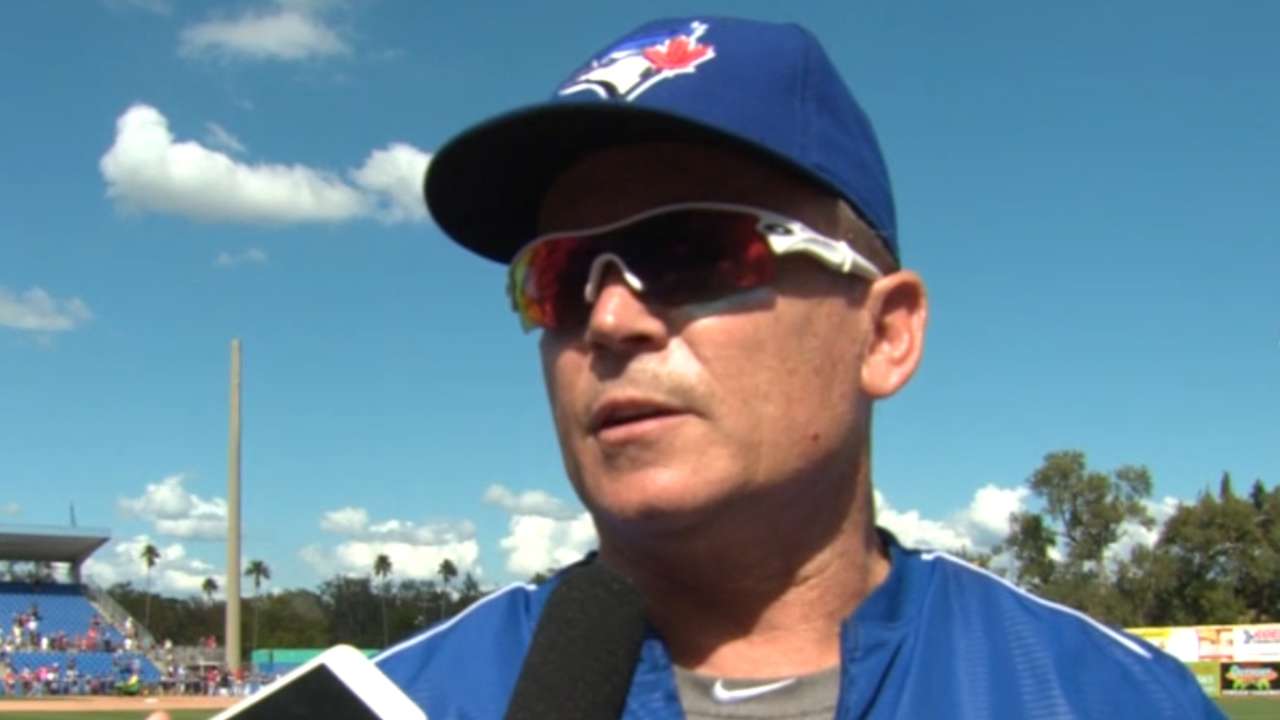 That would free up Aaron Sanchez from serving as either the closer or a top setup man to lefty Brett Cecil, who is the leading candidate to replace departed closer Casey Janssen.
Without Stroman, the Blue Jays' rotation looks like R.A. Dickey, Mark Buehrle, Drew Hutchison and two guys from a mix that includes Marco Estrada, Sanchez and 21-year-old lefty Daniel Norris, who, anecdotally, lives in his van. This isn't what the Jays planned on but is it really that much different than the rotations that the Red Sox, Yankees and Rays believe they can contend behind?
Every team in the East except the Orioles is counting on their young arms. The Jays had more of those than anyone based on the arrival of Stroman and return of the surgically repaired Hutchison last season and should be able to compete if Sanchez and Norris build off their success in 2014. They have Jeff Francis and Liam Hendriks in camp and would love to catch lightning in a bottle with Johan Santana, who they signed late after he launched his latest comeback in the Venezuelan Winter League.
Stroman is rightfully heartbroken at the moment. He had used his talents and an unshakable belief in himself to put himself in position to lead the Jays' veteran lineup into the thick of a division race.
He's small only in stature. His mid-90s fastball and swing-and-miss slider get on hitters in a hurry, and his curveball ranks as a third plus-pitch. He's waked only 2.2 per nine innings as a pro and that ratio was lower in the Major Leagues than the Minors as hitters hacked as if they wanted to show him he wasn't that good.
Turns out he is.
Stroman will be missed in 2015 but will be back sooner than most hitters wish. His absence will be a major storyline in the Blue Jays' season, for sure, but wouldn't it be something if the lasting memory was how they found ways to win without him?
It's happened before, but not since last October.
Consider the Blue Jays as the Giants, and Marcus Stroman as Matt Cain. Now who's going to be their Madison Bumgarner? That's the question.
Phil Rogers is a columnist for MLB.com. This story was not subject to the approval of Major League Baseball or its clubs.