Motte happy to serve as mentor to young Cubs relievers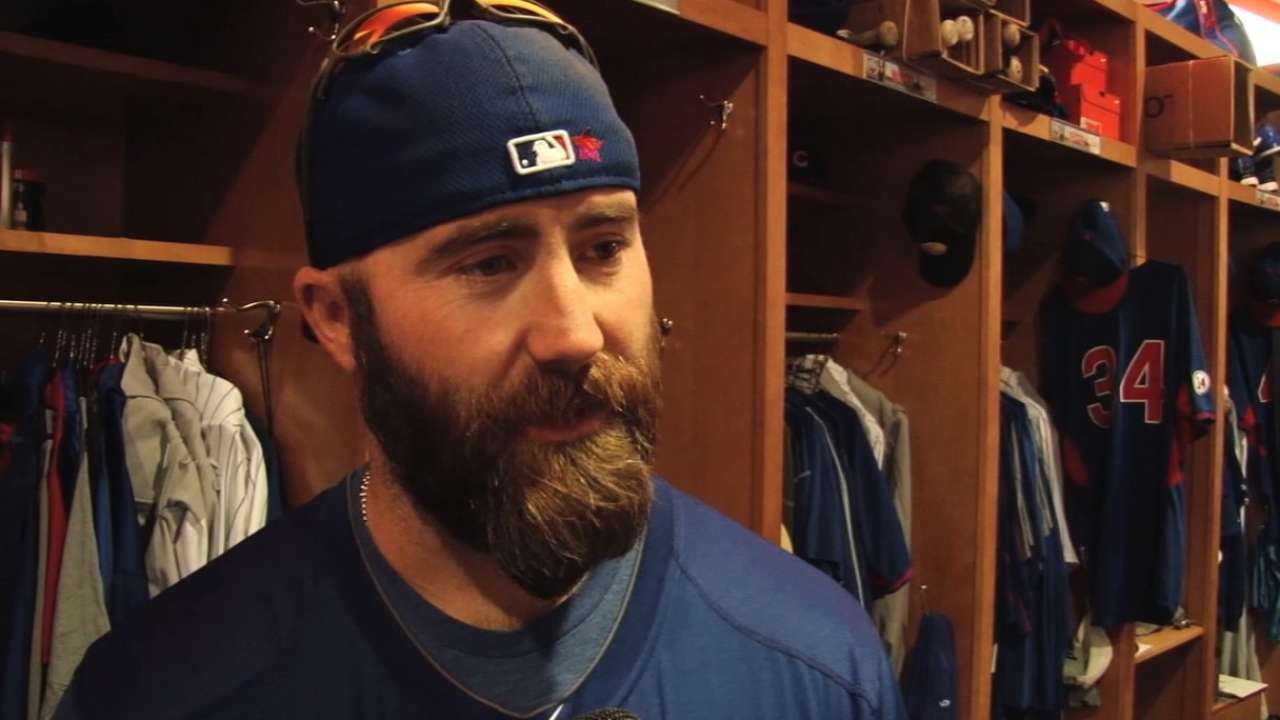 MESA, Ariz. -- Jason Motte has seen the T-shirts the Cubs relievers still wear in the clubhouse. They feature a portrait of Carlos Villanueva and his classic handlebar mustache.
"I got a chance to play with guys like Russ Springer and Jason Isringhausen and Ryan Franklin," Motte said. "I had some veteran guys to teach me the way."
Villanueva is no longer on the Cubs, signing a Minor League contract with the Cardinals. Motte knows how much the right-hander meant to them. And he has inherited that role as mentor.
"Some of my first couple times up [in his career], I had Russ Springer literally standing on the mound, being like, 'Calm down,'" Motte said. "[He'd say] 'You've thrown 75 warmup pitches, chill out. Are you loose? Hang on.'
"There are times you go out there and get amped up," he said. "Sometimes you need that, and sometimes you let them go and see how it goes. I had some older guys when I came up and it was good to have. They were hard on me at times, but it was all good love, tough love. It was great to have those guys."
Villanueva and Wesley Wright were those guys last season for young Cubs relievers like Justin Grimm, Neil Ramirez, Hector Rondon and Pedro Strop.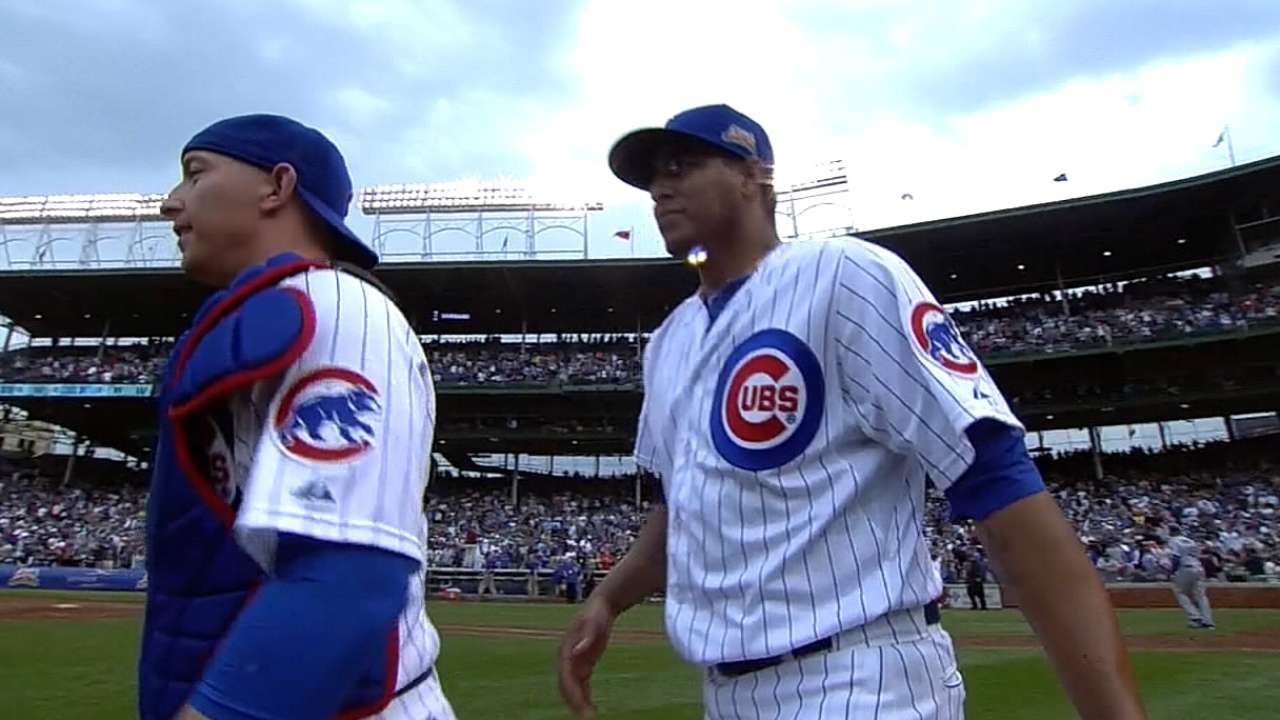 "'Villa' and Wesley, they tried to hold us down," Grimm said. "I love 'Villa.' He was a funny guy and kept us loose. At the same time, he was a guy you could go to and he could be serious and you could talk to him about things.
"Wesley stayed on me in a fun way," Grimm said of the lefty, who is now with the Orioles. "I think Wesley was trying to teach certain lessons, whether it was on the field or off the field. This year, we have Motte and he's a character. I'm looking forward to getting to know him."
Motte, 32, who signed a one-year $4.5 million contract with the Cubs in December, considers himself both a teacher and student.
"If I can teach them a little something, fine -- I'm sure I'll learn from them," Motte said. "There's no one who has it all figured out."
The offseason was a relief for Motte, who missed the 2013 season after undergoing right elbow surgery.
"[This offseason] I could play catch when I wanted, how I wanted," he said. "There wasn't a structure like, 'Hey, you have to throw 100 feet 10 times.' I could go out and play catch, and if I wanted to long toss, I could long toss. That's the way it's been this camp -- it's been a normal camp for me."
Now he has to keep an eye on the kid pitchers.
"They may be young and crazy, but I'm may be just as crazy as most of them," Motte said. "They're not idiots by any means. They know what's going on, getting ready, getting loose. Seeing what they did last year, they have a good group of guys."
Motte doesn't plan on growing a mustache like Villanueva's. He sports a unique Mohawk hair style of his own.
"Heck, we're bullpen guys," Motte said. "There's a reason why they sit us away from everyone. They don't want us too close to anyone."
Carrie Muskat is a reporter for MLB.com. She writes a blog, Muskat Ramblings, and you can follow her on Twitter @CarrieMuskat. This story was not subject to the approval of Major League Baseball or its clubs.