Reynolds raking way up depth chart with stellar spring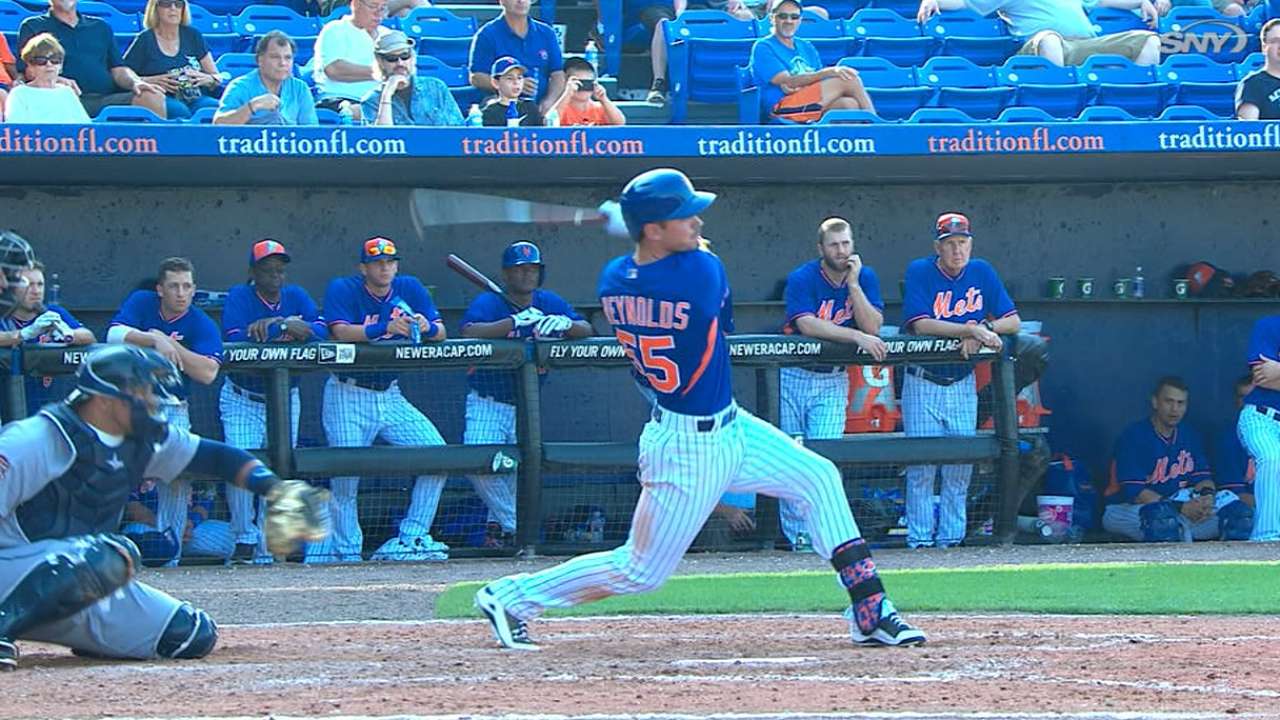 LAKE BUENA VISTA, Fla. -- Of the Mets' eight Spring Training games to date, shortstop Matt Reynolds has played in six. Reynolds is hitting .500, clubbed a walk-off homer against the Tigers last week and has otherwise established himself as a darling of camp. The Mets like what they see. Fans do, too.
To be clear, before going any further: Reynolds is not a legitimate candidate to supplant Wilmer Flores on the Opening Day roster. The front office is committed to trying Flores at shortstop on a full-time basis, and Flores, despite some obvious defensive limitations, began to vindicate the organization's faith in him late last season. The Mets also want to see a bit more of Reynolds in the Minors, according to one person familiar with the club's thinking, and they remain too skeptical of his defense to use him as a utility player. That is why they tendered Ruben Tejada a contract during the offseason.
But Reynolds, with every swing he takes, is nudging his way up the organizational depth chart. It's clear that he will reach Flushing at some point this summer, perhaps sooner rather than later. If Flores flounders, Reynolds is next in line to take his place.
"There's a lot of things he does you like," manager Terry Collins said. "Everybody I've ever talked to that's had this guy … has said, 'Look, you're going to love this guy. He's a baseball player.' So we're going to play him this spring."
There was never a distinct moment when things clicked last season for Reynolds -- no individual game in which he transformed from a struggling second-round Draft pick into one of the Minor Leagues' best pure hitters. Reynolds credits an adjustment he made two winters ago, adding enough extension to his swing to redirect balls up the middle more consistently. Suddenly, Reynolds wasn't just a pull hitter with, in his words, "no confidence at the plate at all." His average rose from .225 over two levels in 2013 to .343 over two levels last year, as he reached Triple-A Las Vegas by season's end.
That is where he will begin this season, looking to prove that last year was no fluke. More importantly, Reynolds must prove that Collins' assessment of his defense -- "From what I can see, he's a capable shortstop," the manager said -- is accurate. Much like Flores, Reynolds has struggled defensively throughout his Minor League career, to the extent that some scouts doubt his ability to stick at short.
What they don't doubt is Reynolds' bat. Not after last season, and certainly not after what he's been doing this spring.
"It just gives me confidence," Reynolds said. "It makes me believe that I can perform at the highest level. I'm just trying to go out there and play the hardest I can, and do as well as I can."
Anthony DiComo is a reporter for MLB.com. Follow him on Twitter @AnthonyDicomo. This story was not subject to the approval of Major League Baseball or its clubs.