Darvish, Rangers haven't ruled out third opinion on elbow
Texas ace being evaluated in New York; results to come Wednesday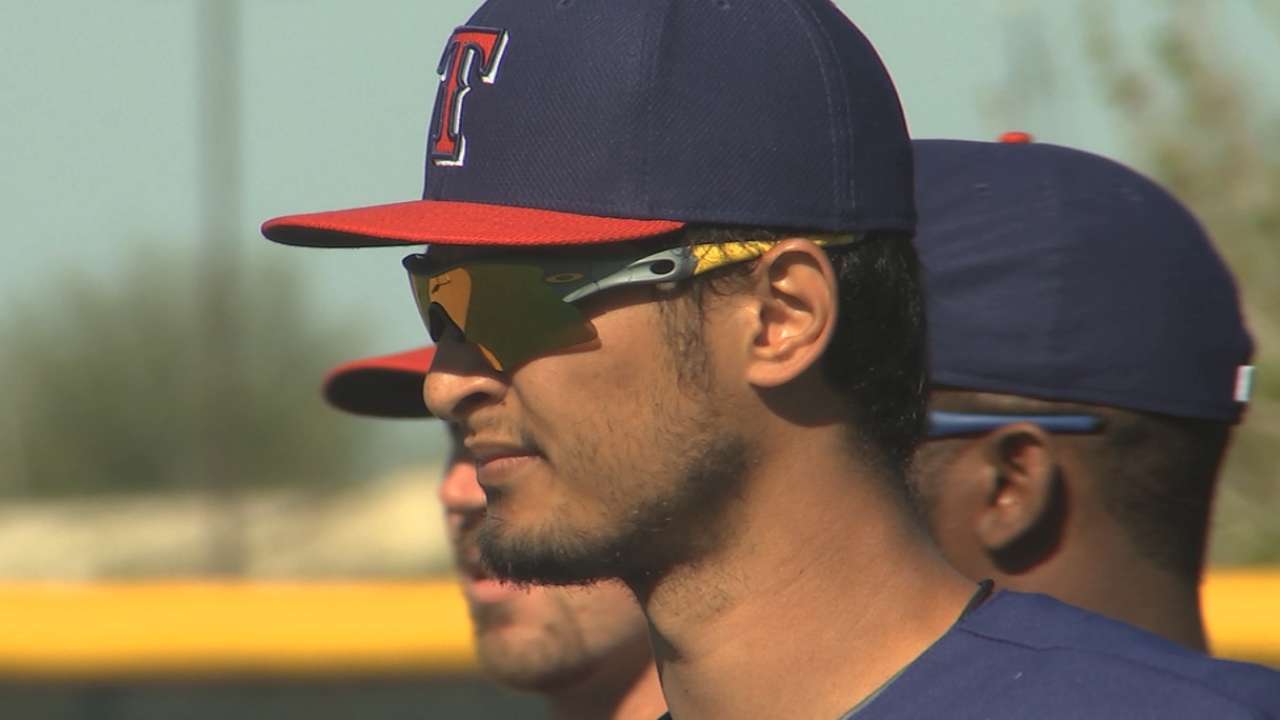 SURPRISE, Ariz. -- Yu Darvish and the Rangers haven't yet ruled out the possibility that the right-handed ace could seek a third opinion on his injured right elbow.
Darvish is in New York today, where he is slated to be evaluated by Dr. David Altcheck. Should Altcheck's findings conflict with those of team orthopedist Keith Meister, there could be a delay before the Rangers know exactly how they'll handle the situation. Darvish, who complained of tightness last Thursday, could be headed for Tommy John surgery -- or at least a few months of rest and rehab.
"We first want to get a full evaluation from Altcheck," assistant general manager Thad Levine said. "If it corroborates what Meister said, it's one thing. If there's any conflicting information whatsoever, it may yield a different path. Right now we're just waiting for that conversation. But it's also somewhat up to the player -- if he would still like pursue another avenue."
Levine added that Meister and Altcheck will confer directly tonight to discuss Altcheck's findings. On Wednesday the Rangers are planning to make an announcement regarding the next step.
Should they choose to forego Tommy John surgery, Darvish would likely be out until the All-Star break. He won't be able to resume throwing for at least six weeks.
Levine also said the club hasn't yet discussed platelet-rich plasma therapy as an option.
• Elliot Johnson was scratched from the Rangers' lineup Tuesday so that second baseman Rougned Odor could get some work in alongside shortstop Elvis Andrus.
"You'd like to structure your games so that your infielders are out there together, working together," manager Jeff Banister said. "... When you're getting them real game-time, game-speed action together it's a definite plus."
Andrus, who had missed time with a sore left knee, made his first Cactus League appearance on Sunday.
• Left-hander Martin Perez threw 15 pitches on the half-mound during Tuesday morning's workout. The 23-year-old Perez is 15-13 with a 4.13 ERA in three seasons with the Rangers. He underwent Tommy John surgery last May.
• Fellow southpaw Derek Holland remains on track to throw a bullpen session Wednesday with the eventual goal of his starting Saturday against San Diego. Holland, who dealt with a sore left shoulder early in camp, came out of Monday's long-toss session feeling fine.
AJ Cassavell is a reporter for MLB.com. Follow him on Twitter @ajcassavell. This story was not subject to the approval of Major League Baseball or its clubs.