Venable on board with Padres' roster shakeup
Though outfielder expected to assume reserve role, he's excited for team
PEORIA, Ariz. -- In a dizzying three-day stretch in mid-December, general manager A.J. Preller completely remade the Padres' outfield, trading for Matt Kemp, Wil Myers and Justin Upton.
From his home in Austin, Texas, Padres outfielder Will Venable watched these acquisitions intently, but reacted more with the sense of excitement and elation than curiosity and concern.
How would the additions affect his playing time? That wasn't the first thought at all that came to mind.
"My goal is to win, and with every move we made, it increased our chances to win, which I was excited about," Venable said. "There's also the personal side, like 'Where does that leave me?' But with every move, I never felt my place on the roster was gone or my opportunity to contribute to those wins was gone."
If you know Venable at all, you'll know these aren't empty words. Venable, the longest-tenured Padre, having made his debut in 2008, has always held a team-first mentality.
So when the Padres made their bevy of trades, essentially forcing the incumbents on the roster to what are expected to be reserve roles, manager Bud Black never felt the need to pick up the phone to assure Venable of his place on the roster.
Simply put, Black has never had to worry about Venable.
"Will understands what we have done and why we did it," Black said. "Players want to be part of a good thing, part of a championship, part of a winning environment. He understands his place in that. And we all know that things can change in the snap of a finger, based on health and other factors."
In a sense, Venable might end up being one of the most important players on the roster this season. His versatility -- he can play all three outfield positions -- speed, defense, power and left-handed bat will be used, and more than on occasion.
"Over the last number of years as a Padre, we've seen a lot of good from Will Venable," Black said. "Will has a lot of things he can do to help us win."
Two years ago, Venable had a career-best 22 home runs and 53 RBIs to go with 22 stolen bases in 481 at-bats. Last season, he hit .224/.288/.325 with eight home runs and 33 RBIs. There were factors that contributed to his struggles last season.
"There are things that happened that, on your guys' [the media] side, if I talked about it at this point, it will sound like an excuse," Venable said. "I will say it didn't just happen where I went from the best year of my career to the worst year for no reason. I feel great now. I'm excited to get out there and compete."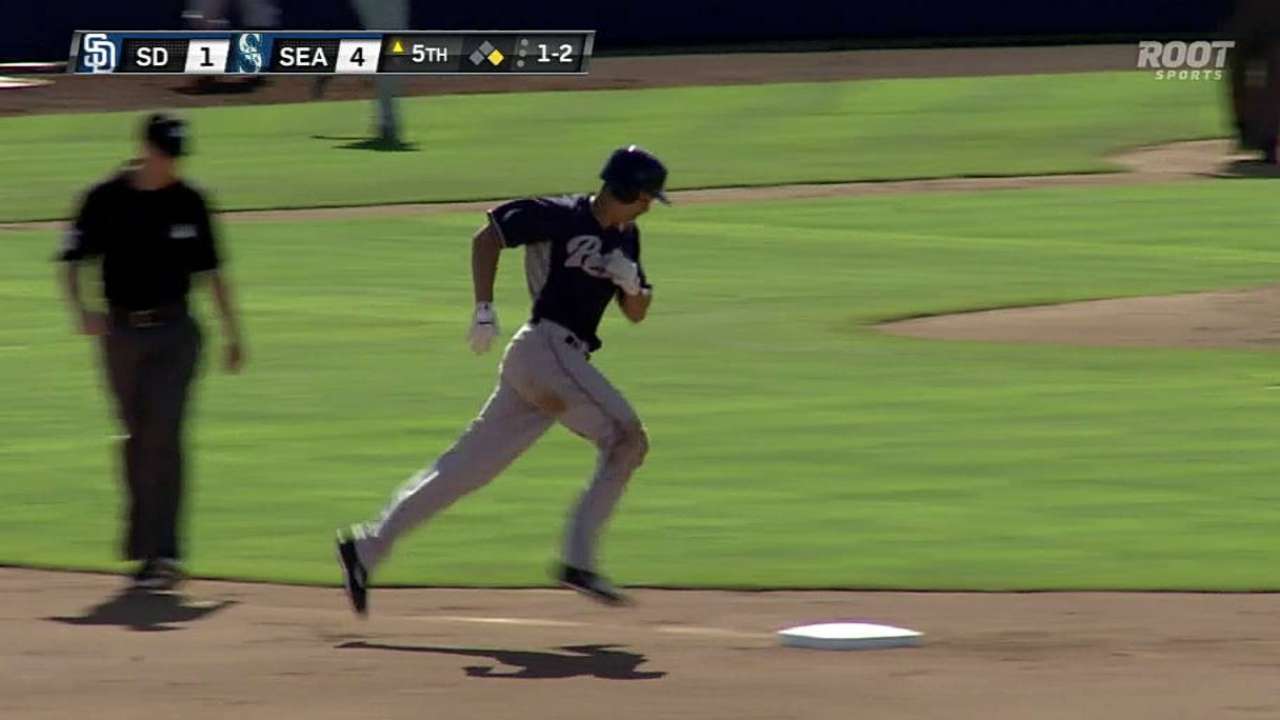 Venable is coming up on his 10th season in the organization. He looks across the clubhouse and the peers he had, the friends he made along the way, Nick Hundley and Chase Headley and others, are all gone. He is one of the last ones standing and has a longer history with Black than any other player.
The revamped roster has Venable, 32, energized for the upcoming season.
"Obviously, things are going to be different than they were in the past. I'm not going to be handed 450 at-bats. I'm going to have to go out and earn them," he said. "But I'm excited to see how it shakes out, team-wise. There's zero part of me that's questioning my role on the team.
"On my part, there's nothing but positive thoughts."
Corey Brock is a reporter for MLB.com. Keep track of @FollowThePadres on Twitter. This story was not subject to the approval of Major League Baseball or its clubs.