Parra on board with learning to play first base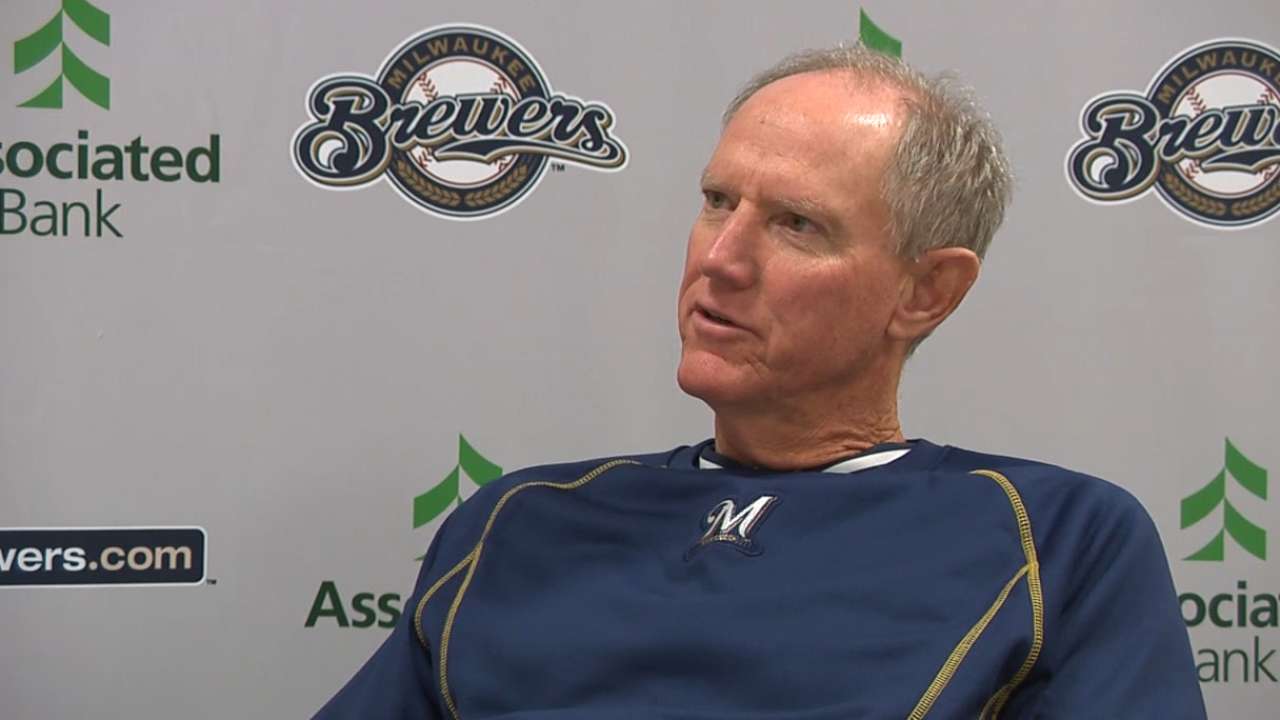 PHOENIX -- Gold Glove outfielder Gerardo Parra expects his new first baseman's mitt to arrive within a day or two, but for now, his dabbling at the position remains a just-in-case situation for the Brewers, manager Ron Roenicke said.
"We're probably trying to cover ourselves a little better," Roenicke said Tuesday, a day after Parra appeared at first base in defensive drills.
If Matt Clark makes the roster, "the necessity is not there as much," Roenicke said. But if Clark goes to Triple-A, Parra could be a fallback option for the position along with Brewers catchers Jonathan Lucroy and Martin Maldonado, each of whom has appeared at first base in the big leagues.
"If [Parra] goes there and is comfortable there, he's going to be a plus defender," Roenicke said. "So, who knows? He likes to do things. He's kind of like 'Maldy.' When you ask [Parra] to do things, he's like, 'Yeah, I want to do it!' The good athletes, the ones who are really confident, they love to do different things.
"If we keep working him there, he'll probably be our best defender there."
Parra borrowed a glove Monday from Adam Lind, the Brewers' projected starting first baseman who has battled back injuries for years. Parra might man first base in an upcoming Cactus League game.
"I'll just be ready. You never know when somebody needs to play first base, and I'm good to play," said Parra, who played some first base before he signed with the D-backs in 2004. "The point is staying in the lineup."
The discussion of Parra at first base led to two other common questions: Would the Brewers consider moving power-hitting but light-armed left fielder Khris Davis to first base in order to open a spot for a superior outfield defender? And what about moving Ryan Braun to first base as a long-term solution to the Brewers' trouble replacing Prince Fielder?
No and no, Roenicke said.
"They tried it before, and it didn't work," Roenicke said of Davis, referring to a trial period in instructional league when Davis was a prospect. "The experiment was there in the Minor Leagues for a reason, and it didn't go very far."
Of Braun, Roenicke said, "Now you're taking a plus defender in the outfield and moving him to first. … I get the thinking. It's not like it's bad thinking. But he knows he's still a good defender in the outfield, and he doesn't want to play first base."
Adam McCalvy is a reporter for MLB.com. Read his blog, Brew Beat, and follow him on Twitter at @AdamMcCalvy. This story was not subject to the approval of Major League Baseball or its clubs.