Simon employs 'slow-split' pitch in strong outing
Righty strikes out two in three scoreless innings to continue solid spring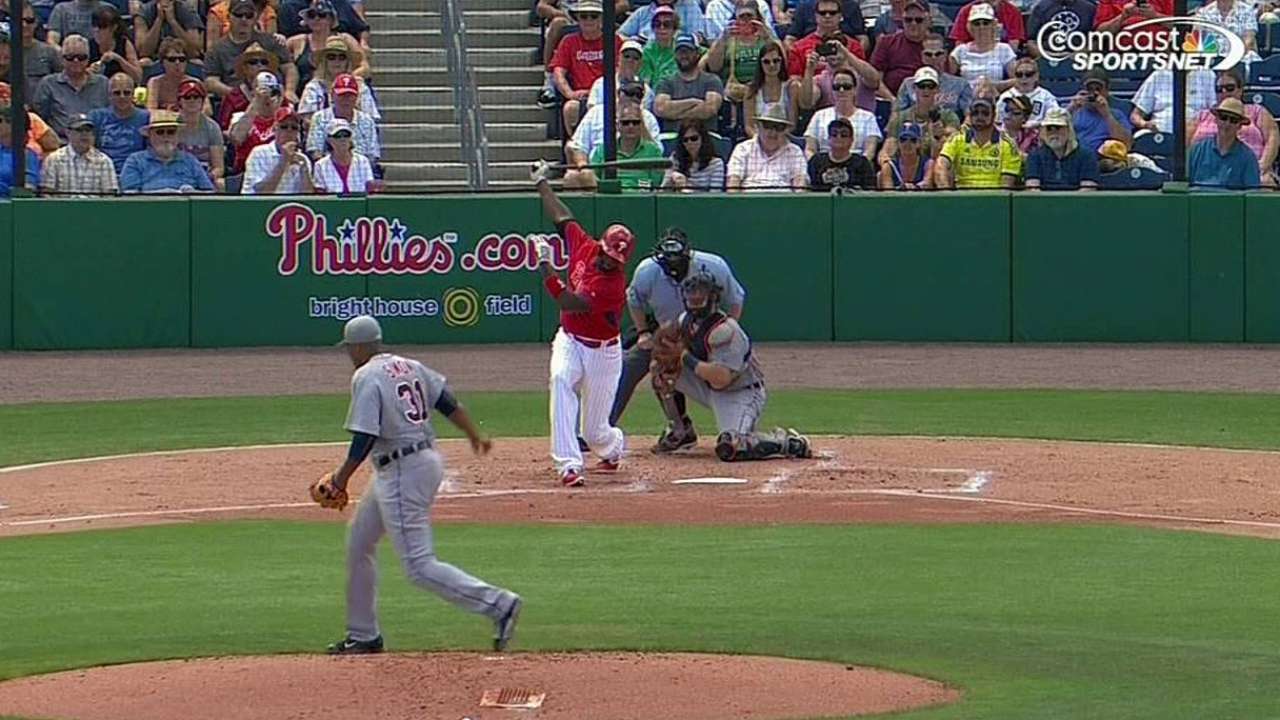 CLEARWATER, Fla. -- Tigers right-hander Alfredo Simon is off to a fast start this spring, but it's his slow pitch that's raising eyebrows.
Simon made his second start of the spring Tuesday afternoon against the Phillies. He was once again efficient and effective, giving up two hits and a walk while striking out two. He's now thrown five scoreless innings to start the spring.
Simon threw 37 pitches in his three innings of work Tuesday, but one ball early in the count against Phillies shortstop Freddy Galvis in the second inning was particularly notable. It was an eephus, what Simon calls a "slow split," and it clocked in at 67 mph on the Bright House Field scoreboard.
Galvis didn't wildly swing and miss -- in fact, he didn't even swing -- but it clearly affected the rest of the at-bat. Galvis was on his front foot from that point on, his timing thrown off by the looping pitch.
That, in a nutshell, is why Simon began throwing the pitch last season.
"I just use that pitch to have the hitter change his eyes," Simon said. "After that, I can throw my two-seam for a strike, and it's a big difference for me. Everything was working real good today."
Simon throws the slow split with a similar arm slot and speed to his fastball. He might break it out when he sees a hitter sitting on his 94-95 mph two-seamer, but instead they'll get a pitch that can cross the plate as slowly as 57-60 mph. Then he can ramp it back up into the mid-90s on the next pitch, or toss his slider down in the zone.
"It's not easy to hit it like that," Simon said.
Well, then, has he seen anyone hit it?
"Not really," he said, laughing. "I don't use that pitch a lot, but when I get in trouble with a hitter, I just try to change his eyes."
Simon threw all of his pitches Tuesday. He wanted to work on his slider toward the end of his outing. He said several times afterward that everything was working well for him, and he seemed to impress Tigers manager Brad Ausmus.
"When I get behind in the count, I try to throw my slider for strikes and my cutter. It worked really good today," Simon said. "I just tried to throw the ball down and let the hitter hit the ball in the dirt."
"I thought he threw well," Ausmus added. "He was very efficient."
Adam Berry is a reporter for MLB.com. Follow him on Twitter at @adamdberry. This story was not subject to the approval of Major League Baseball or its clubs.