MLB.com Columnist
Lyle Spencer
Norris embracing responsibility of learning new staff
Padres catcher 'getting to know the guys' who make up what appears to be an elite rotation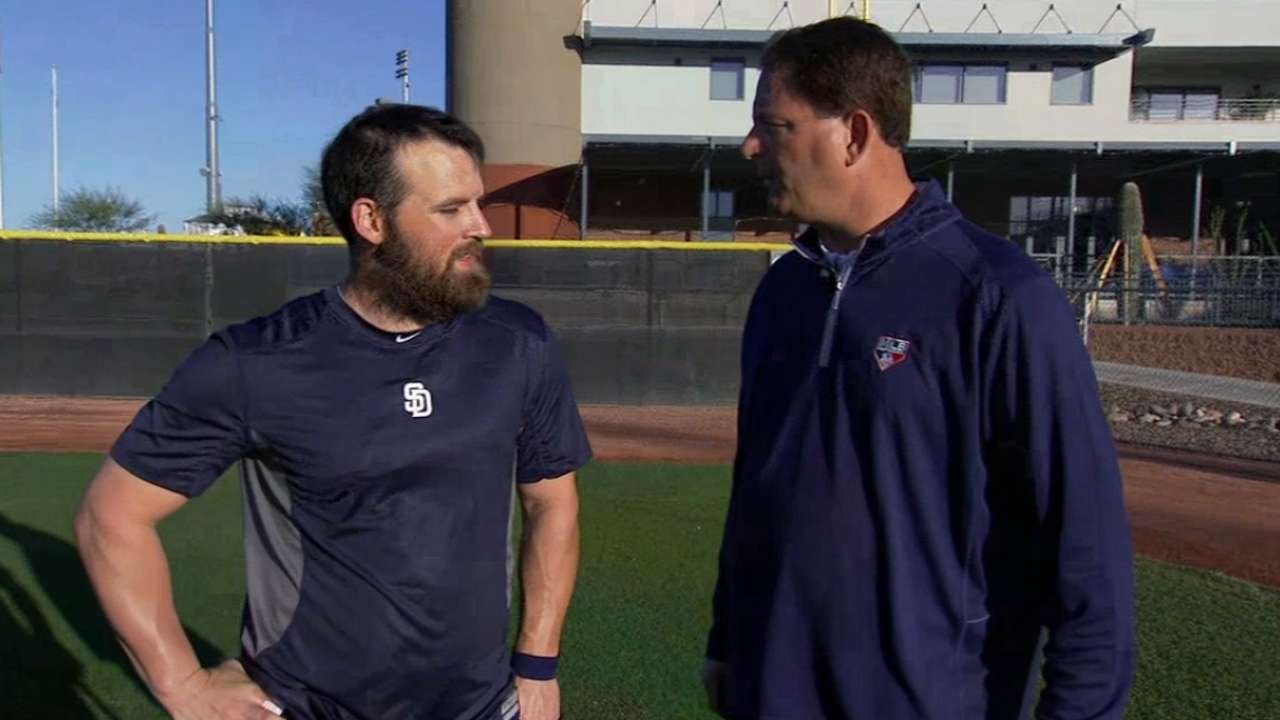 PEORIA, Ariz. -- The Padres' Derek Norris is a busy guy, making every Spring Training day count. Mental preparation is a quality more essential to a catcher -- especially one new to a team -- than any other player on the roster.
"It's very important, critical," Padres manager Bud Black said when asked about Norris' task of getting to know the strengths and personalities of a new pitching staff. "As each day goes on, he understands the importance. We talk about it every day. He has taken to being here and forging that [pitcher-catcher] relationship. He takes a lot of pride in that."
Norris, who turned 26 last month, came from the A's in a December trade sending R.J. Alvarez and Jesse Hahn to Oakland. Yasmani Grandal and Rene Rivera, who handled the bulk of San Diego's catching duties last season, were dealt to the Dodgers and Rays, respectively, in swaps turning Matt Kemp and Wil Myers into Padres, transforming what had been the game's weakest lineup.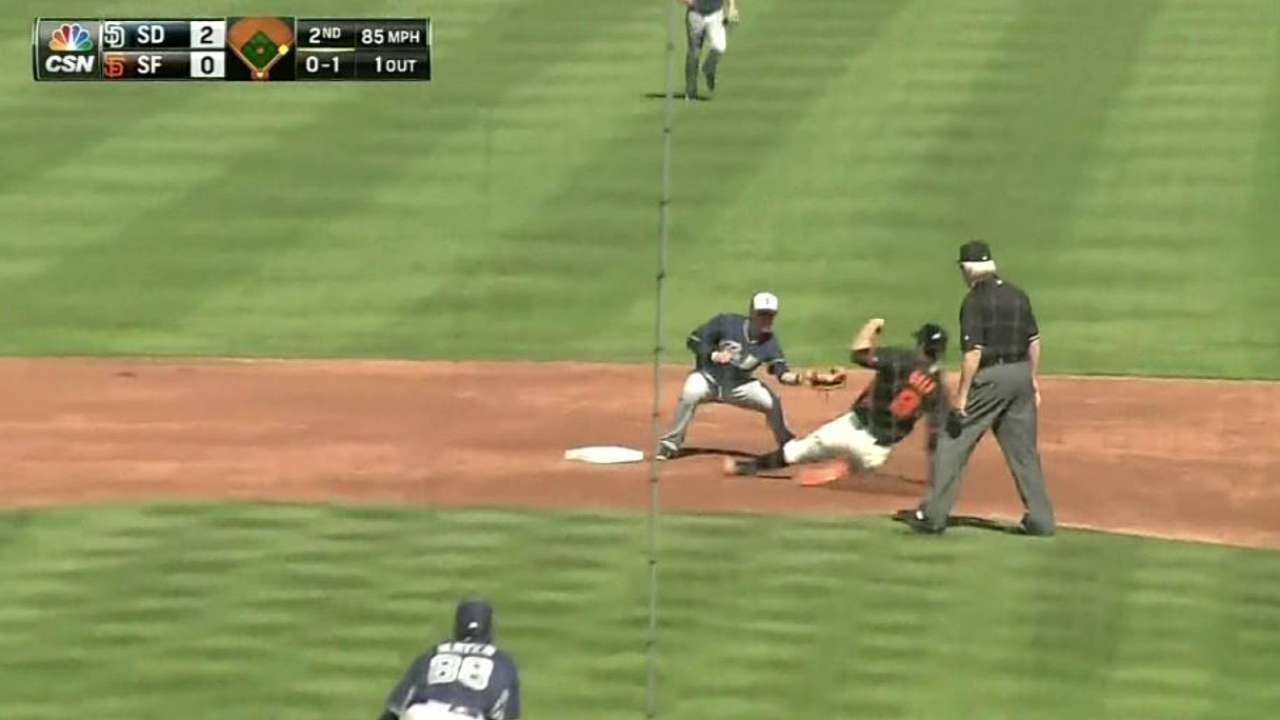 Norris, a native of Goddard, Kan., brings 285 Major League games of experience to his new port along with a productive bat, a bonus with any catcher.
In 114 games behind the plate for the A's last season, Norris had a 3.11 catcher's ERA for a staff that had a 3.22 overall ERA, second to the Mariners in the American League. He is leaving one group of quality arms for another; the Padres' 3.27 ERA was surpassed only by the Nationals in the National League.
"I'm getting to know the guys," Norris said, "what they throw, how they work. We obviously have some good arms here."
The biggest arm in San Diego belongs to Andrew Cashner, who showed his stuff to Norris with three hitless innings on Monday in Mesa, Ariz., against the Cubs. The big Texan, who averaged 94.3 with his fastball last season, is part of a potentially lethal rotation alongside James Shields, Tyson Ross and Ian Kennedy, with the fifth spot open to competition.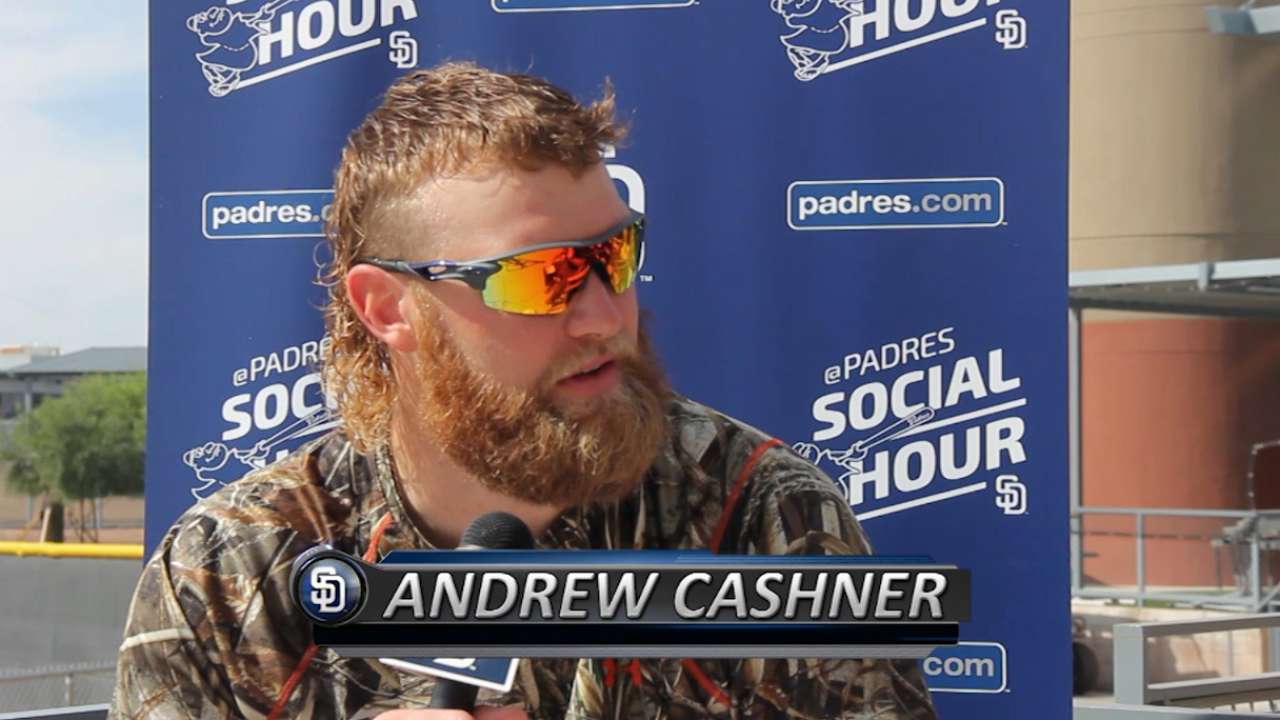 "I've yet to catch a starter who sits in the mid-to-upper 90s," Norris said, marveling how Cashner does it without a great deal of strain. "He has a dynamic arm. It's a small sample, but I liked how he works both sides of the plate and can keep hitters off his fastball with his offspeed stuff [slider and change, primarily]."
Norris takes on even more significance with the loss of Tim Federowicz, the former Dodgers receiver expected to be Norris' backup. Federowicz suffered a lateral meniscus tear in his right knee on Sunday. Veteran Wil Nieves, who caught 34 games for the Phillies last year, is the likely No. 2 guy.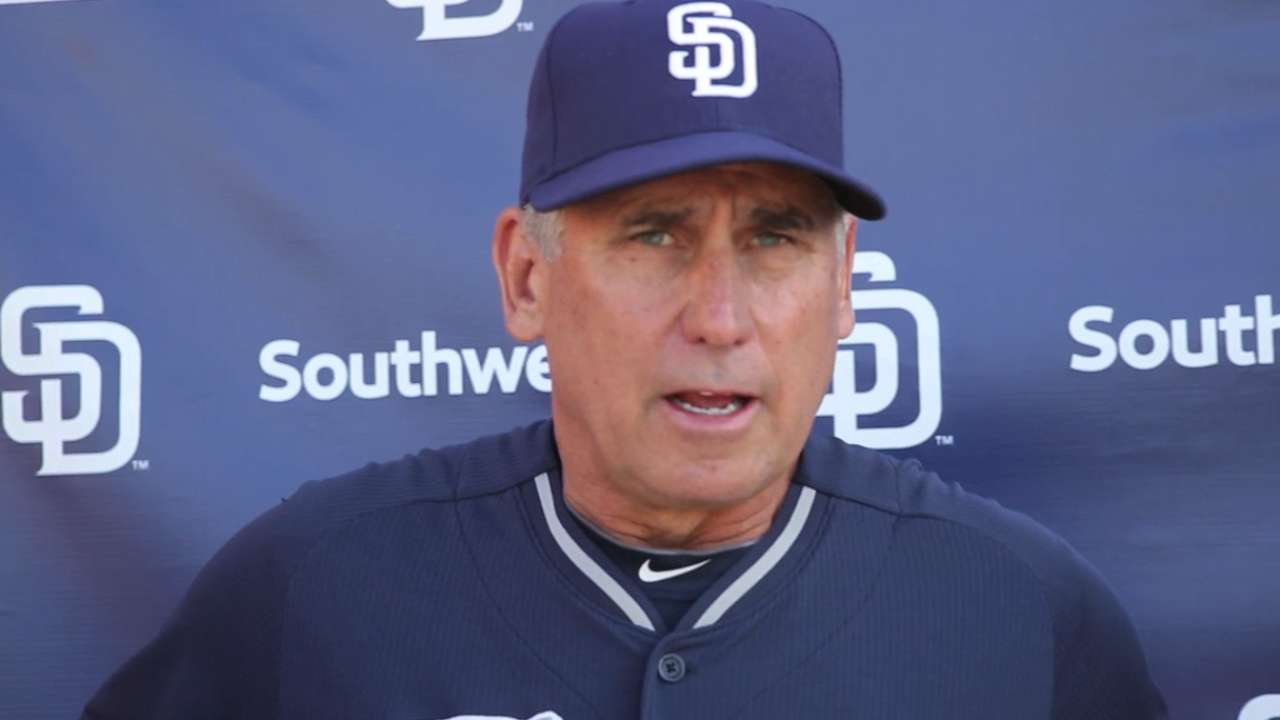 Norris, at a compact 6-foot and 210 pounds, has the look of a prototypical catcher, and he has the outgoing, engaging personality a manager likes to see in a receiver.
As a quality Major League pitcher for 15 seasons and equally successful pitching coach for the Angels before moving south in 2007 to manage the Padres, Black feels you can't measure statistically the value of a catcher's leadership skills.
"His communication skills are good," Black said. "It really helps when the [pitchers] respect you, even off the field, in the clubhouse. That pitcher-catcher relationship is the single most important thing we have going."
Offensively, few catchers are in Norris' class. An AL All-Star in 2014, he finished with a .270/.361/.403 line, delivering 19 doubles, 10 homers and 55 RBIs in 385 at-bats.
"I'm trying to get my timing down," Norris said. "You can't take a whole lot from the first couple weeks of the spring. If I can get one hit here, I'll feel OK, as long as I'm trusting my approach and my hands."
Norris is leaving one challenging park for hitters for another, but the vast reaches of center and right-center at Petco Park don't seem to bother him.
"I'm a pretty basic hitter," he said. "I'm not a mauler like [Justin] Upton or Kemp. I try to hit the ball hard on the barrel, drive in some runs. The only place I seem to hit home runs is left field, so I'll let other guys take on the deepest parts of the park."
From his perspective as a catcher, he can anticipate the challenge opponents will face dealing with a potentially stacked lineup featuring the power of Upton, Kemp, Myers and Will Middlebrooks, the new third baseman.
"Some of the guys in our lineup, you could put them in Yellowstone Park and they'd hit it out," Norris said. "Having Matt in the middle with Justin, back to back, that's intimidating. I'd say we have seven guys who've got good pop. I know it's right-handed heavy, but those guys can hit. It's going to be a competitive lineup."
For now, offense is secondary for Norris, whose focus is absorbing every detail about his pitching staff -- and getting his body in shape for the inevitable pounding all catchers take over the long grind.
Lyle Spencer is a national reporter and columnist for MLB.com. Follow him on Twitter @LyleMSpencer. This story was not subject to the approval of Major League Baseball or its clubs.