Felix's first spring start well worth the wait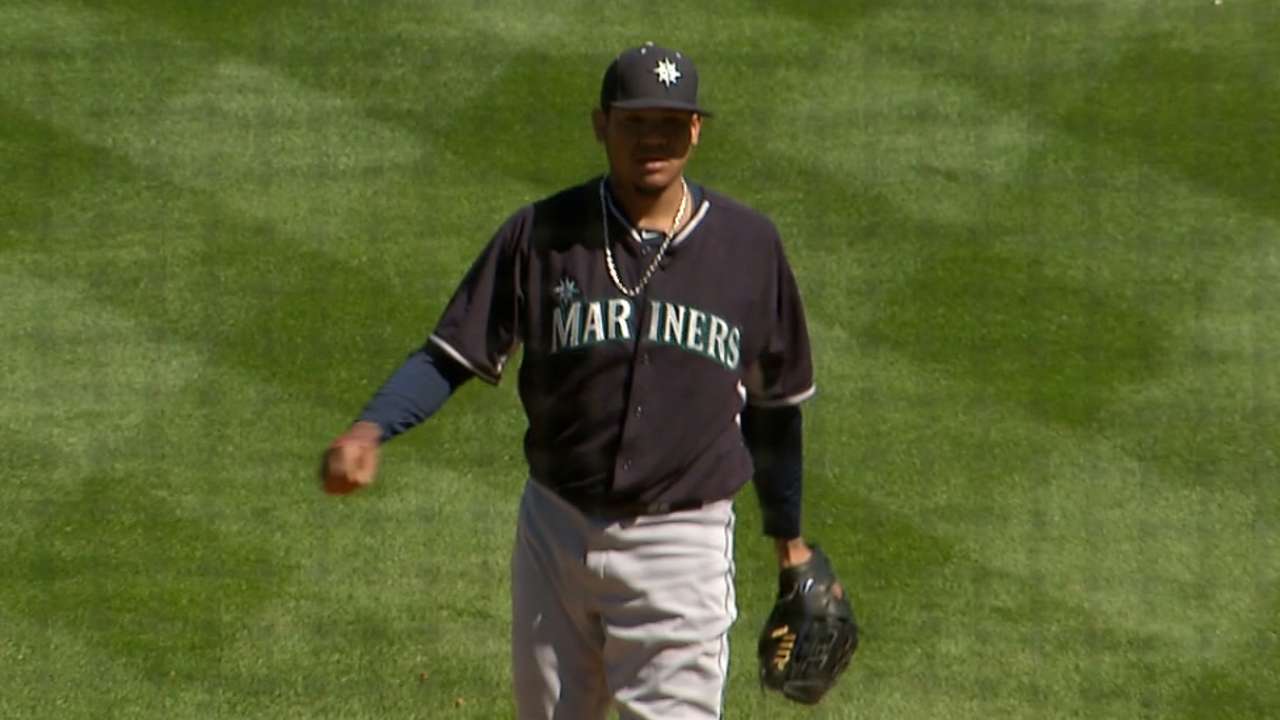 SCOTTSDALE, Ariz. -- A huge nine-run outburst across the fourth and fifth innings, including two home runs from Wilin Rosario, helped pace the Rockies to a 9-3 win over the visiting Mariners at Salt River Fields at Talking Stick on Tuesday.
The two homers -- one an opposite-field poke down the right-field line, the second a no-doubter to left-center -- were Rosario's first and second of the spring. He belted 13 for the Rockies last season.
The Rockies scored nine unanswered runs after trailing, 2-0, early. They had nine hits between the fourth and fifth innings, and sent 11 batters to the plate in the fifth.
The Mariners got what they've come to expect from Felix Hernandez in his Cactus League debut, as the former American League Cy Young winner turned in two hitless innings, walking just one.
"Not bad," said Hernandez of his first spring start. "A little bit off, but I was fine. My changeup was not there, but I had a pretty good fastball. I walked somebody and that's not good, but after that I was fine."
Colorado right-hander Kyle Kendrick was equally impressive in his two innings, surrendering two singles but striking out three.
"My stuff was better today," Kendrick said. "I think just this time of year, [you're focused on] throwing and building up arm strength and getting your stuff where it needs to be before the season starts. Today was better, and I'll just build off of that."
Seattle broke the scoreless tie in the third when James Jones reached on a ground-ball error, stole second, advanced to third on a fielder's choice and scored on a single. The Mariners tacked on a run in the fourth, when Brad Miller doubled and later scored. Both runs (one earned) were charged to Colorado's Jair Jurrjens.
The Rockies, who at the same time were facing reigning National League Cy Young winner Clayton Kershaw in their other split-squad game, did not register their first hit against the Mariners until the fourth. A Carlos Gonzalez pop fly dropped in left field, but he was thrown out trying to stretch it to a double.
The next three batters recorded hits after a pop foul dropped between catcher Jesus Sucre and D.J. Peterson, and Rosario's first homer tied the score at 2. Roenis Elias, a rotation candidate who followed Hernandez, was charged with the two earned runs.
Seattle's Dominic Leone was charged with seven runs (five earned) on five hits and one walk while registering only a third of an inning.
Dustin Ackley went 3-for-3 with three singles.
Up next: Erasmo Ramirez makes his second Cactus League start on Wednesday in a 1:05 p.m. PT game against the Rockies at Peoria Sports Complex. Ramirez gave up four hits and two unearned runs in his two-inning debut against the Dodgers. Left-hander Danny Hultzen is scheduled for an inning of relief in his first game since shoulder surgery in October 2013. Reliever Tom Wilhelmsen will also make his spring debut after being held back with a sore back, and closer Fernando Rodney is set for his second appearance. The game will be televised live on ROOT Sports and MLB.TV.
Joey Nowak is a reporter for MLB.com. Follow him on Twitter at @joeynowak. This story was not subject to the approval of Major League Baseball or its clubs.