Bagwell lending helping hand at Astros camp
Former first baseman will be serving as an assistant for Hinch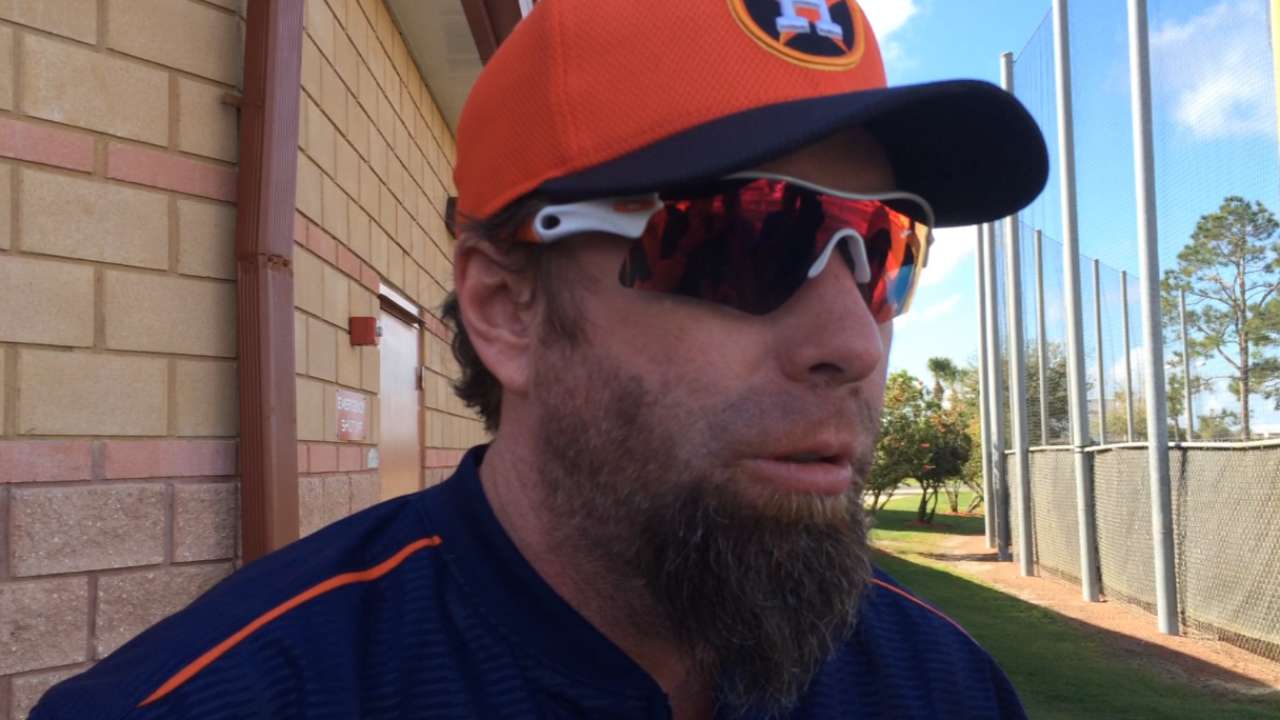 KISSIMMEE, Fla. -- Jeff Bagwell worked out on these same back fields at Osceola County Stadium for 15 springs, blossoming into a superstar player and ultimately the only Most Valuable Player Award winner the Astros have ever known.
Bagwell showed up at camp on Tuesday in his return to the organization, nearly a decade since playing his final game for the Astros.
Bagwell, who still holds club records for career homers (449) and RBIs (1,529), will spend a few days in camp this spring lending a hand to manager A.J. Hinch, who lobbied Tigers manager and Bagwell's close friend and former teammate, Brad Ausmus, to get him to return to the Astros.
"Don't know many people," Bagwell said, "but it's good to be here."
Bagwell was a regular presence in camp in the years immediately following his playing days, and he served as hitting coach during the second half of the 2010 season. He's been estranged from the organization since 2011, but he finally decided to come to camp upon urging from Ausmus and team president of business operations Reid Ryan.
"Reid's called me from the beginning, saying any time you want to come or anything you want to do," Bagwell said. "He's been great. And then basically it came down to my wife. She said, 'I think you should go.' So that's why we're here."
Bagwell, 46, is serving as a guest instructor and he spent some time at the batting cage on Tuesday. He's the latest of several Astros legends to come through Osceola County Stadium this year, including Roger Clemens, Nolan Ryan, Lance Berkman, Jose Cruz and Enos Cabell. Craig Biggio will be here next week.
"Well, it's important, because I bleed the Astros," Bagwell said. "And I've had other opportunities to go different places but, you know, this is my home. It's fun. Like I said, I'm just taking one day at a time."
Bagwell doesn't have an interest in putting on a uniform full-time. He knows too well the time demands of being a full-time coach, and his priorities at this point in his life center around his wife -- he was recently remarried -- and five kids.
"I've got a busy life," he said. "But still, I mean this is what I know. I'm certainly not going to become a doctor. So this is what I know what to do and what I see and I can help."
Of course, Bagwell was asked about the Hall of Fame. He's been on the ballot five times and this year he received 55.7 percent of the 75 percent of the vote needed for induction. He'll be in Cooperstown, N.Y., in July, when long-time teammate Craig Biggio is inducted.
"I don't expect to get in," Bagwell said. "I'm just glad that Craig got in. It's about time -- 3,000 hits."
As far as his own candidacy, Bagwell is genuinely not concerned about it. His priorities have nothing to do with baseball, and that's something Bagwell said people don't understand about him.
"That's not what defines me as a person," he said. "Baseball does not define me as a person. It's what I do with my kids, as a husband, is what's going to define me. I mean, it's just the way I feel. I mean, it'd be an honor. Don't get me wrong. But, you know, I got other things to do in my life."
Brian McTaggart is a reporter for MLB.com and writes an MLBlog, Tag's Lines. Follow @brianmctaggart on Twitter. This story was not subject to the approval of Major League Baseball or its clubs.