Prospects Machado, Nesbitt opening eyes at camp
Tigers protected infielder, reliever before Rule 5 Draft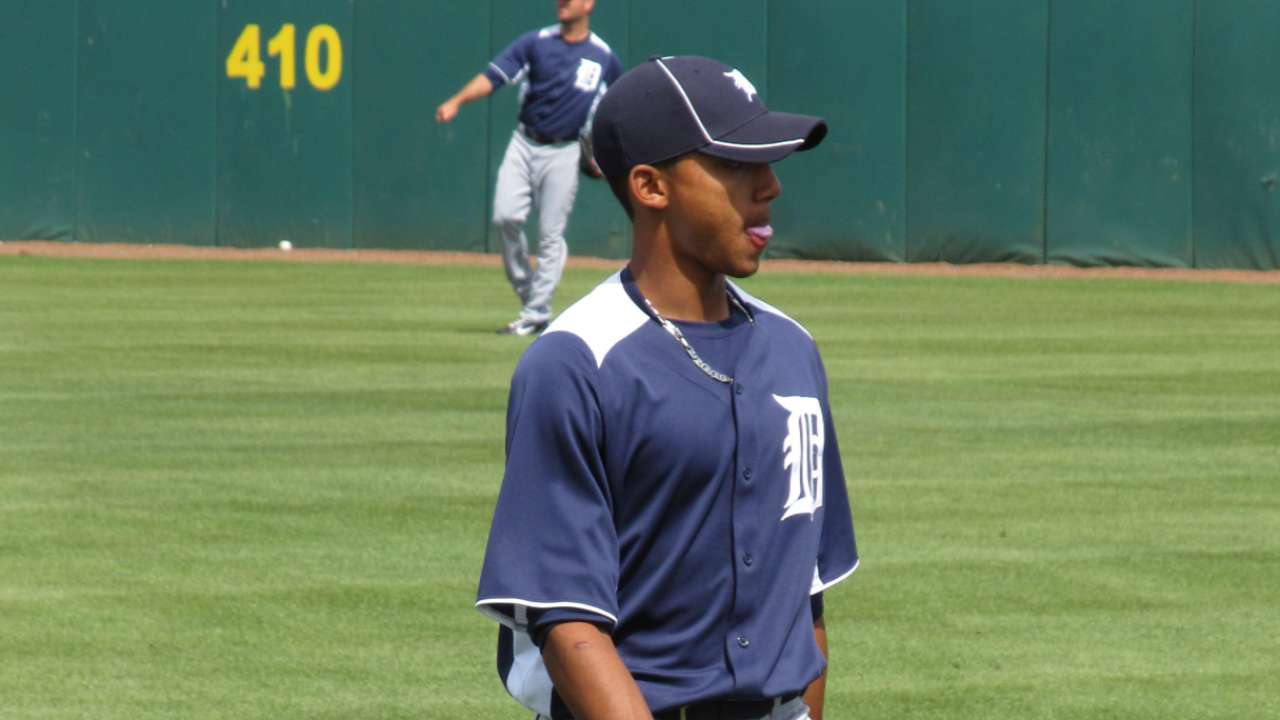 CLEARWATER, Fla. -- Leading up to the deadline to protect eligible prospects from December's Rule 5 Draft, the Tigers opted to add infielder Dixon Machado and reliever Angel Nesbitt to their 40-man roster.
That continues to look like a prudent move, as Tigers manager Brad Ausmus singled them out Tuesday as two of the club's standout players this spring.
Machado is hitless in his last seven at-bats after starting the spring 3-for-4. But he's only 23, and he's coming off a breakout year. The right-handed-hitting shortstop hit .305/.391/.442 with 23 doubles in 90 games for Double-A Erie last season -- and this was a player known before that for his defense.
Machado's progress might have made it easier for the Tigers to part ways this offseason with young middle infielders Eugenio Suarez and Devon Travis.
"We hadn't really seen much of him. All reports were he was a skinny kid who could field, but wasn't strong enough to hit," Ausmus said. "He's put on some weight. He's had great at-bats. His outs are hit hard.
"He's been the defender he was forecasted as. He's made some great plays. You could make the argument so far he's been the most impressive guy we've seen."
The other side of that argument might belong to Nesbitt, a 24-year-old reliever who also split last year between Erie and Class A Advanced Lakeland. The right-hander has given up a run on two hits while striking out two in three innings of Grapefruit League play.
Nesbitt put up a combined 3-0 record with 20 saves and a 1.48 ERA to go along with 72 strikeouts in 66 2/3 innings last season.
"Obviously he can light up a radar gun, but he's got pretty good command around the zone," Ausmus said. "He doesn't have pinpoint accuracy, but he throws strikes. He throws three pitches for strikes. And he's a smart kid. He's been impressive. He's up there with Machado."
Around the horn
• Outfielder Daniel Fields hit a double and a homer, his second in Grapefruit League play. Fields is 8-for-15 with five extra-base hits after Tuesday's game, showing off his revamped swing and his good health after missing time last year with a broken hand.
Fields fits the profile for what the Tigers are looking for in a fifth outfielder, but the sporadic playing time has hampered his development.
"I always felt that as long as I could stay healthy and stay on the field, I would be able to produce and one day get up to the Major League team and help them," he said. "I'm just trying to stay healthy and work hard. Hopefully I can be up there."
• Alex Avila will make his first appearance of the spring at first base Thursday. Avila will play first against the Phillies at Joker Marchant Stadium.
• After taking batting practice with the Tigers for the first time this spring on Monday, Victor Martinez reported back Tuesday morning feeling fine.
• Ausmus said reliever Bruce Rondon is still on track to make his Grapefruit League debut Thursday at Joker Marchant Stadium. Rondon, less than a year removed from Tommy John surgery, made his last game appearance on March 16, 2014.
Adam Berry is a reporter for MLB.com. Follow him on Twitter at @adamdberry. This story was not subject to the approval of Major League Baseball or its clubs.