Iglesias returns to action without limitations
Shortstop agile on defense, hits RBI double against Phillies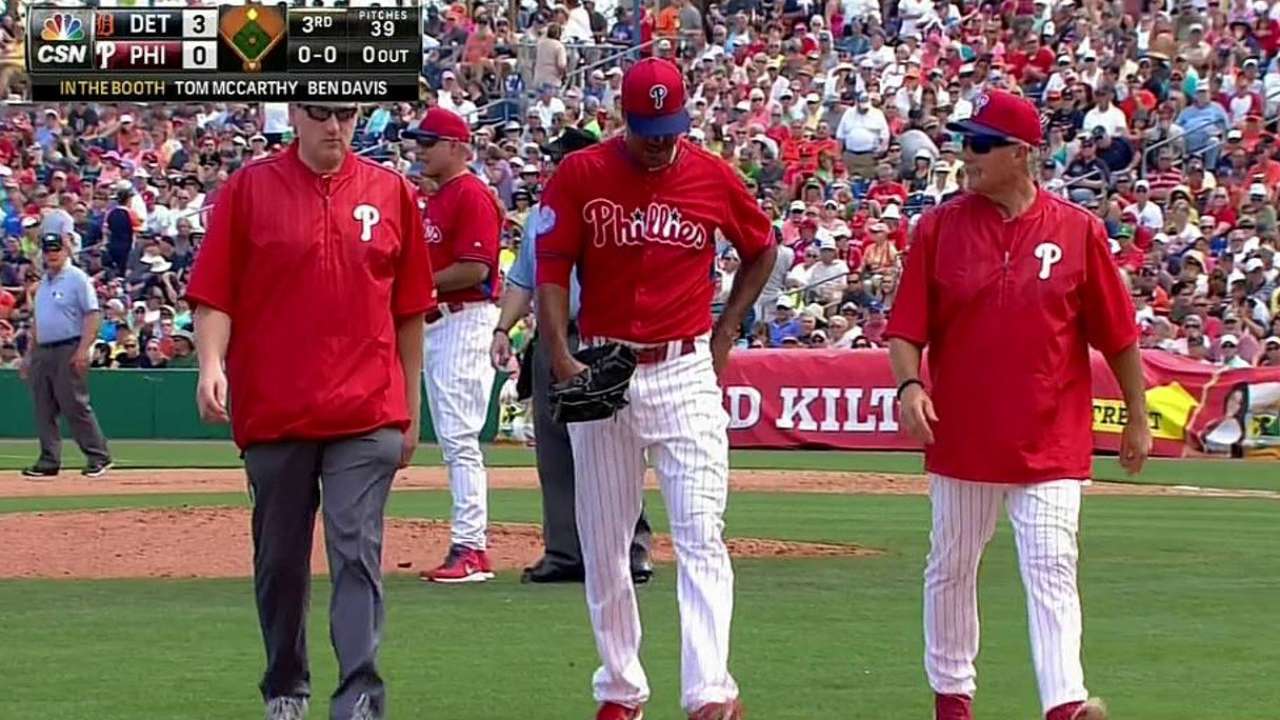 CLEARWATER, Fla. -- Tigers shortstop Jose Iglesias got back on the field in the Tigers' 6-0 win over the Phillies on Tuesday afternoon at Bright House Field after sitting out three games with a bruised right shin. And he immediately made it clear he's healthy enough to play.
Phillies leadoff man Ben Revere bounced a ball back toward the mound. It caromed off starter Alfredo Simon's glove and rolled on the infield grass toward the gap between first and second base. Out of nowhere came a hard-charging Iglesias, scooping up the ball and flipping it to first baseman Aaron Westlake. An impressive display of hustle and athleticism, even if Revere was safe.
"That might be the only shortstop on the planet who would even attempt that throw," Tigers manager Brad Ausmus said. "And [Iglesias] dang near got him. So he seems to be moving pretty well. He's obviously fearless in his attempt to get the runner there."
Iglesias played five innings at shortstop and went 1-for-3 with an RBI double in just his third Grapefruit League game of the spring. He said afterward that he's expecting to receive some sort of padding to protect his shins, but he's playing without limitations.
"I was a little sore, but not a big deal. It was playable," Iglesias said. "I was able to play without problems, and [I'm] really happy."
After sitting out last season, Iglesias is going to need time to get comfortable at shortstop, particularly in working with Ian Kinsler, his double-play partner. The plan is to have them play together Thursday afternoon, Ausmus said. Iglesias expects they will quickly get on the same page.
"I think the personality has to do a lot with it, and Kinsler is a great human being, a great guy to talk with and one of the best in the business out there," Iglesias said.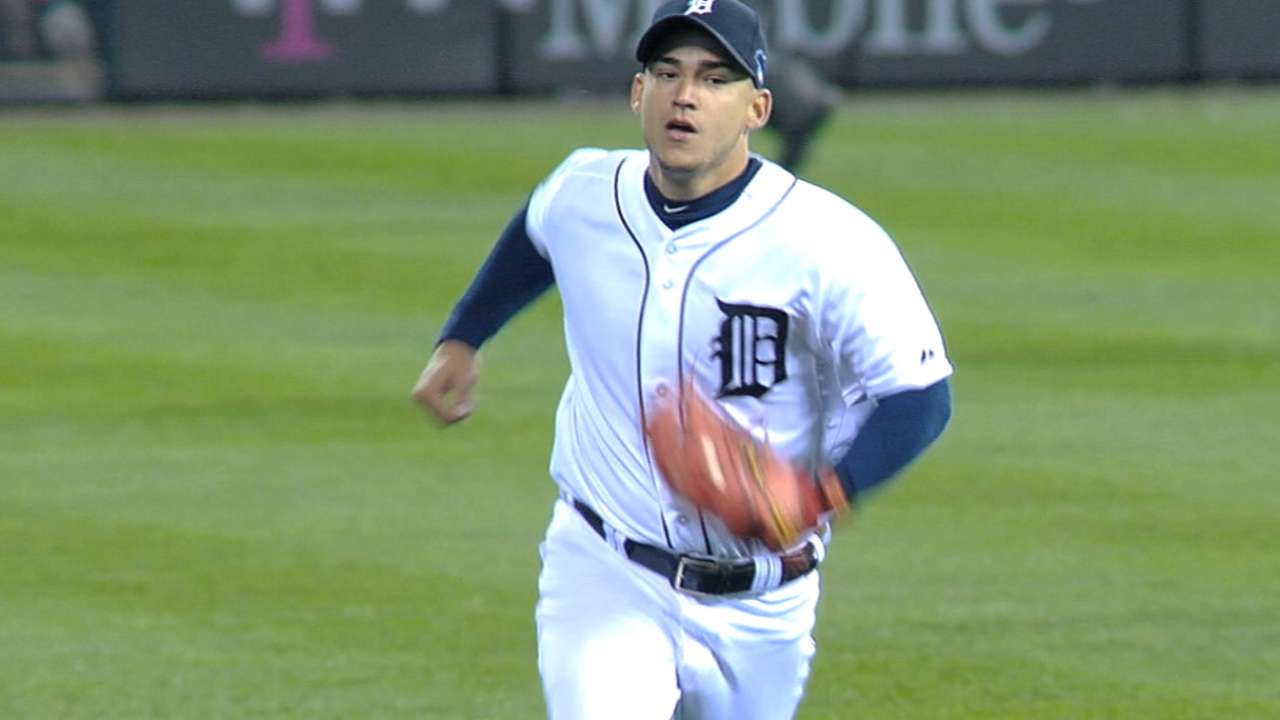 First, the Tigers need to make sure Iglesias can hold up this spring. The 25-year-old missed last season due to stress fractures in each leg. Can he stand out there in the infield for nine innings? Can he do it on back-to-back days?
Iglesias will ease into that schedule, Ausmus said. At some point, he'll play shortstop and serve as the designated hitter the next day, although the queue for DH at-bats is going to get lengthy when Miguel Cabrera and Victor Martinez start playing in games. Then the Tigers can try to have Iglesias play shortstop on back-to-back days.
Before the Tigers break camp, they would like to see Iglesias play shortstop for nine innings on consecutive days.
But after a lost year and a fluky, freaky incident bruising his shins, Iglesias was simply happy to be back on the field Tuesday.
"It was fun," Iglesias said. "Fun to be back out there, fun to help the team win and put some good at-bats together."
Adam Berry is a reporter for MLB.com. Follow him on Twitter at @adamdberry. This story was not subject to the approval of Major League Baseball or its clubs.