Marlins have fair share of utility-infielder candidates
Solano could be favorite considering ability to play shortstop, familiarity with team
JUPITER, Fla. -- So many candidates, so few spots. In other words, the Marlins find themselves in an enviable position when it comes to their utility-infield situation.
Donovan Solano, Miguel Rojas, Reid Brignac, Don Kelly, Derek Dietrich, Scott Sizemore and Jordany Valdespin are all in the mix. All have big league experience, and the competition may actually be decided in the closing days of Spring Training.
"We've got a lot of guys competing for a short number of spots," manager Mike Redmond said. "We'll throw them all out there and let them compete."
With maybe just one spot open, here's a look at the candidates
• Solano: If there is a frontrunner, it could be Solano, who has been a solid bench player and spot starter the past few seasons. Solano plays second base, shortstop and third. He could even see some action at first base, just in case.
• Dietrich: Like Solano, Dietrich has experience with the team at second. He's a left-handed hitter who also is working at third base and first. The fact he isn't getting a look at shortstop may work against him in terms of making the Opening Day roster.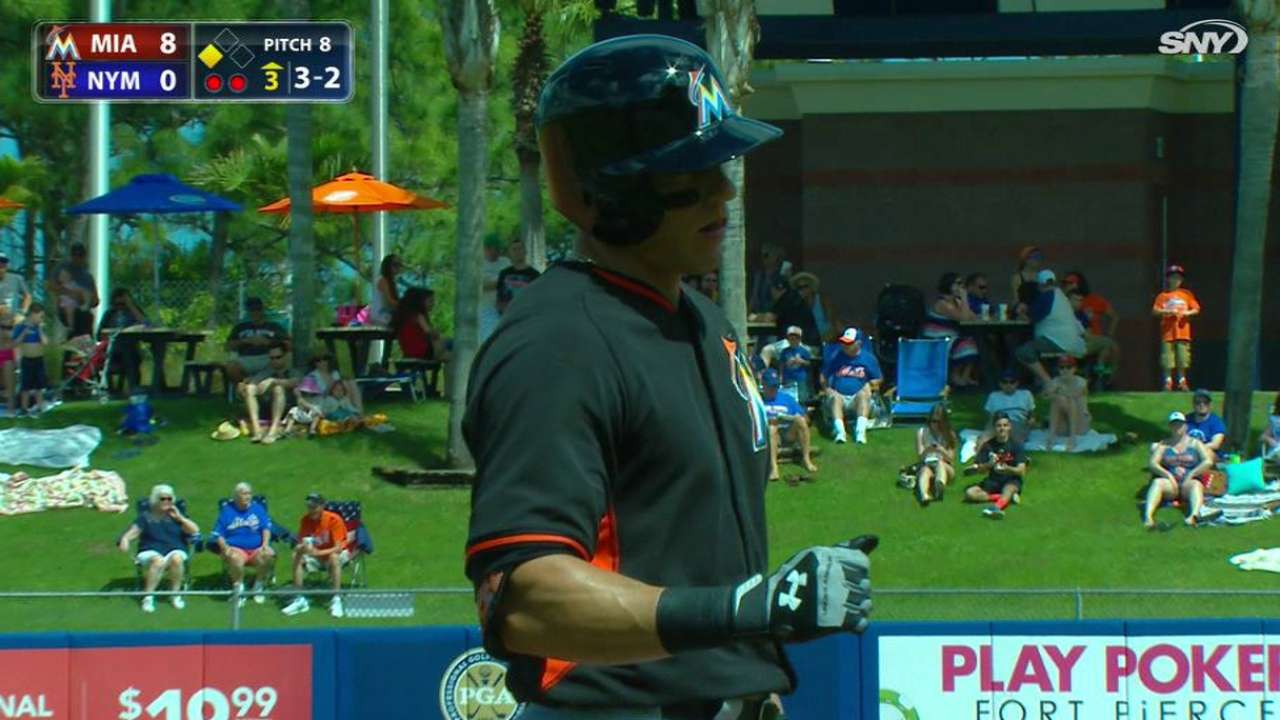 • Rojas: A slick defender who struggles at the plate, Rojas likely would be the choice to start at shortstop if Adeiny Hechavarria were to miss time during the season.
• Brignac: A non-roster invitee, Brignac is a left-handed hitter who fits the utility role nicely because he can play shortstop. He'll have to flat out win the job.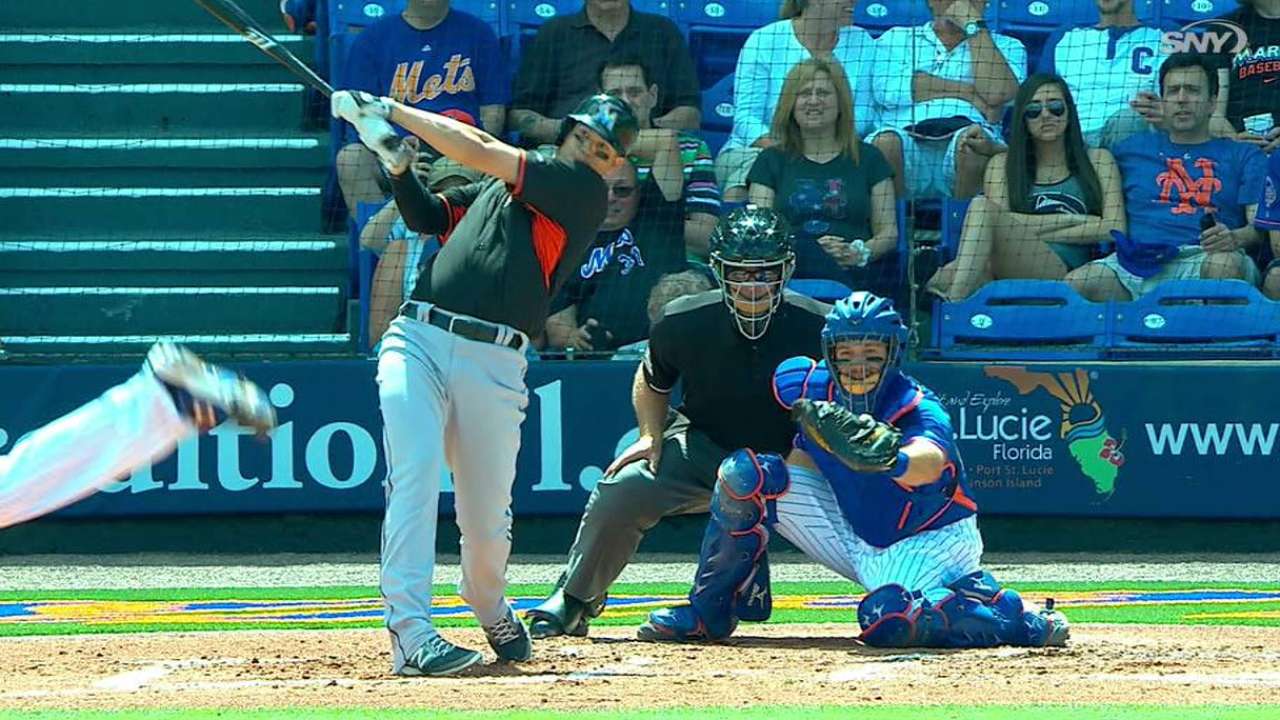 • Kelly: Ultra versatile, Kelly can also play outfield and first base. If he has an edge, it could be his lefty bat, big league track record in his role and the fact he could be an option at first to give Michael Morse periodic rest.
• Valdespin: Second base is Valdespin's primary infield spot, although he can move around the infield and he also plays outfield. The organization is familiar with him from last year. He's a lefty bat who can pinch-hit.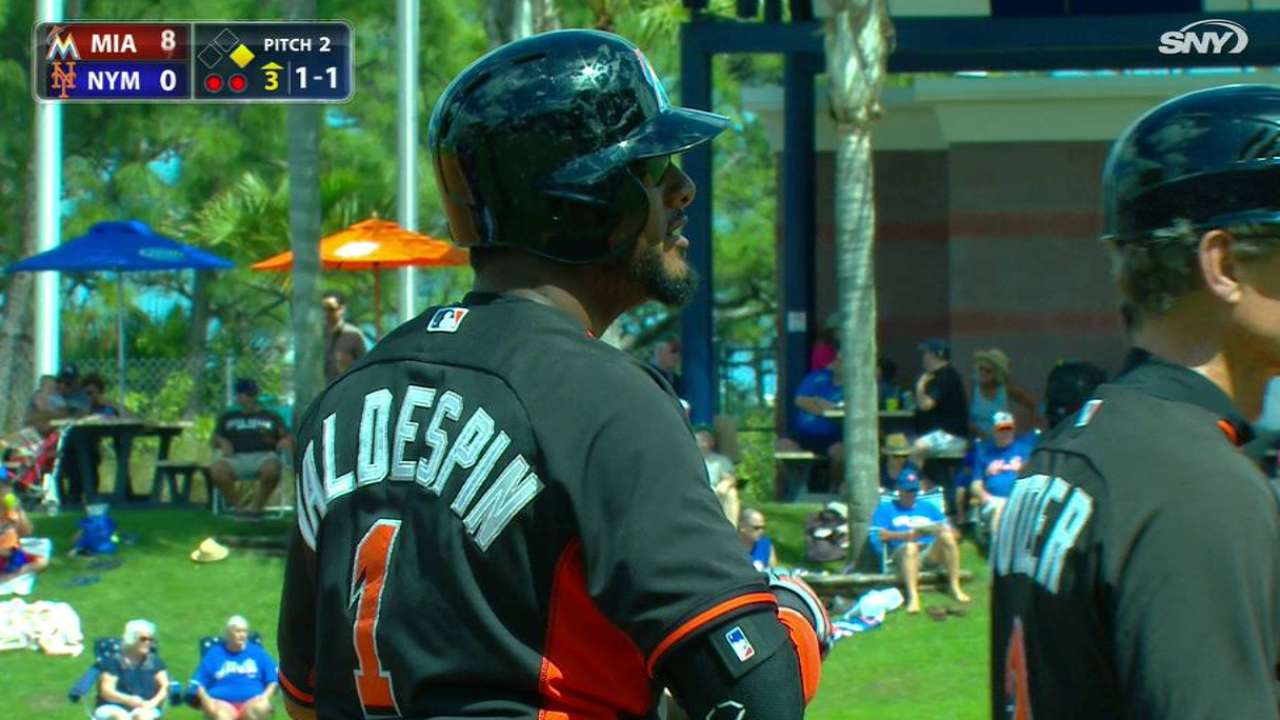 • Sizemore: The 30-year-old has played in parts of four big league seasons, including appearing in six games with the Yankees last year. He's played mostly second and third in his big league opportunities.
Also in camp are a few homegrown prospects like Avery Romero, Viosergy Rosa and Austin Nola. The three are getting a taste of big league camp before they are sent down to their respective Minor League teams.
Joe Frisaro is a reporter for MLB.com. He writes a blog, called The Fish Pond. Follow him on Twitter @JoeFrisaro. This story was not subject to the approval of Major League Baseball or its clubs.