Kimbrel finds form quickly in spring debut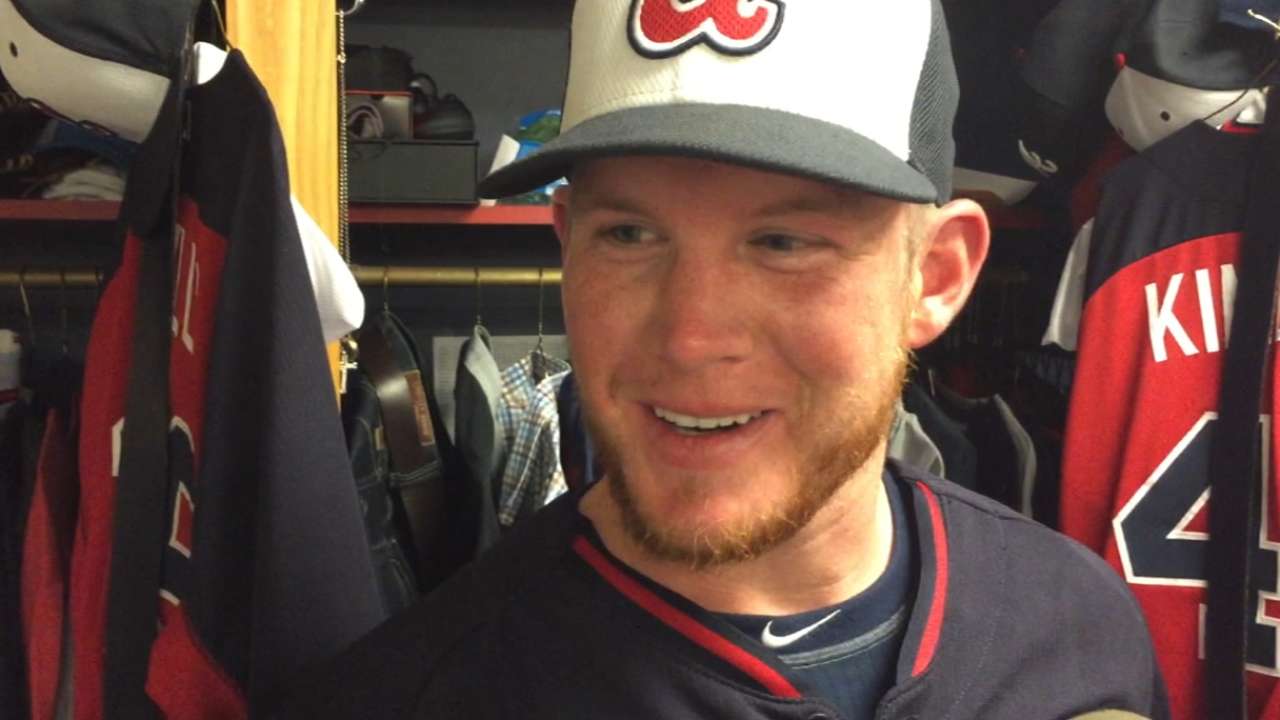 LAKE BUENA VISTA, Fla. -- Craig Kimbrel might not be ready to feature the changeup that he annually toys with during the early portion of Spring Training to preserve his arm and aid his mechanics. But if he chooses, the Braves closer can now playfully boast that he has added a pickoff move to his arsenal.
Kimbrel looked like his usually dominant self in his Grapefruit League debut during Tuesday's 3-2 win over the Mets at Champion Stadium. But he created some surprise when he completed a scoreless seventh inning with the assistance of a pickoff move that caught Mets outfielder Cesar Puello leaning too far off first base.
"The pickoff was nice, I don't think I've done that in three or four years," said Kimbrel, who hasn't necessarily needed to rely on a pickoff move while holding opponents to a .224 on-base percentage over the past three seasons.
Kimbrel was basically spot on with his assessment. He recorded his only career pickoff on April 10, 2011, while making just his fourth career appearance as Atlanta's closer. His victim that day was Philadelphia's Ben Francisco, who strayed too far off first base and was subsequently retired during a rundown.
A standard pickoff throw to first base retired Puello, whose infield single accounted for the only hit surrendered by Kimbrel. The right-hander also pitched around a two-out walk that he issued after his 2-1 changeup raced past catcher A.J. Pierzynski and clanked off the backstop.
"I think everything went well," Kimbrel said. "My fastball was just off on a few pitches. Everything felt good. I threw the changeup twice. One of them was kind of a debacle -- me and A.J. got mixed up there. But all in all, it was a good first outing."
While Kimbrel might continue to toy with the changeup over the next couple of weeks, he will primarily focus on making the preparations necessary to enter the regular season with the same fastball-curveball repertoire that he's utilized while notching 48 more saves than any other Major League closer over the past four seasons.
As he prepares for his fifth season as Atlanta's closer, Kimbrel has a better feel for how to steadily enhance his preparation and intensity leading up to the regular season. He expects to make approximately seven more appearances during the spring season.
"Doing this for a few years, I've got an idea of what I need to work on going into the season," Kimbrel said. "Really, it's just fastball command and making sure I can get the breaking ball over for a strike. Everything else kind of works itself into where it needs to be. You just try to not do too much too early, because we still have quite a few games to go before the season starts."
Mark Bowman is a reporter for MLB.com. This story was not subject to the approval of Major League Baseball or its clubs.