Gonzalez touched up in shortened outing vs. Tigers
Righty gives up three runs before getting hit by liner in third inning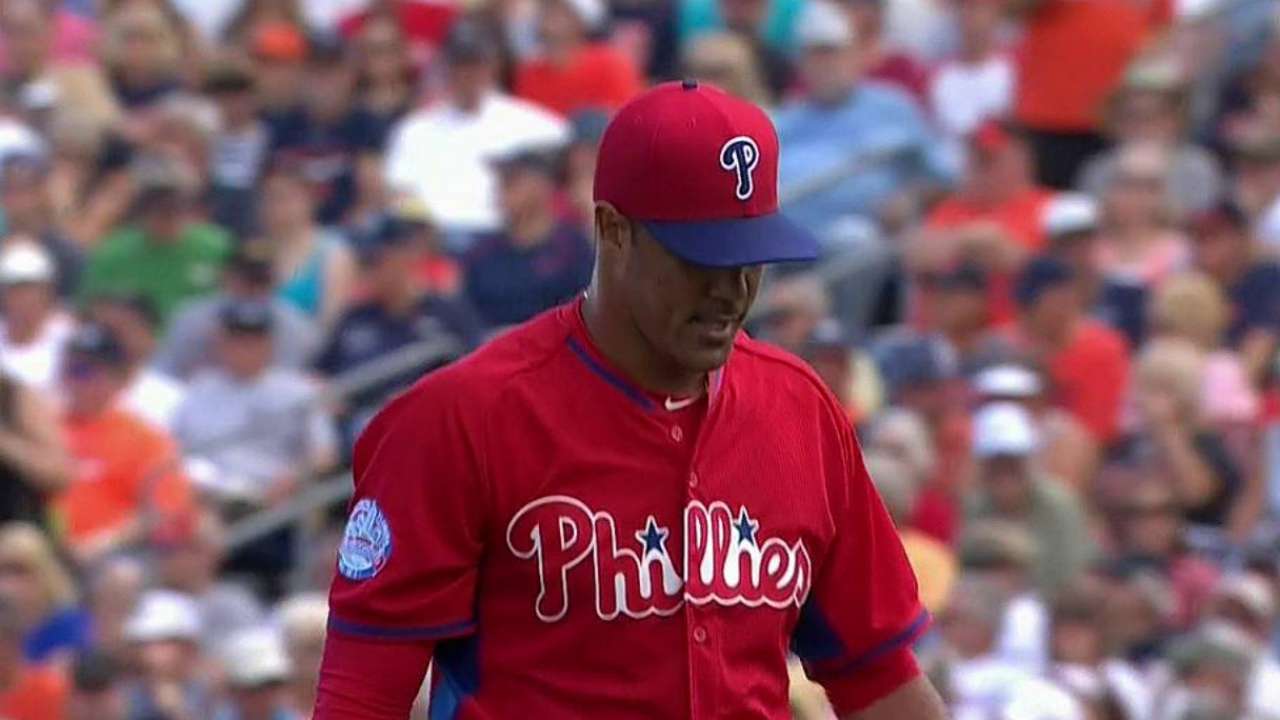 CLEARWATER, Fla. -- Miguel Alfredo Gonzalez is trying to make the Phillies' rotation, but he struggled in two-plus innings Tuesday at Bright House Field. He allowed three runs in a 6-0 loss to the Tigers.
Tigers starter Alfredo Simon fared better, tossing three scoreless innings with two strikeouts. He gave up two hits and a walk.
Gonzalez allowed a two-run home run to Tigers center fielder Daniel Fields in the second inning. He then allowed a triple to Tigers second baseman Ian Kinsler in the third.
Kinsler scored when Jose Iglesias ripped a line drive off Gonzalez's right foot or leg.
Gonzalez left the game at that point.
"I don't want to hit him," Iglesias said. "Just try to put a good swing on it. I got a man on third, and I was able to hit it good, unfortunately right to him. I know him back in the day. We played on the same team in Cuba, and I was so excited to see him. Did not expect to face him today, but I was really happy to see him. Unfortunately, I hit it right to him, but there's nothing I can do about that."
The Tigers scored two more runs in the sixth inning -- on homers from J.D. Martinez and Steven Moya -- and another in the eighth. The Tigers also held the Phillies to just five hits.
"We need to improve on that," said Phillies manager Ryne Sandberg, whose team entered the afternoon with the lowest OPS in baseball. "We had a lot of flyball outs today. That's something we're addressing as far as staying on top of the ball. We need to put together hits and have some better quality at-bats."
Up next for the Phillies: Phillies left-hander Cole Hamels pitches Wednesday afternoon against the Pirates at Bright House Field. Expect more scouts to be on hand, as Hamels is not only pitching for the Phillies, but for teams looking for starting pitching help. The latest rumor has the Yankees making the most aggressive push. Watch the game live on MLB.TV, starting at 1:05 p.m. ET.
Todd Zolecki is a reporter for MLB.com. This story was not subject to the approval of Major League Baseball or its clubs.