Panda loving early fit with Sox
Third baseman taking time to mentor others on aspects of playing hot corner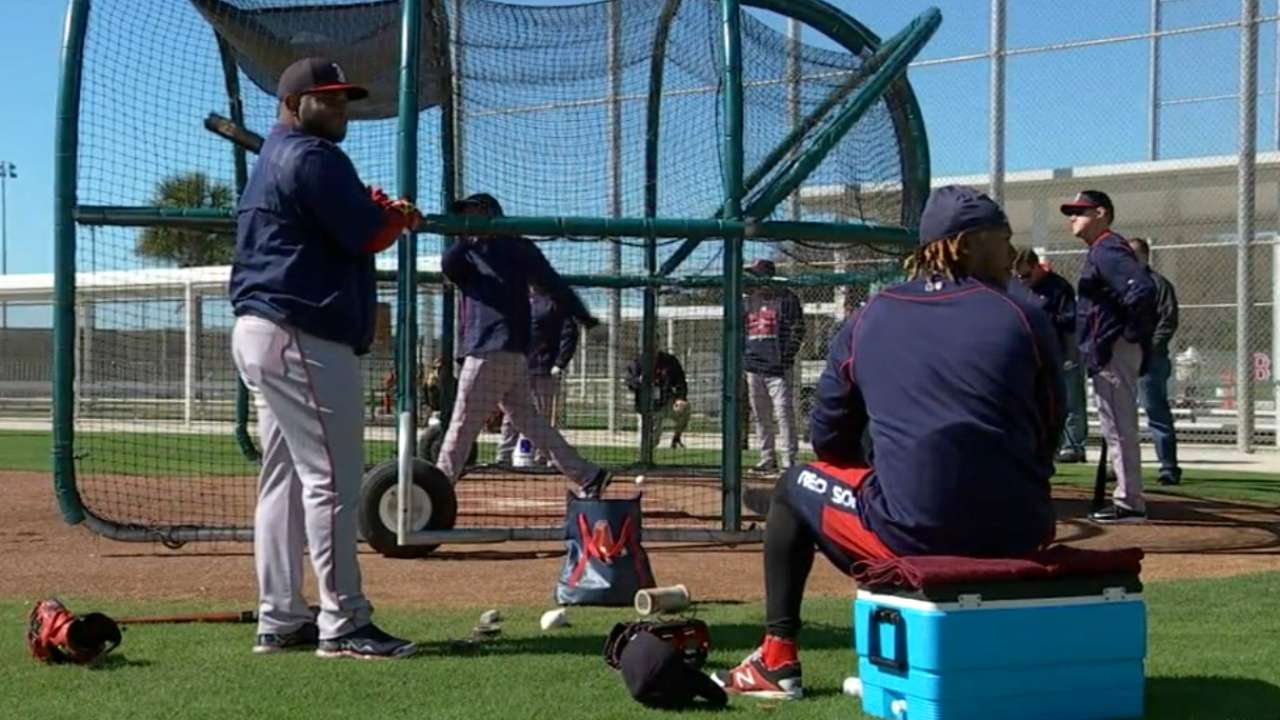 FORT MYERS, Fla. -- Red Sox third baseman Pablo Sandoval stood by critical comments he made about the San Francisco Giants in a Bleacher Report article, but he chose not to elaborate and instead is focusing on his happiness with his new team.
"Nothing to say," said Sandoval. "I'm happy to be in Boston. I feel at home right now. Whatever I said, whatever has come out, it's the truth, so I'm just happy to be here with my new team."
In the article, Sandoval told columnist Scott Miller that leaving the Giants was "Not hard at all. If you want me around, you make the effort to push and get me back."
Sandoval didn't think it was conducive to repeat those comments to the Boston media when asked on Tuesday.
"I just want to be here," Sandoval said. "I just want to be here, so I'm here now. Everything came out with the right team, the right choice that I made, so I'm happy to be here."
Why does Sandoval think it was the right choice?
"I want to feel like I'm home," said Sandoval. "They treated the player right, so this is the place I want to be. It feels like a team. There's 25 guys on the roster, and they treat all the 25 guys the same."
Sandoval was pleased that manager John Farrell has permitted him to give personal instruction to some of the younger players on the roster.
"I'm not selfish," Sandoval said. "I just want the youngest guys to be involved in all the things we do. I learned a lot of things from players who gave me advice. I just want to give advice. I know I'm still young, 28, so I want to give advice to the youngest guys about what can happen in our careers. A couple guys can get hurt, so I want to make sure guys are ready to play that position."
Farrell couldn't be any more pleased with the way Sandoval has fit in.
"For us to get with him each and every day, we see the work ethic, which is outstanding," said Farrell. "His willingness to share his experiences and transitioning from behind the plate to a third baseman, and the things he had to go through to learn the position. He imparts those, whether it's Garin Cecchini, Jemile Weeks, Brock Holt, whoever might be there working with him in a work group. So he demonstrates by example and he's a complete and total team player. That's what we're seeing in the early going here."
Ian Browne is a reporter for MLB.com. Read his blog, Brownie Points, and follow him on Twitter @IanMBrowne. This story was not subject to the approval of Major League Baseball or its clubs.