Colome arrives at Rays camp after visa issues
Rotation hopeful over two weeks late, but has been throwing in Dominican, ready to compete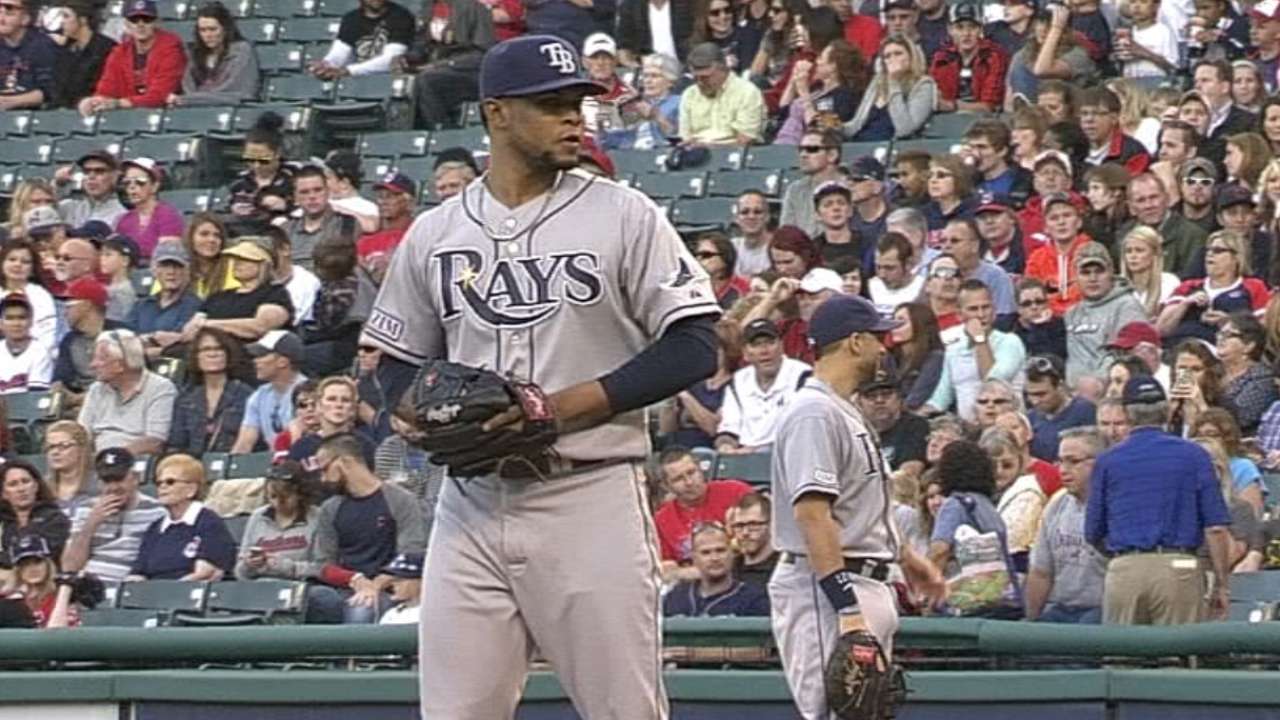 PORT CHARLOTTE, Fla. -- Alex Colome finally arrived at Rays camp on Tuesday, a little over two weeks later than expected due to visa problems.
Colome, who is out of options and is competing for the fifth spot in the rotation, expressed frustration about the delay.
"It's hard," said Colome, ranked by MLB.com as Tampa Bay's No. 7 prospect in 2014. "This is my year. I don't have options. I have to do a great job. The consolate, I don't know what happened, I've never had problems there before. The only thing I know is I'm ready to go."
Colome noted that he had "been working hard in the Dominican every day," and he has kept the Rays informed.
"I [threw] live BP and bullpen [sessions] at home, in my neighborhood in San Pedro [de Macoris]," Colome said. "Every time I do a bullpen, I have to do the same thing I do here."
Colome, 26, went 2-0 with a 2.66 ERA for Tampa Bay in 2014, and he went 7-6 with a 3.77 ERA for Triple-A Durham and 0-1 with a 1.64 ERA for Class A Advanced Charlotte. Those results followed his 50-game suspension for a violation of Major League Baseball's Joint Drug Prevention and Treatment Program.
The hard-throwing right-hander said he did not feel behind the other pitchers at this juncture.
"I feel great," Colome said.
Because Colome is out of options, there's a good chance he will end up in the bullpen at the beginning of the season if he does not earn the No. 5 spot. If he does earn the spot, he could still find himself in the bullpen later in the season when Matt Moore returns.
Colome pitched six games (all starts) while playing in the Dominican Winter League. That stint allowed him to work on his curveball, which will be a nice addition to a repertoire that already includes a cutter, a fastball and a changeup.
Colome said he expects to pitch in a game by the weekend. Rays manager Kevin Cash allowed the chances were good that would happen.
Bill Chastain is a reporter for MLB.com. This story was not subject to the approval of Major League Baseball or its clubs.