Braves waiting, watching on Olivera
Atlanta interested in Cuban infielder, but questions remain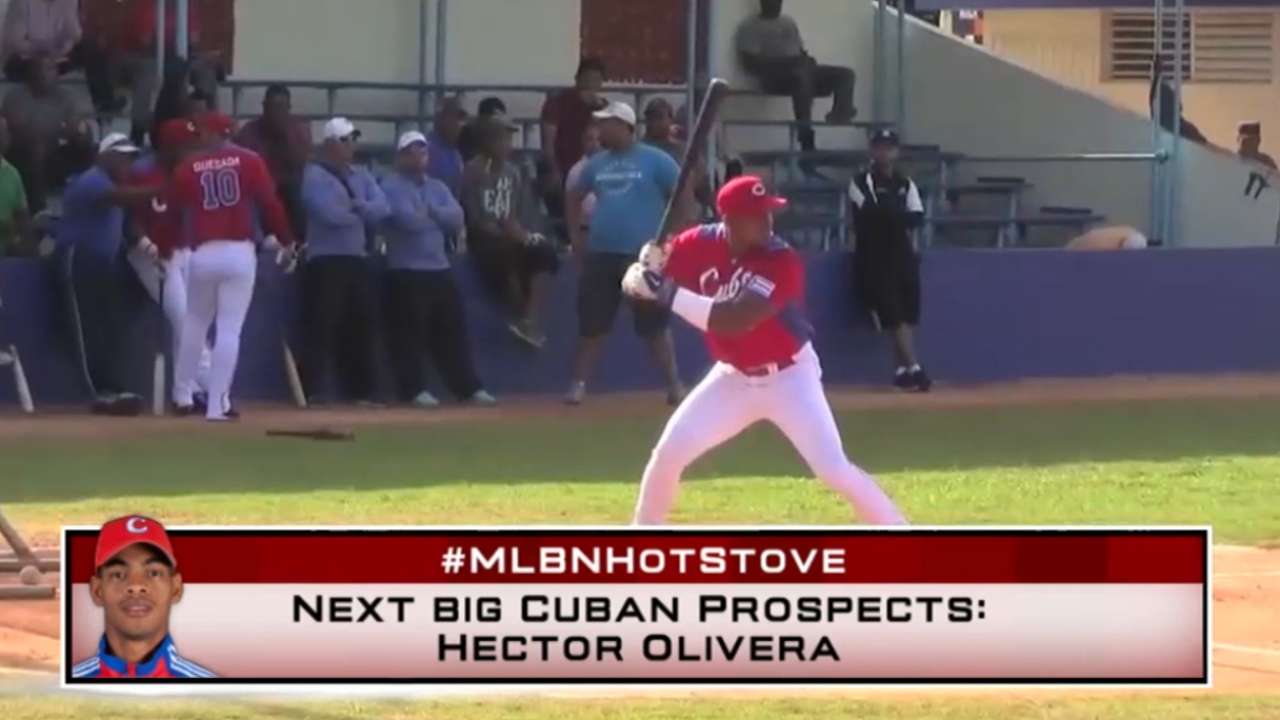 LAKE BUENA VISTA, Fla. -- Though the Braves have maintained regular contact with Hector Olivera over the past few months, the likelihood of the Cuban player landing with Atlanta hinges on the direction his currently uncertain market goes. Olivera's versatility as an infielder would allow him to satisfy an immediate need for the Braves, who sent manager Fredi Gonzalez to the Dominican Republic in February to evaluate and meet with Olivera, who stands as the latest intriguing Cuban to hit the free-agent market.
While teams are intrigued by Olivera's talent, they are also concerned about his medical history, which became cloudier last week when Yahoo Sports reported that he has a torn ulnar collateral ligament in his right elbow that might require Tommy John surgery.
Olivera's representatives quickly disputed the report. But even before the elbow became an issue, clubs were concerned about the validity of Olivera's age -- he reportedly will turn 30 next month -- and the fact that he recently battled thrombosis, a blood disorder that sidelined him for an entire year.
Needless to say, the latest reports about the elbow have at least increased the need for Olivera to undergo at least one more physical exam before signing a contract with a Major League club.
There have been reports that Olivera believes he can garner a $70 million deal. Many industry executives seem to perceive that as another of those inflated figures that are often tagged to free agents to artificially enhance their value. Though the Braves have definite interest, it does not appear they would be willing to offer much more than half of that figure in a multiyear deal.
Though the Dodgers still seem to be considered the favorites to land Olivera, the Braves are among the clubs that will continue to monitor his market with the hope that his cost drops into their comfort zone, which seemingly ranges between $30 million-$40 million.
Olivera could provide the Braves the certainty that they do not currently possess at second base. But with the expectation that top prospect Jose Peraza could be manning that position for Atlanta as early as June, there is reason to wonder if Olivera would be a long-term fit with the Braves.
If the Braves sign Olivera, they could play him at third base if Chris Johnson extends last year's struggles. But with the possibility that highly regarded prospect Rio Ruiz could be ready to serve as Atlanta's third baseman as early as next year, it's possible that Olivera's long-term value with the Braves would be as a left fielder.
Mark Bowman is a reporter for MLB.com. This story was not subject to the approval of Major League Baseball or its clubs.