MLB Pipeline checks in from Phillies camp
Brown, Garcia among breakout candidates; Knapp talks preparation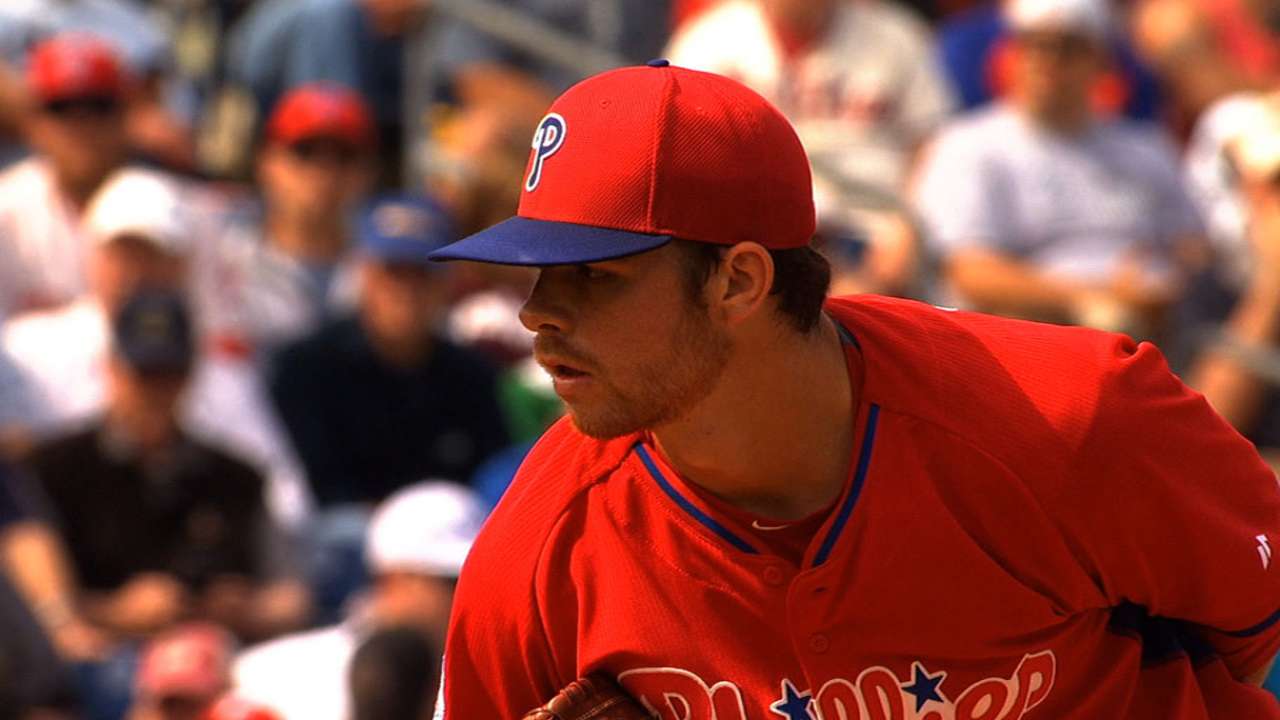 Every Spring Training, prospects get a chance to show what they can do as they prepare for the season ahead. Some are competing for jobs in big league camp, while others are prepping for the season as they vie for spots at Minor League affiliates throughout the team's system. MLBPipeline.com is visiting all 30 camps this spring. Today, we check in on the Philadelphia Phillies.
CLEARWATER, Fla. -- It has been a transformative year for the Phillies' farm system. The 2014 First-Year Player Draft, the international signing period and a bevy of trades have infused the organization with new talent.
Most prominently, the Phils selected right-hander Aaron Nola seventh overall last June, and he quickly began working his way toward the Major Leagues. Nola reached Double-A Reading less than two months after the Draft, and he is expected to return there to begin this season.
MLB Pipeline Spring Training Reports
The Phillies also acquired several other advanced pitchers in offseason trades, including right-handers Zach Eflin and Ben Lively and left-hander Tom Windle.
Now as a new season gets underway, director of player development Joe Jordan is eager to start working with all the new players in the organization.
"I think the reality is since last year's Draft and the July 2 [international free agent] signings after that, the trades that were made this winter, we've added some talent to the system," Jordan said. "Our system is healthier now than it was this time last year.
"Now we're getting to watch them, so that's good. We need time to get familiar with them to see what they need."
Camp standouts
The Phils had a few roster spots up for grabs going into the spring. And some of their young players have made the most of the opportunity. Maikel Franco, ranked No. 55 on MLBPipeline.com's Top 100 Prospects list, has played well, as has outfielder Odubel Herrera, who is being given a long look as a Rule 5 Draft pick.
Jordan said he has also been pleased by what he has seen from left-hander Jesse Biddle. The 2010 first-round Draft pick had a rough 2014 season, but he is now healthy and is throwing well.
"Jesse, for me, has looked great," Jordan said. "He's been very impressive in the bullpens, the live BP, he's been very impressive. He looks like Jesse Biddle, if you will."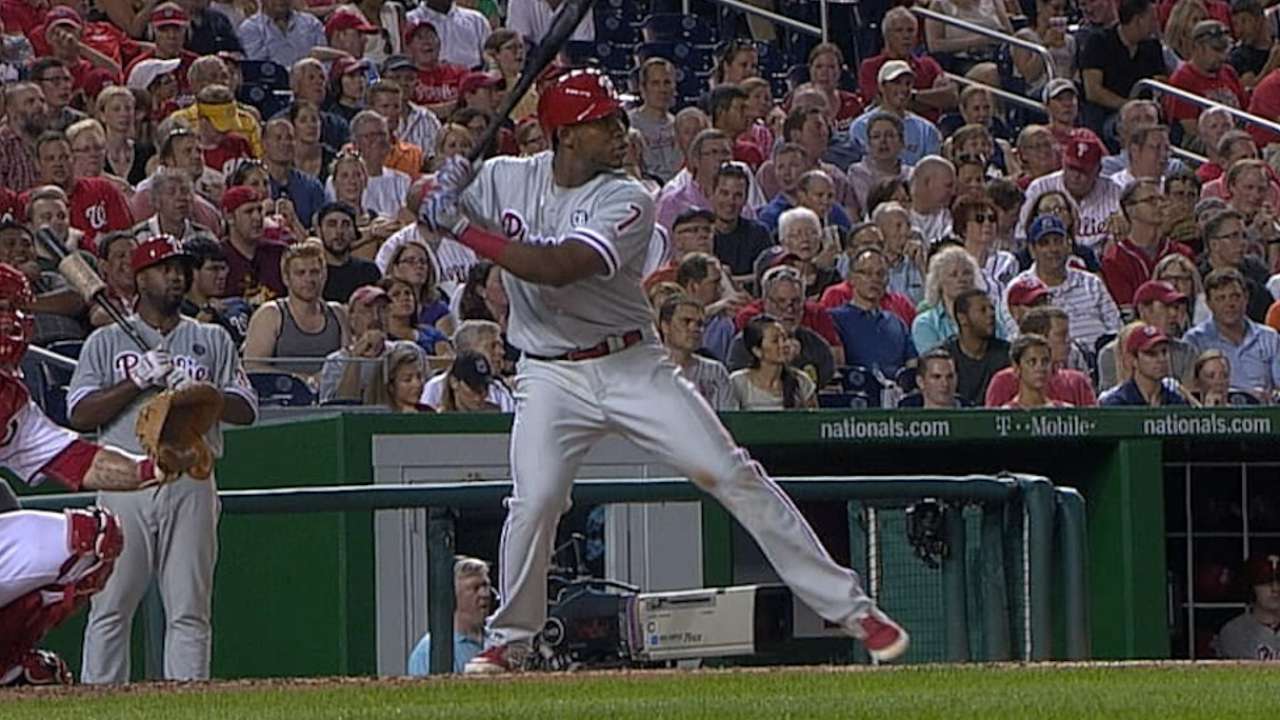 Breakout candidates
Aaron Brown, OF: A two-way player at Pepperdine, Brown has given up pitching since the Phillies picked him in the third round last June. Because he didn't focus on hitting as an amateur, he has some rough edges to his game, but he has impressive all-around tools and got off to a good start to his professional career in 2014.
"Aaron left a really good impression on us in a lot of the things that he does," Jordan said.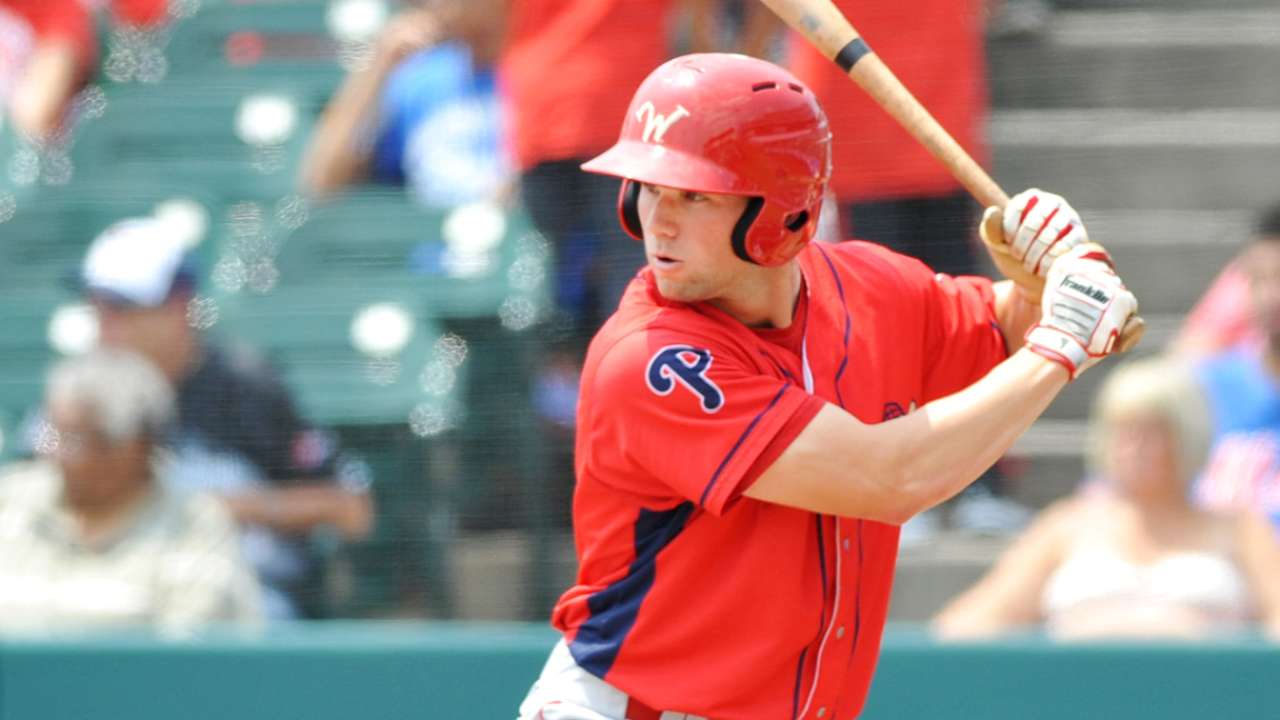 Elniery Garcia, LHP: A native of the Dominican Republic, Garcia has already shown in his young career that he has some feel for his craft on the mound. Like many young pitchers, he needs to become more consistent and get stronger. If Garcia can do that, he could start advancing quicker in the Minor Leagues.
Three questions with Andrew Knapp
Knapp, Philadelphia's second-round pick in 2013, missed the first month of last season as he recovered from Tommy John surgery in the offseason. The catcher played well once he was able to get back on the field, and he hit .297/.359/.462 during the second half.
MLBPipeline.com: Last offseason, you were recovering from surgery. What was it like this year to be able to have a normal offseason?
Knapp: It felt really good. I was able to get in the gym a lot, get my strength back up. Last year, when I got ready to play, I was kind of thrown into it a little bit. I didn't really have time to work on my body as much. It was good to get some long toss in, too. It was just nice to kind of relax and get healthy again.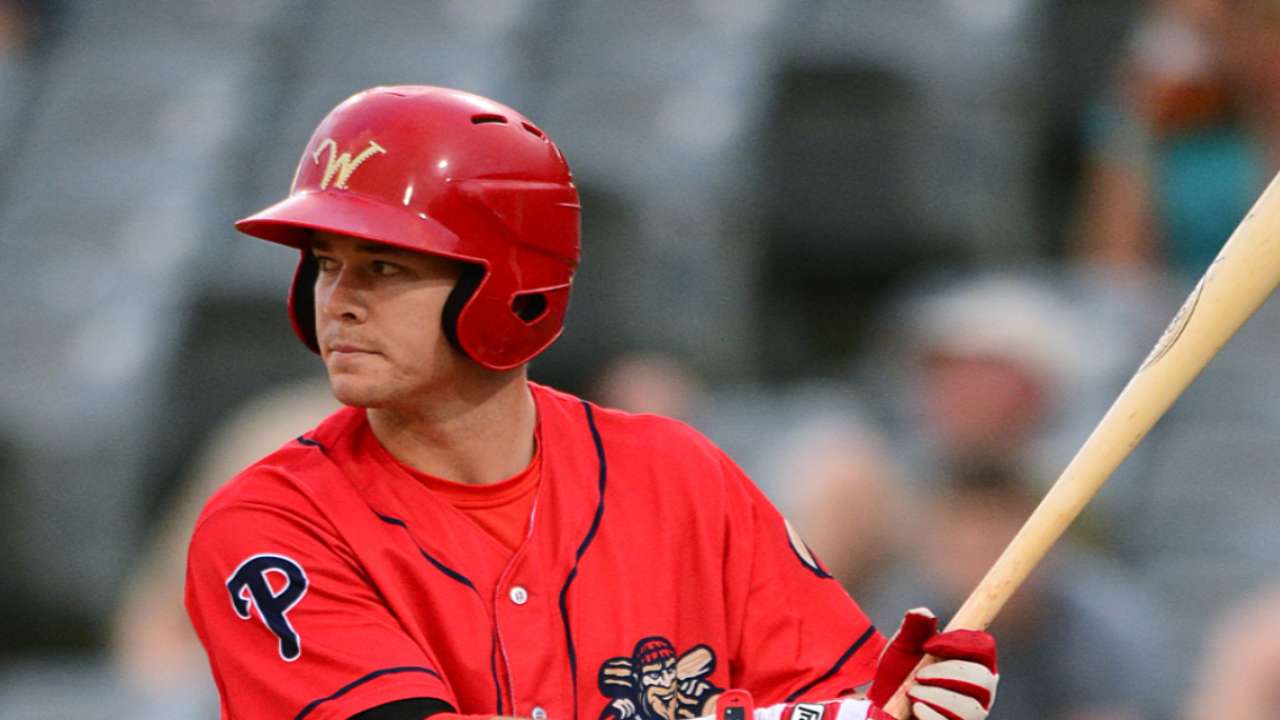 MLBPipeline.com: What's the hardest part of preparing for a season as a catcher?
Knapp: I'd say one of the hardest parts to prepare for is just being able to catch every day. You can't really prepare your body for that kind of toll. You can get yourself strong and you can work on your defensive and offensive parts of your game, but in order to be able to play every day, you've just got to go out and really maintain your body and stretch and work on it. I think that's going to be a big thing for me, is just getting back behind the plate every day.
MLBPipeline.com: What are your goals for this season?
Knapp: I think I just want to play every day. I want to be an everyday guy. I think the stats will take care of themselves. I'm not really worried about that as much as staying healthy and catching every day.
Teddy Cahill is a reporter for MLB.com. Follow him on Twitter at @tedcahill. This story was not subject to the approval of Major League Baseball or its clubs.