Last Call: Parra gets work with first basemen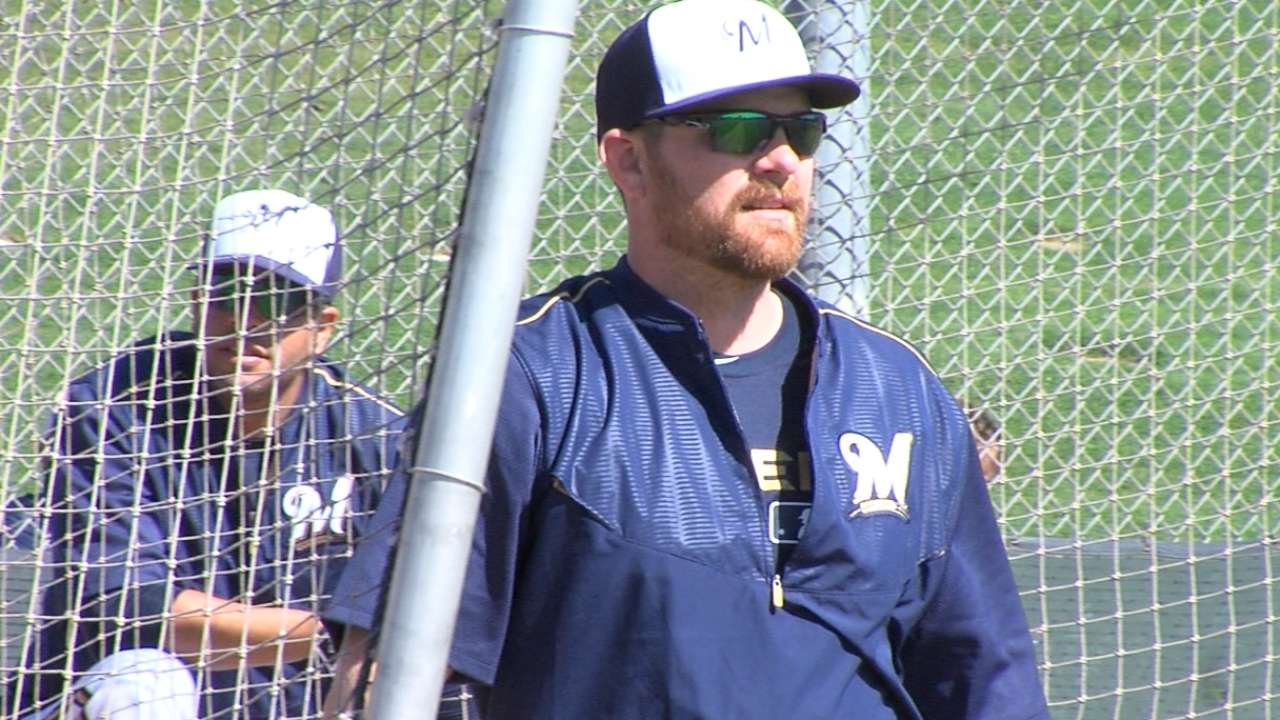 PHOENIX -- Last Call is a spot for all the notes and anecdotes from Brewers camp that didn't find a home elsewhere on the site. On Monday, a surprise option for first base:
• Gold Glove outfielder Gerardo Parra manning first base for the Brewers? It could happen this spring. Parra worked with the first basemen during a morning defensive drill.
"He looks really good," manager Ron Roenicke said. "He played there before he signed, and he messes around there all the time. We've been talking about it, and we may try to get him over there [in a Spring Training game]."
Parra has never played anything but the outfield during his professional career, but first base, even as an emergency option, could help increase his chances of getting at-bats this season. He's currently projected as the fourth outfielder behind left fielder Khris Davis, center fielder Carlos Gomez and right fielder Ryan Braun. The Brewers traded for Adam Lind in November to play first base, but he's already had a flare-up of his troublesome back.
• The Brewers had hoped Jonathan Lucroy's February flu would be their only spring sickness, but no such luck. Third-base coach Ed Sedar was sent home on Monday morning with a nasty stomach ailment.
With Sedar sidelined, first-base coach Mike Guerrero moved to third for Monday's game against the Royals. Outfield instructor John Shelby filled in as first-base coach.
• First baseman Lind, sidelined so far by a stiff back, said he expects to make his unofficial Brewers debut on Wednesday against the Giants. He will probably serve as the designated hitter.
• Right-hander Corey Knebel developed some elbow soreness after pitching an inning against the University of Wisconsin-Milwaukee last week and he has yet to appear in the Cactus League. He threw a positive bullpen session on Monday and Knebel hopes to pitch in a game by the end of the week. Knebel ended last season with an elbow injury, but it did not require surgery.
• Roenicke's nephew, Josh, is in the Brewers' Minor League camp, but another family member will be missing this year. Son Lance, who played in the club's Minor League system in 2012 and '13, and coached at Class A Wisconsin last year, retired from pro ball after getting married in November. Lance Roenicke is now coaching baseball at a high school near San Diego.
"I'm perfectly fine with it," Ron Roenicke said. "It's a hard life for your family."
The field at Miller Park just woke up from its long winter sleep #Brewers pic.twitter.com/JoKs6nxbEM

- Zach Weber (@ZachMWeber) March 9, 2015
• As of Monday, the Brewers were four weeks shy of the April 6 season opener against the Rockies. To mark the occasion, director of grounds Michael Boettcher removed the tarps that have covered Miller Park all winter, exposing green grass.
Adam McCalvy is a reporter for MLB.com. Read his blog, Brew Beat, and follow him on Twitter at @AdamMcCalvy. This story was not subject to the approval of Major League Baseball or its clubs.