Chi Chi starts making case for Opening Day rotation
While still a longshot, Gonzalez impresses with three scoreless innings vs. A's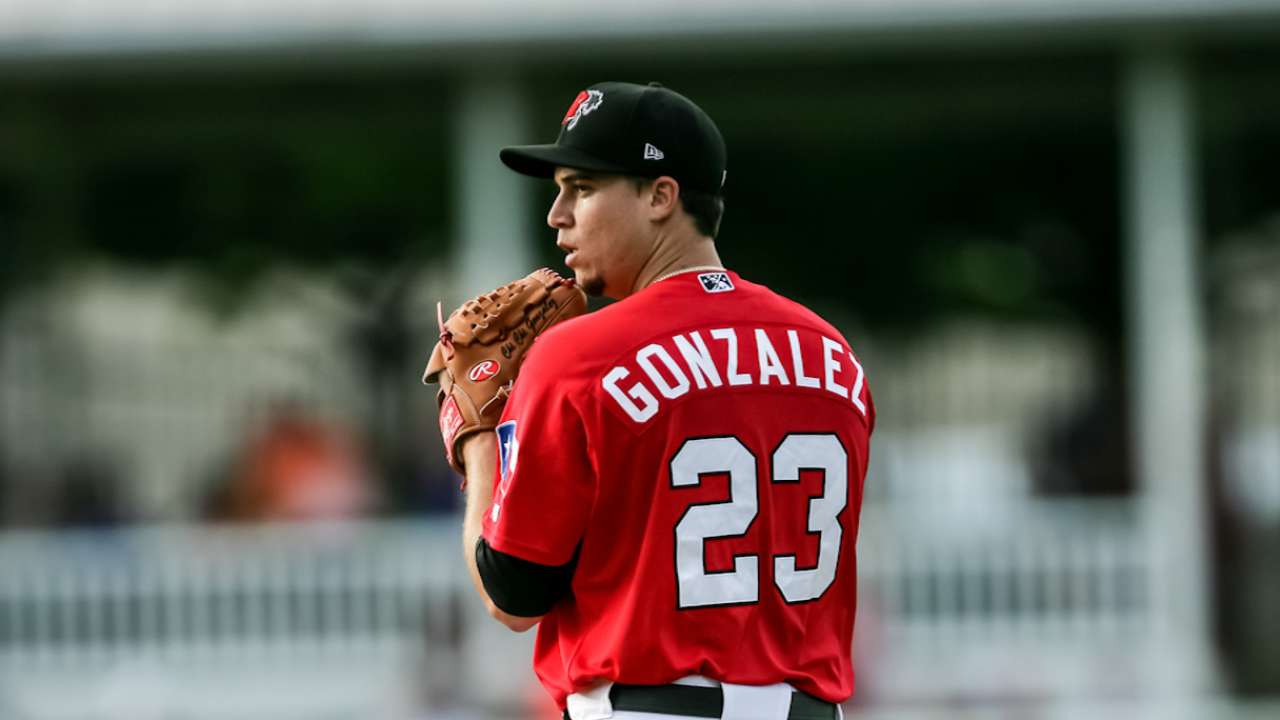 SURPRISE, Ariz. -- There's no denying the severity of the blow the Rangers' rotation took with the news that Yu Darvish will miss significant time this season because of an elbow injury. There's also no denying the opportunity it creates for one of the club's fringe starters to seize a spot in the Opening Day rotation.
At 23 years old, Alex Gonzalez probably entered camp being at least a year away in the eyes of those that matter in the organization -- especially with the rotation mostly set. Now, Chi Chi may have just found himself in competition for that final spot.
Gonzalez labored a bit over in his start Monday afternoon against the A's. But he came away unscathed, needing 58 pitches -- only 36 of them strikes -- to hang three zeroes on the board.
"I think I did my job," Gonzalez said afterward. "Three innings, I didn't give up any runs. I gave up a lot of contact and threw too many pitches, but I got it done."
Just a few days ago, Gonzalez was a longshot to earn a spot in the starting rotation out of camp. He's still on the outside looking in, with the Rosses, Ross Detwiler and Ross Ohlendorf, and the two Nicks, Nick Martinez and Nick Tepesch, also candidates for the two available starting jobs.
Realistically, Gonzalez would have to blow hitters away all spring to win himself a spot on the roster. But new manager Jeff Banister seems impressed with Gonzalez thus far -- specifically his poise in tough situations.
"For Chi Chi, this is a situation -- show us what you can do and who you are, and don't worry about anything else," Banister said. "... This is a guy that's poised, he's got pitches, he throws strikes. He doesn't get rattled."
The Rangers' No. 5 prospect, Gonzalez spent last season between high Class A Myrtle Beach and Double-A Frisco. In 26 appearances, he went 12-6 with a 2.67 ERA.
Taken by the Rangers with the 23rd overall pick in the 2013 Draft, Gonzalez has always been a promising prospect with a solid fastball/slider mix and now a changeup. He can have a bit of a tendency to overthrow -- as may have been the case with his three walks on Monday -- but that's a common issue for young pitchers.
Case in point: With a runner on third base, Gonzalez was set to face A's cleanup man Stephen Vogt. Sensing an instance of Gonzalez's youth potentially being served, Rangers pitching coach Mike Maddux trotted out to the mound for a chat.
Maddux asked Gonzalez point blank what pitch he was about to throw, and why. (Remember: cleanup hitter at the plate, empty base at first.)
"I told him, I'm going to go right after him, throw him a fastball," Gonzalez said.
Maddux calmed Gonzalez down and told him to trust the offspeed stuff, while keeping the pitches tough to hit. Sure enough, Vogt tapped weakly to second, before Mark Canha popped out to right.
Gonzalez returned to the dugout, his day finished, and was greeted by a Maddux handshake.
"Four pitches, two outs -- that's not bad," Maddux said with a knowing grin.
AJ Cassavell is a reporter for MLB.com. Follow him on Twitter @ajcassavell. This story was not subject to the approval of Major League Baseball or its clubs.