MLB.com Columnist
Tracy Ringolsby
Rockies get recovering studs back for first time
Tulowitzki, Gonzalez happy to get on field for Cactus League debuts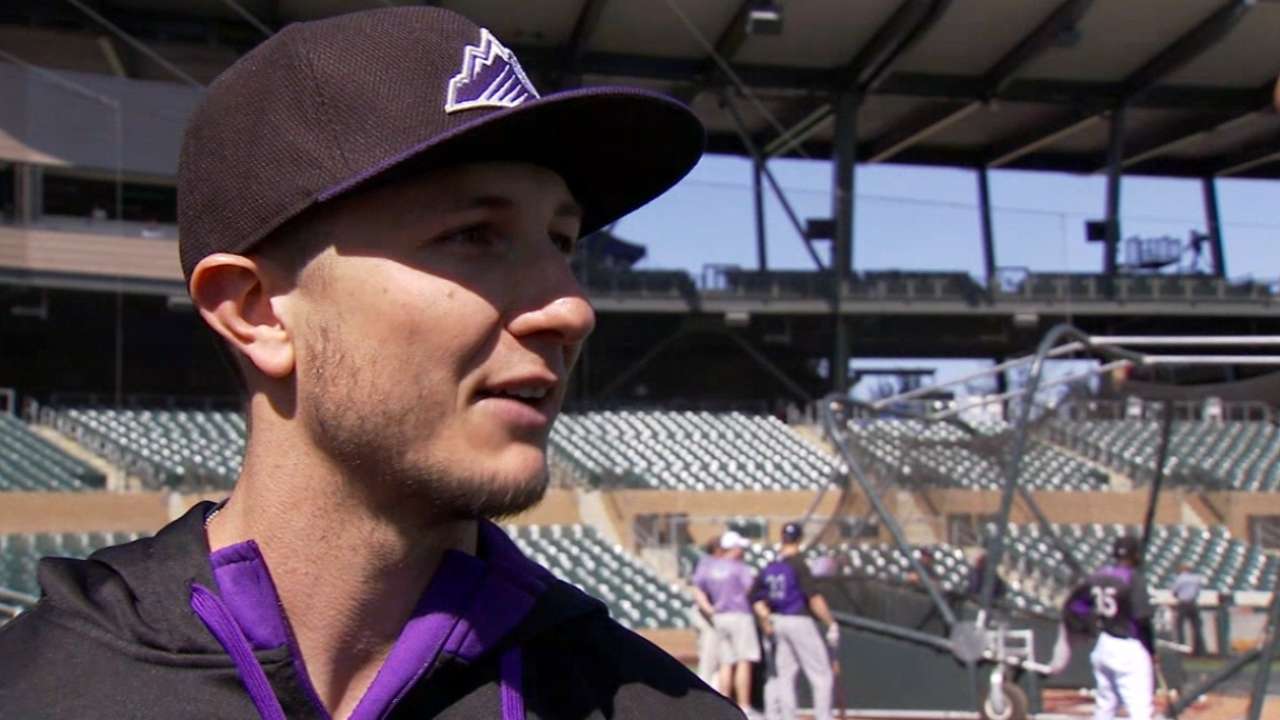 SCOTTSDALE, Ariz. -- Rockies shortstop Troy Tulowitzki took a third strike in his first at-bat of the spring on Monday afternoon. He popped up with runners on first and third and one out in his second and final at-bat in the Rockies' 2-2 tie with the Reds at Salt River Fields.
He was frustrated.
"It felt great," Tulowitzki said.
He looked up.
"I didn't do anything, but it was nice to put a uniform on and feel a part of things," Tulowitzki said.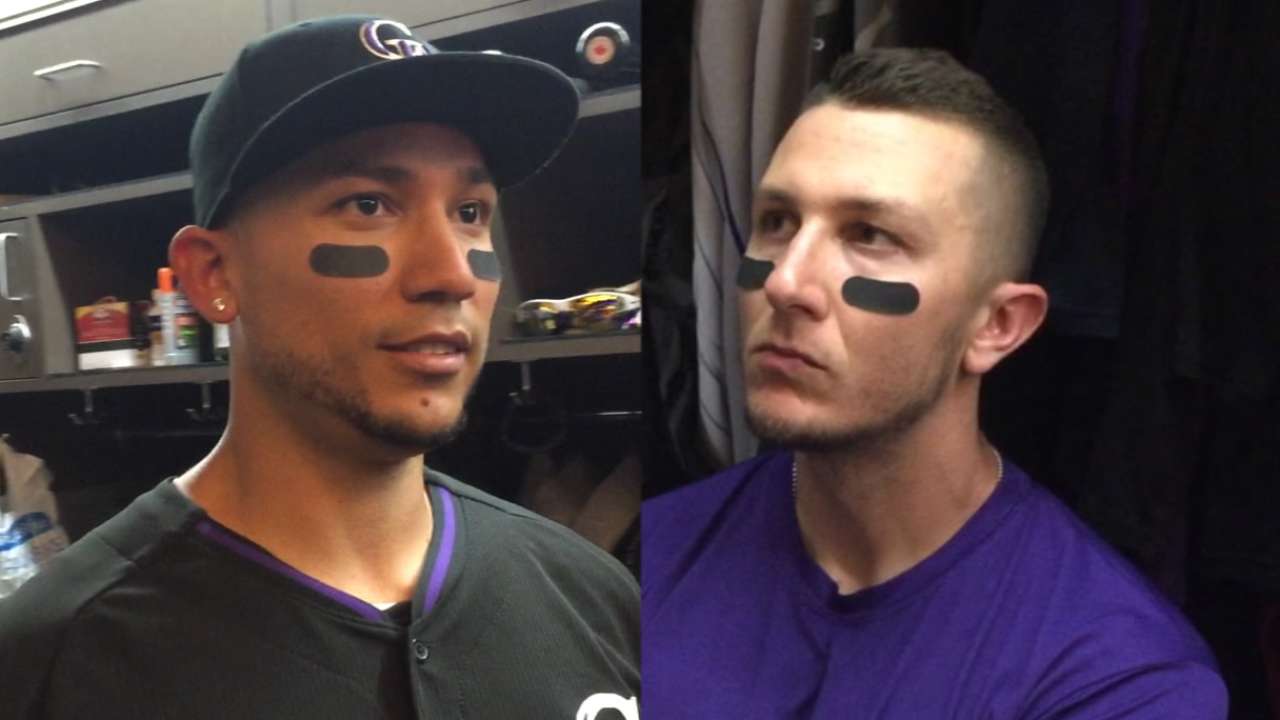 Real nice for Tulowitzki and right fielder Carlos Gonzalez, the key men in the middle of the Rockies' lineup, both of whom had injury-shortened 2014 seasons that led to significant August surgeries, and both of whom were in a Cactus League game for the first time Monday.
"It's fun to play again," said Gonzalez, who bounced back to the pitcher in the first and drew a walk ahead of Tulowitzki's at-bat in the third. "It was great, right out of the gate, to get a fly ball hit to right field."
It was a big day for the Rockies.
Tulowitzki and Gonzalez, after all, are big parts of any hope the teams has of being a factor in the NL West. They are All-Stars. They are National League Gold Glove Award winners. They, however, also have been plagued with injuries in recent years.
After being limited to 180 games the past two seasons, Gonzalez is hopeful that he has addressed the medical issues and will be healthy in 2015. He had finger surgery early last season, and then, after a brief return in July, he was sidelined again and underwent surgery to repair a torn patellar tendon.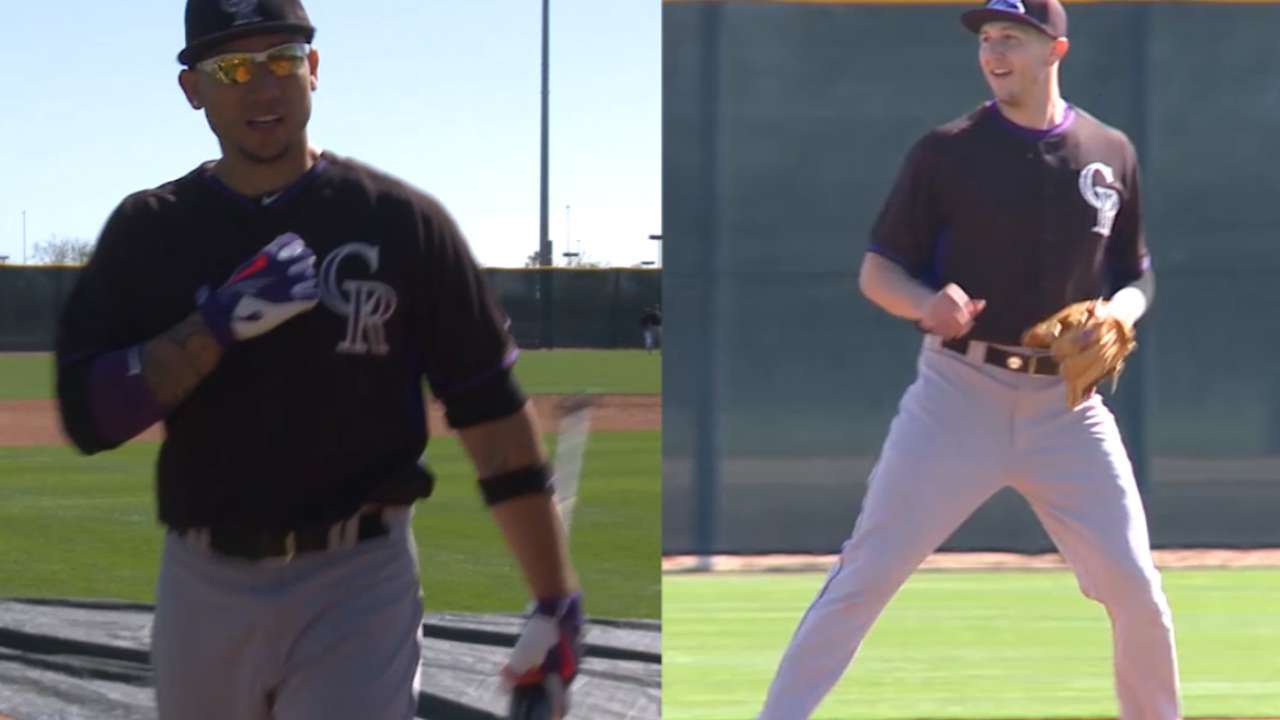 "Six weeks I was on crutches, then six weeks in a brace," Gonzalez said. "It was baby steps every day. I'm happy to be back in the lineup."
Tulowitzki, who has been limited to 264 games over the last three years, faces a bigger challenge. He has had a series of problems with the lower left portion of his body, the most recent of which required left hip surgery last August.
The root of what ails Tulowitzki is he completely tore his left rectus femoris quadriceps, which flexes the thigh at the hip joint and extends the leg at the knee joint, in 2008. It never completely healed.
"All the other muscles work that much harder to compensate for it," said Tulowitzki.
So in addition to cutting his right palm in 2008 when he slammed a bat in frustration, fracturing his left wrist when he was hit by a pitch in '10, and sustaining a fractured right rib in '13, Tulowitzki underwent surgery in '12 for a left groin injury, and in '14 for the hip injury.
Now, Tulowitzki is back in a rigorous daily routine to strengthen the healthy parts of his left leg, which includes stretching and a strict diet.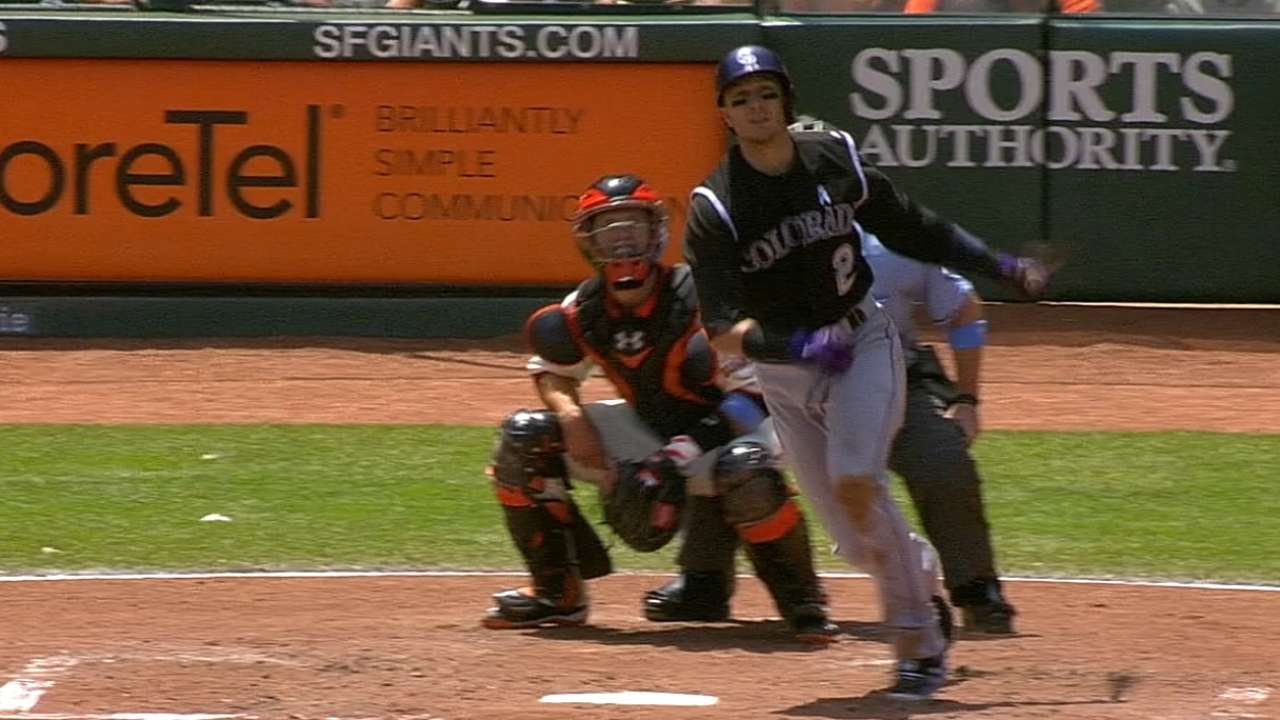 "Right now, I feel great," he said.
For both Tulowitzki and Gonzalez to feel great makes the Rockies feel great. They are so critical to the lineup, in the field and at the plate.
Despite the injuries, Tulowitzki has been selected to the NL All-Star team in four of the last five seasons, three times as a starter. He won a Gold Glove Award at shortstop in 2010 and '11, the last two seasons in which he had as many as 525 plate appearances. He's been in the top 10 in NL Most Valuable Player Award voting three times, and he was the runner-up to Ryan Braun for the NL Rookie of the Year Award in '07.
Despite the injuries, Tulowitzki has hit 21 or more home runs in six of the last eight seasons, driven in 90-plus runs four times and compiled a .299 career batting average.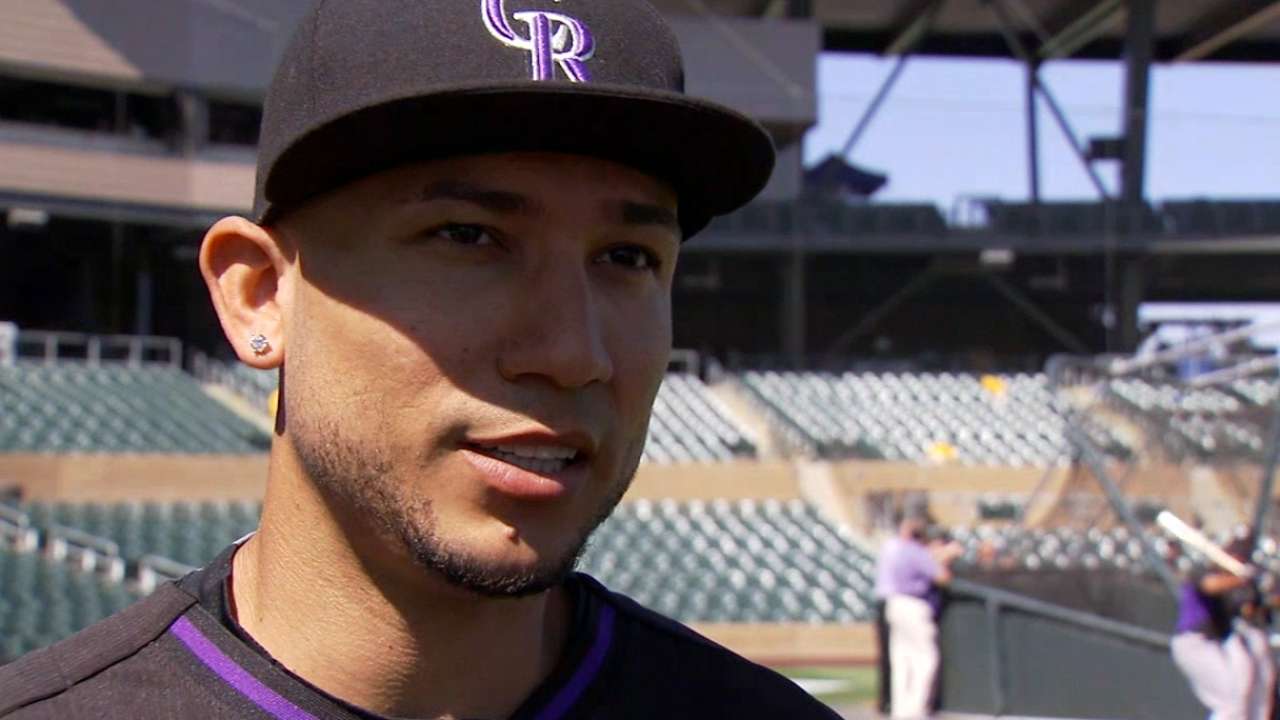 Gonzalez won the NL batting title with a .336 average in 2010, has hit .300 in his six seasons with the Rockies, crushing 22 or more home runs in four of the last five years and earning NL All-Star selections in '12 and '13.
This year, Gonzalez is moving from left field to right field, where he said he feels more comfortable, and it also will require him to cover less ground at Coors Field. Tulowitzki, however, is still at shortstop, and he plans to be there as long as he plays the game, he said.
"I've heard people say I should move to third base or first base, but I will never play another position," Tulowitzki said. "I have worked too hard to overcome the doubters. I have talked to former great shortstops who moved to third base, and they said if they had it to do over, they would never do it.
"I'll go home before I play another position."
Right now, however, the only place he and Gonzalez want to be is in the Rockies' lineup on a daily basis, helping revive a franchise that is coming off a 96-loss season, the second most in franchise history, and has lost 88 or more games each of the last four years.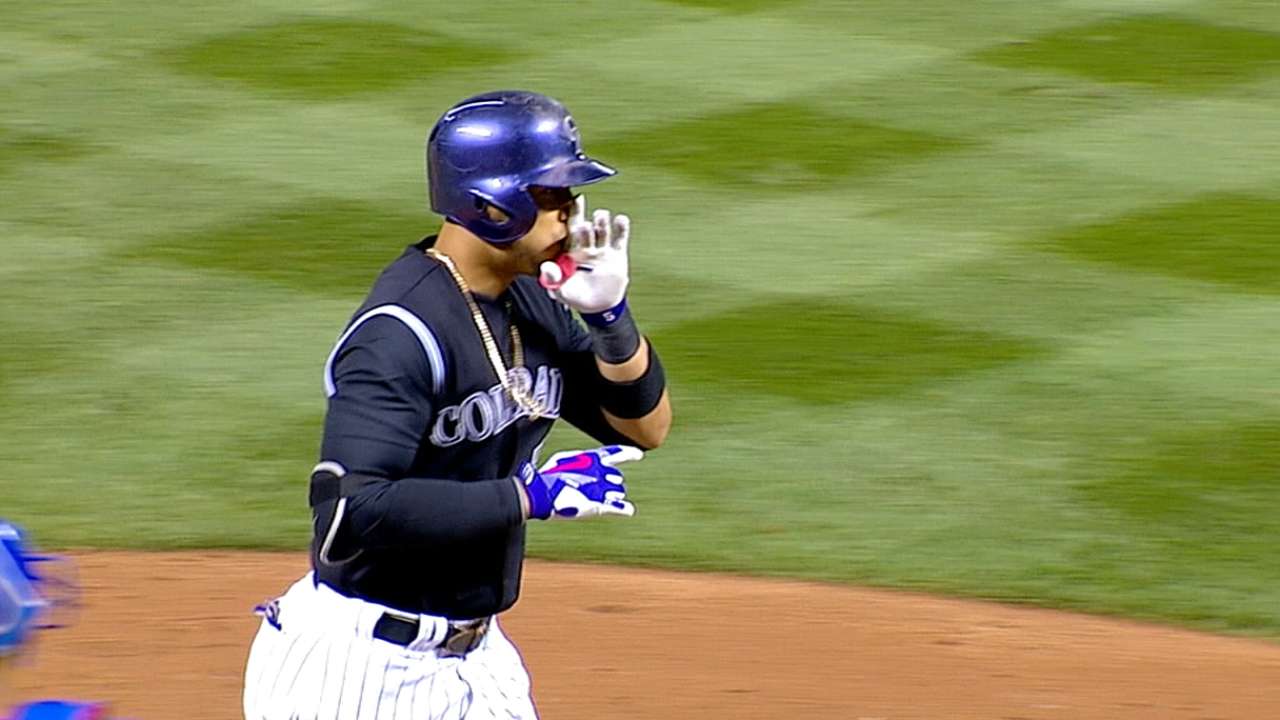 They were both in that lineup Monday.
"I was as nervous as my big league debut," said Tulowitzki. "It was a huge step for me mentally. I've done all the work I can do on the back field. I'm ready to play in a big league game."
It might be a small step, playing in a Spring Training game, but it was a major event for Tulowitzki, Gonzalez and the rest of the Rockies.
Tracy Ringolsby is a columnist for MLB.com. This story was not subject to the approval of Major League Baseball or its clubs.